For anyone who visits Guilin, The Forbidden City, there are several attractions this region offers including the Elephant Trunk Hill. It is an ideal place to see for those who love the great outdoors and enjoy hiking. Here, you will find several naturally created land formations that have strange resemblances of an elephant and perhaps, a rooster.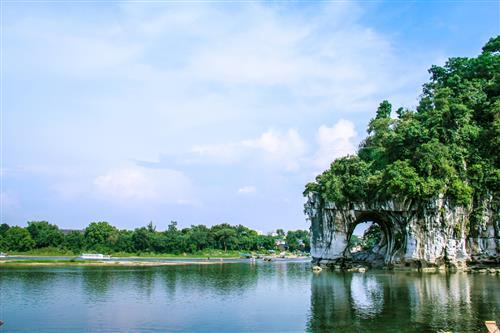 What Is Elephant Trunk Hill?
It is a tourist site located near the heart of downtown Guilin where the Li River and the Peach Blossom River meet. Because it has an appearance much like an elephant drinking water from the Li River, it was named as such. Combined with the Li's green water and the clear spring at its base, this site serves as one of the top four in Guilin City, and in fact is denoted as the city's symbol.  It is the location of the most significant karstic hill formation.
Formerly called Li Hill, Yi Hill, and Chenshui Hill, this land formation is more than 3.6 million years old. Measuring at approximately 108 meters in length and 100 meters in width, it peaks at 55 meters above the water level of the Li River with an elevation of 100 meters above sea level.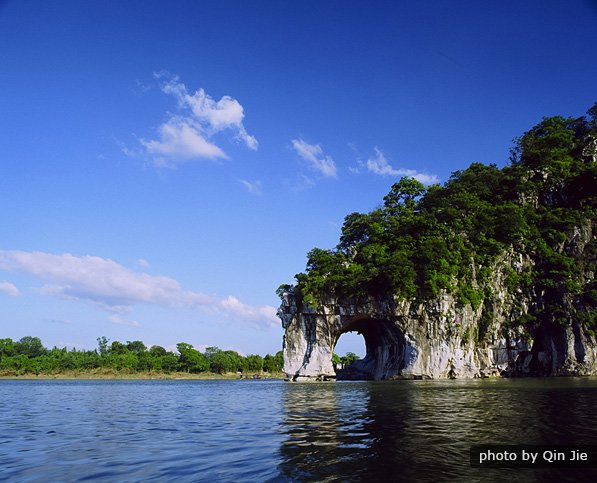 Anyone who climbs the hill will find an opportunity to seek out yet another view of Guilin's amazing cityscape. Not only is this an excellent scenic spot close to the city center, but a chance to take great photos. Likewise, it reflects the beauty and power of Mother Nature and impresses an everlasting memory on its visitors.
Elephant Trunk Hill possesses several land formations as:
Water Moon Cave (or Shuiyue Dong)
Rooster Fighting Hill
Rooster Fighting Hill (also known as Doujishan Hill) contains both the Tortoise Hill and the Tunnel Hill, both on opposite banks of the Li River. Tortoise Hill appears much like a bellicose rooster flapping its wings like a rooster preparing to fight.
Tunnel Hill is made up of five coterminous peaks which resemble the head, wings, tail, and back of the rooster. Because there is a 138 meter (453 foot) difference in elevation between both hills, together they make Rooster Fighting Hill quite vivid and lifelike. If not for the Li River separating them, these hills would seem much like a scene of mortal combat. 
Pagoda Hill
Pagoda Hill sits on the west bank of Xiaodongjiang River adjacent to Tunnel Hill. Both were part of one mountain range about one million years ago. Later, a movement in the Earth's crust split them apart. Combined with Elephant Trunk Hill, they both make up part of the beautiful scenery along the Li River. This includes maple trees that were planted at its base. In late autumn, their fiery red leaves are truly eye-catching and charming.
As a part of Elephant Trunk Hill, this site represents different things to Chinese natives. Pagoda Hill was so named due to the hexagon shaped Longevity Buddha Pagoda that sits upon it. This hill contains a seven-story brick tower that was constructed during the Ming Dynasty (1366 – 1644 AD). However, some refer to it as Warship Hill since it resembles a warship on the river. Locals simply call it Lotus Leaf Hill. 
Elephant Eye Cave
With its many attractions, no doubt, the Elephant Trunk Hill is a rather popular site to visit. It lies among another cave that can be viewed and toured by venturing to the back of the Elephant Trunk Hill.
A highway ascending the hill is simply a stone path that directs visitors to a cave that actually goes right through the hill. Measuring 2 meters in height, 10 meters in width and 52 meters in length, the Elephant Eye Cave was named for being in the exact location of the eye of the elephant, that is, if the elephant were real. Visitors who stand on the cave are assured of an ideal panoramic view over Guilin.
Love Island
Although small, Love Island stands right in front of Elephant Trunk Hill and arouses curiosity from tourists. Perhaps, it may be its numerous winding paths, stone statues, or its other little objects that symbolize love. Simply walk across the elephant carved stone bridge and take a rest on this bamboo groves covered island.  However, the Love Island is only for sightseeing. 
Water Moon Cave
Note that the round opening under the elephant's trunk is referred to the Water Moon Cave. This attributes to the reflection of the moon that can be seen at night through the arch. The reflection appears as if it is submerged but at the same time, floating on the surface of the water. The Water Moon Cave and Elephant Trunk Hill are located at the crossing of the Li River and Taohua Rivers.
What truly makes the Water Moon Cave unique is its mud pit. Tourists wade knee-deep in mud while wearing flip flops. The mud is claimed to be quite healthy for the skin. The cave is also artificially lit guiding walkers to the hot springs where they can clean off afterwards. 
However, this venture is only advised to those who can walk well on slippery surfaces without tripping frequently. Children especially will find this a truly interesting place to walk through considering most don't mind wading in dirty water. Although this site is open year round, it may be best to visit while the weather is warm to avoid shivering.
Puxian Pagoda
Looking off into the distance, you might envision a pagoda standing like a precious vase. Or, this feature may appear as the handle of a sword thrown on the head (or back) of the elephant. Dating back to the Ming Dynasty, this 14 meter high pagoda is where you can see an image of the Puxian Bodhisattva while listening to locals tell about the legends that attribute to it.
Yunfeng Temple
Finally, we must not forget about the Yunfeng Temple. Ranking as one of the four most famous temples in Guilin city, this is one highly recommended feature to see while you are at Elephant Trunk Hill.  Also called the Fuyin Temple, it was where the comrades of the Taiping Heavenly Kingdom (1850-1864) gathered. Today it is open to the general public and currently houses many historical and cultural relics from ancient times in Guilin.
Touring Information
Conveniently located at Xiangshan Park, simply take the number 2, 16, 23, or 57 buses in Guilin and get off at the Xiang Shan Gong Yuan stop. A private coach or the number 58 bus, which is a free tourist bus, may be your best option. Currently, admission is CNY 75.
Touring hours are from 6:30 am to 9:30 pm everyday from April 1st to November 1st and 7:00 am to 9:30 pm from December 1 to February 28th and is closed in March. Reserve at least half an hour to spend here.
In Conclusion
Of the many sites to see in Guilin City, Elephant Trunk Hill is indeed one you must not miss. With its caves, islands, and temples, it will provide you with an experience that is well worth sharing with others. No Guilin trip is complete without visiting this site. Best of all, it is conveniently located near downtown and thus, once you reach to top of the hill, you can get a grand view of the city.