Tips for First-Time Visitors to Shanghai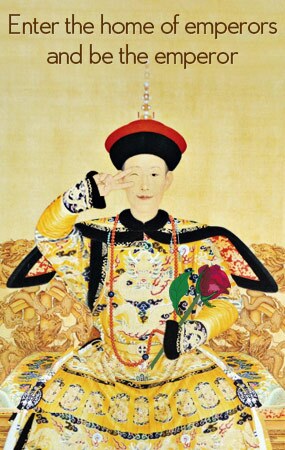 Your first time to Shanghai? Don't worry about a thing! Follow China Travel's tips below about money, street signs, shopping, transport and dining in Shanghai and you will find travelling to the city is not as tough as you thought.
Money
Legal tender in China: renminbi
Shortened form: RMB or CNY (Chinese Yuan)
Basic monetary unit: yuan (元)
Colloquial name: kuai (1 yuan=1 kuai)
Fractional units: jiao (角) and fen (分)
Colloquial name: mao (1 mao= 1 jiao)
Money conversion: 1 jiao = 10 fen; 1 yuan = 10 jiao = 100 fen
Major Monetary Denominations Used in China
At present, paper notes often used in China are 1 jiao, 5 jiao, 1 yuan, 5 yuan, 10 yuan, 20 yuan, 50 yuan, and 100 yuan. Fen are nearly out of circulation in the mainland market. As for coins, the main denominations are 1 yuan, 5 jiao and 1 jiao.
Currency Exchange
Generally, most four-star or five-star hotels provide money exchange services, exclusively for guests, but with a relatively low exchange rate.
You can alternatively exchange your money as soon as you get off the plane at the airport.
The best places, however, for currency exchange are the banks, where exchange rates are generally better, including the Bank of China, the Industrial and Commercial Bank of China, the China Construction Bank, the Agricultural Bank of China and other authorized banks.
Passports must be presented when you convert your foreign exchange in these banks. For convenience, you may like to ask the bank to pass on some smaller denominations of Chinese currency to you; otherwise they will only give you 100-yuan notes.
If when you are preparing to leave, you still have some unused RMB, you can exchange them back into your own currency by presenting all your exchange receipts at the bank. The exchange rate, however, will be less favorable than before.
The exchange rate changes every second, so it's hard to give you an explicit figure. But $1 (1 US dollar) usually equals around CN¥ 6.5 and €1 (1 Euro) amounts to about CN¥ 7.6.
International Direct Dialing
You can still use your phone if it is unlocked by suppliers in China. But better get a temporary Chinese SIM card from one of three carriers: China Mobile, China Unicom, or China Telecom, depending on the network mode of your phone. Ask them to activate the service for international direct dialing.
The charge depends on where you'll be phoning. Consult the carrier before you buy your SIM card.
Street Signs
It is interesting that all streets and roads in Shanghai are named after Chinese cities. In 2016, the Shanghai government had considered to remove English from street signs, so learning to understand street nameplates might be one of your pre-visit priorities. Here are some tips.
Four main directions in Chinese: 东- East, 南- south, 西- west, 北- north
勿 (wù) – Do not (do something) e.g. 请勿吸烟 (qǐng wù xī yān) – Do not smoke.
处 (chù) – Place e.g. 售票处(shòu piào chù) – Ticket office
请 (qǐng)- Please e.g. 请勿拍照 (qǐng wù pài zhào) – Please do not take photos.
此 (cǐ) – This e.g. 请在此排队 (qǐng zài cǐ pái duì) – Please line up here.
Please feel free to contact us if you want to get rid of travel problems, like not knowing Chinese, finding the bus or train station. Our English-speaking guide and experienced driver will make your Shanghai trip easy and fun.
Shopping
Shanghai, a paradise for shopaholics, is a modern city with highly-developed business centers and abundant shopping opportunities. Anything you can think of can be found here.
Biggest discounts are generally offered in summer. When major festivals (like Christmas, Chinese New Year and so on) arrive, open-air bazaars or flea markets are convened for people to purchase festival items.
Top Souvenirs in Shanghai
Souvenirs best embodying the special features of Shanghai include silk, Chinese qipao (evening dresses), embroidery, antiques and some art products like calligraphy, paper cuttings, wooden carvings and paintings.
Top Shopping Areas in Shanghai
The four major streets for shopping in Shanghai are Nanjing Road, Huaihai Road, North Sichuan Road and Middle Tibet Road. The Yuyuan Bazaar and Fuzhou Road are places where you can get some rare antiques and art products.
About Bargaining
In China, bargaining works and is really a kind of art. Useful bargaining tactics include cutting the starting price by about 50%, comparing prices in different stores, pretending to walk away, trying to find flaws in goods, and never expressing your preference for products.
Here are some phrases you might use when you bargain:
多少钱?duō shǎo qián – How much is it?
太贵了tài guì le – Too expensive.
便宜点? pián yi diǎn – Could you reduce the price?
可以打折吗? kě yǐ dǎ zhé ma – Can you give me a discount?
不要bù yào – I don't want it.
再看看zài kàn kàn – I will have another look (elsewhere).
Remember to bargain on clothing but never on food. And do not bargain in the supermarkets, large shopping malls, or corporate chains, for their prices are fixed.
Transport
Shanghai, China's first fully fledged Special Economic Zone, is the busiest transport hub in China. It is accessible by air, land and water.
Public transport is always the cheapest way to travel. Shanghai is no exception. The most popular public transport in Shanghai is the metro, where tickets cost between 3 and 9 yuan, depending on the distance traveled. Taxis start at 14 yuan for the first 3 kilometers (1.9 miles) and every extra kilometer (0.6 mile) costs 2.5 yuan up to 15 kilometers, then 3.6 yuan per kilometer afterwards.
If you want to go to nearby scenic spots such as the various water towns around Shanghai, a tour bus or hired private car might be most convenient.
The Shanghai Metro
Line 1 (red), from Fujin Road to Xinzhuang, stops at Shanghai South Railway Station, Xujiahui, Hengshan Road, People's Square, Shanghai Railway Station and Shanghai Circus World.
Line 2 (light green), from East Xujing to Pudong International Airport, stops at Hongqiao Railway Station, Hongqiao Airport Terminal 2, Jing'an Temple, West Nanjing Road, Shanghai Science and Technology Museum,Century Park, Pudong International Airport and Shanghai Maglev Station.
Line 3 (yellow), from North Jiangyang Road to Shanghai South Railway Station, stops at Shanghai South Railway Station, Zhongshan Park and Shanghai Railway Station.
Line 4 (blue), from Yishan Road to Yangshupu Road, stops at Zhongshan Park, Luban Road and Shanghai Stadium.
Line 5 (purple) starts from Xinzhuang and goes to the Minhang Development zone.
Line 6 (pink) starts from Gangcheng Road and goes to Oriental Sports Center.
Line 7 (orange) from Meilan Lake to Huamu Road, stops at Jing'an Temple and Changshu Road.
Line 8 (sky blue), from Shiguang Road to Aerospace Museum, stops at Hongkou Football Stadium and Laoximen.
Line 9 (powder blue), from Songjiang Xincheng to Middle Yangao Road, stops at Qibao and Dapuqiao.
Line 10 (light purple), from Xinjiangwancheng to Honqiao Railway Station, stops at Hongqiao Airport Terminal 1 and Yuyuan Garden.
Line 11(maroon), from North Jiading to Jiangsu Road, stops at Disneyland, Xujiahui and Shanghai Jiaotong University.
Dining
Though Shanghai cuisine is absent from the popular Eight Chinese Cuisines, it still boasts a reputation as one of China's best. Shanghai people have a sweet tooth, so more sugar is used in their food.
Since it draws from the best of the cuisine from neighboring provinces Jiangsu and Zhejiang, Shanghai cuisine should be a must-try for food-fans.
Tipping is not expected from waiters. The cost of Chinese food depends on your requirements. The cost per person of eating at street stalls is only 20 to 30 yuan, but more than 200 yuan at the highly-rated restaurants.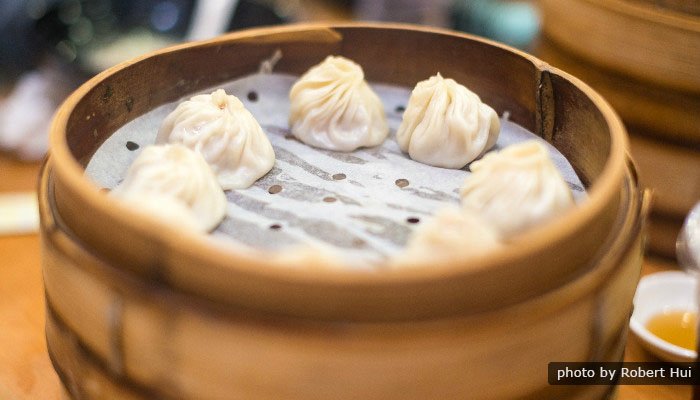 Popular Food in Shanghai
Steamed Crab – 大闸蟹 (Da Zha Xie)
Beggars Chicken – 叫花鸡 (Jiao Hua Ji)
Smoked Fish Slice – 熏鱼 (Xun Yu)
Nanxiang Steamed Buns – 南翔小笼包 (Nan Xiang Xiao Long Bao)
Fried Mantou – 生煎馒头 (Sheng Jian Man Tou)
Niangao – 年糕
Stewed pork and ham with bamboo shoots – 腌笃鲜 (Yan Du Xian)
Popular Restaurants
Popular Shanghai restaurants include Lü Bo Lang Restaurant, Xian Qiang Fang, Waipo Jia,1221 Restaurant, Shanghai Classical Restaurant, M on the Bund and Oriental Pearl Revolving Restaurant.
Popular Vegan Restaurants
If you happen to be a vegetarian, the following restaurants are highly recommended: Gong De Lin, Vegetarian Life Style, Longhua Temple Vegetarian Restaurant, Jixiangcao and so on.
Recommended Itineraries in Shanghai