Guilin Photography Tours
Guilin is one of the best photography cities in China, it owns the unique karst landscape, traditional farming culture and mysterious ethnic minorities. Photographers will find many image materials as they prefer. Landscapes scenery vary in different weather condition, the photography locations are mostly at off-the-beaten-track even few local knows, our customers will accompanied by a local certified photography guide, they are experienced and knows how to choose the best time and angles for picture and communications with models to make a posture.
What You Booking With? Tour Agent or Workshop
There's no doubt that booking with a local operator, use a local guide service comes with big benefits.
China Travel is a tour agent that offering themed tours to fit all the tour demanded. The co-founders of photography tour are professional tour guide as they are local photographers work for China Travel as well.
The guide has local knowledge and experience, they know the hidden path to the stunning scenery that few people knows, experienced at handling the emergency like changeable weather, traffic jam in scenic spots in peak tourist season. While the exact best time and best place for taking picture.
How to Plan a Guilin Photography Tour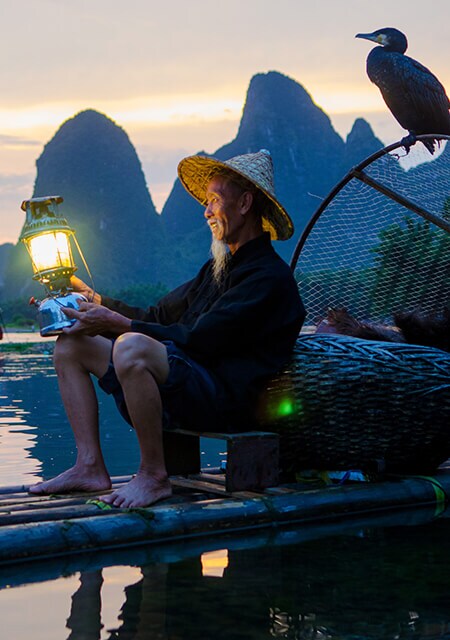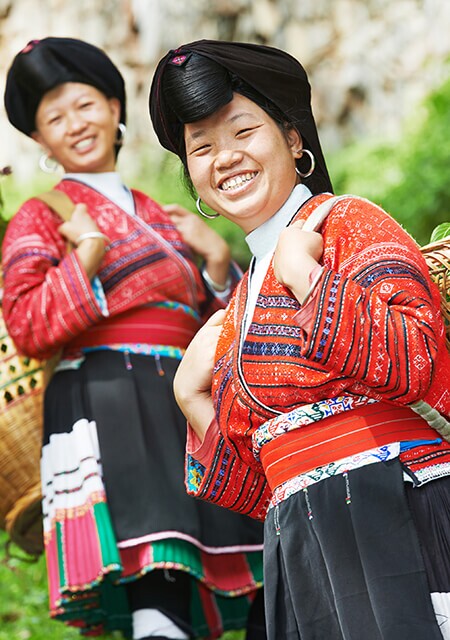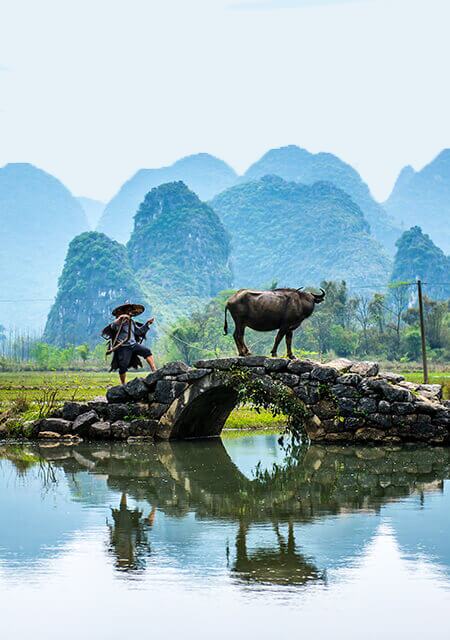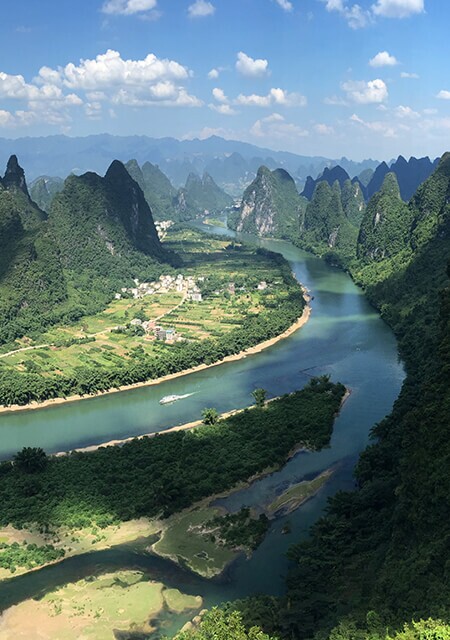 What to Photography in Guilin
You will explore the city through the eyes and knowledge of a local professional photographer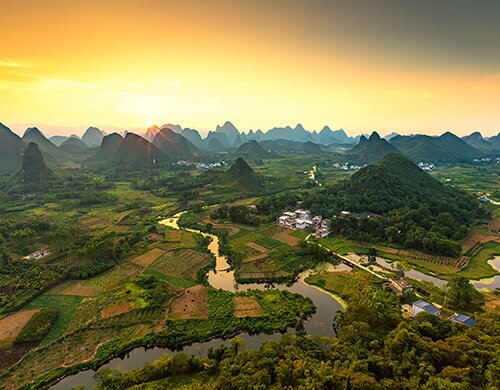 Landscape Photography
Landscape Photography: the towering mountains in Guilin are unique karst formation that create as picturesque views, it constantly changing in different weather condition in misty rain, foggy days, clear and sunny days, and the monument of sunrise and sunset, thus a photography paradise for photographer from all over the world. Place to capture the awesome view:
Xianggong mountain
Cuiping five fingers mountains
Tianxin Village
Huixian Glass Land
Li River in Xingping section
Yulong River in Yangshuo
Laozhai Mountain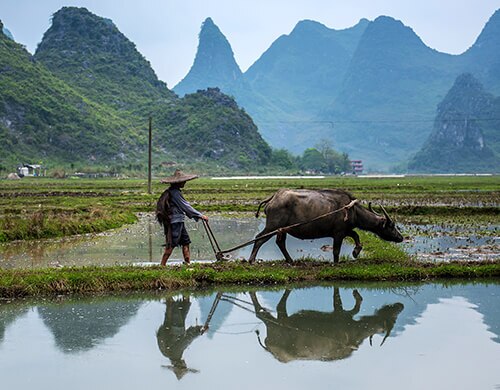 Chinese Farming Life
farming consists an important part of Guilin, benefit from the government advocate for sustainable development of nature landscape tourism industry, the manufacturing industry factory are settle out from the city, so that large scale of farmland still in producer now, you can see vivid rural life in countryside, water buffalo plow a field, cultivation culture, crop planting and harvesting. Place to capture the awesome view:
Yangshuo Couturyside
Longji Rice Terrace and villages
Tianxin Village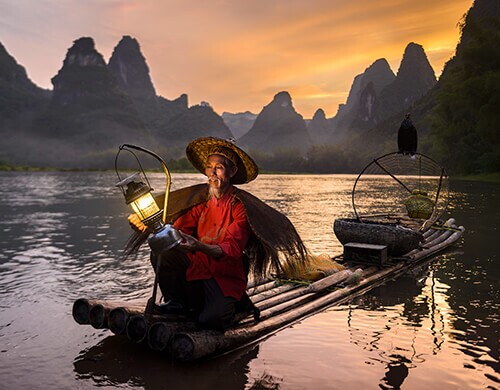 Fisherman and Cormorant
Fishermen in Guilin taking an important role of local lifestyle in the past, people whose live along the river are live on fishing, fisherman trained cormorant birds as a traditional fishing method to fish in river, you can easy to see this scenes when towards evening, lit up the bamboo raft by oil lamp in Li River with mountains as backdrop. We hire local fisherman and his birds as modal for photography.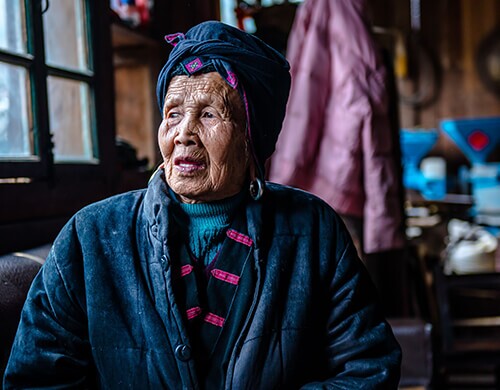 Longji Terraced and Ethnic People Portrait
Longji is a mountain area gather with Zhuang and Yao two ethnic tribes, the traditional lifestyle there never change even through in the fast-growing world. Hike on the edge of undulating rice terrace and took photos of this ancient miracle created by man. Color of rice terrace are varied in four seasons. Visit one of the local family in ethnic village, shooting Yao lady wearing red embroidery customs, rolling long hair around head as typical hairstyle, it is one of the best-hidden treasures of any country on earth.
Longji Ping'an Village
Longji Dazhai Village
Customers Frequently Asked Questions
The Best Seasons to Photography in Guilin
May to October considering the best time for travel to Guilin and for photography as well, the rainy season was gone, the weather are sunny and clear. January to April considering too much rain, and November to September are chilly cold through gray clouds.
April and May
Li River in Misty Rian – the end of rainy season
You can find a lot of misty mountains and rivers of artistic conception use in Chines painting. Photography in this season should choose the wide and good vision of the river with well-proportioned mountains as alongside, and mist wreathed the hilltop.
May to Junly
Sunrise and sunset on mountains, Xianggong Mountain, Li River fisherman and cormorant
This season is summer time in Guilin, the rainy season has gone and hottest months comes. The paddy fields grows alongside Li River and Yulong river, clam river water reflects as a mirror, bamboo raft or cruise boat sail across left sparking waves behind. best time to shoot Li River fisherman and cormorant is after sunrise or close to sunset.
August to October
Longji Rice Terrace, minority portrait, suitable for Li River fisherman and cormorant as well
Tailor-made Your Guilin Holiday