Longji Rice Terraces Tour
Longji Rice Terraced Field lies in the Heping town, 77km(48mi) from Guilin City, 2 hours get there by car. They were first built in Yuan Dynasty, and has been lasted for thousands of years, now still well-maintain and in cultivated. The terrace fields are like chains spread from foot to top of the hill. Some are like spiral shell and some are like towers lying tier upon tier. The sea level runs from the lowest 380 meters to the highest 880 meters with a drop height of 500meters.
The best time travel to Longji Rice Terraced is May to late October, the scenery varies in seasons, silver in spring, green in summer, and gold in autumn and like a dragon in winter. Yes, you may see snow covering the fields in winter month (December to February), but the accessing roads are block for safety reasons.
You can see terraces field at three villages in Longji: Ping'an Zhuang Village, Ancient Zhuang Village and Dazhai Village. We provide tours to those villages with exclusive experiences that can interact with locals and immers in their multiculture.
Location: Heping Town, 95 km north of Guilin city (2.5 hours' drive)
Recommended length for stay: 1-2 days
Highlights: terraced field scenery, ancient villages, minority culture
Suitable for: families, friends, couples
Best times: spring and autumn, especially May and October, for the seed time and harvest time, respectively
Activities: photography, hiking
Opening hours: all day
Following are our Longji Rice Terraces Tours, check out what interest you most and contact us for details.
Exclusive Local Experiences in Longji Rice Terraces
We turn an ordinary itinerary into an unforgettable experience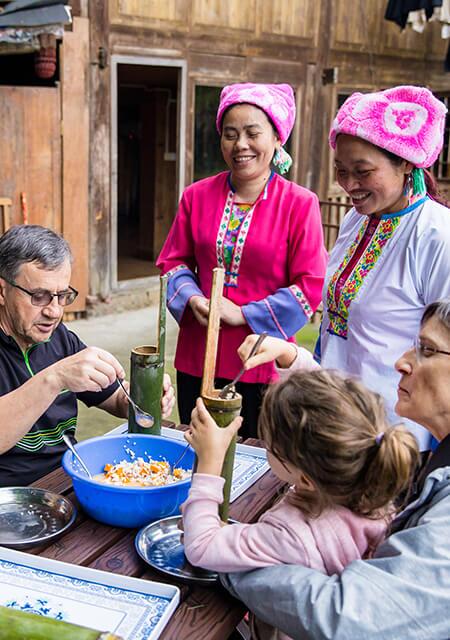 Learn How to Make Bamboo Roasted Rice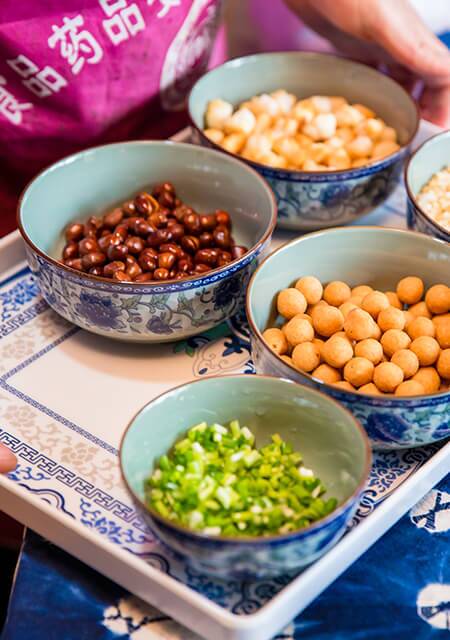 Learn How to Cook Oil Tea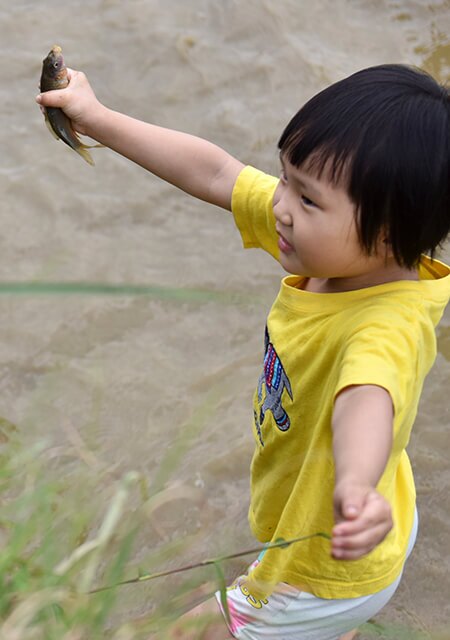 Catching Fish in a Rice Field in Summer (June to September)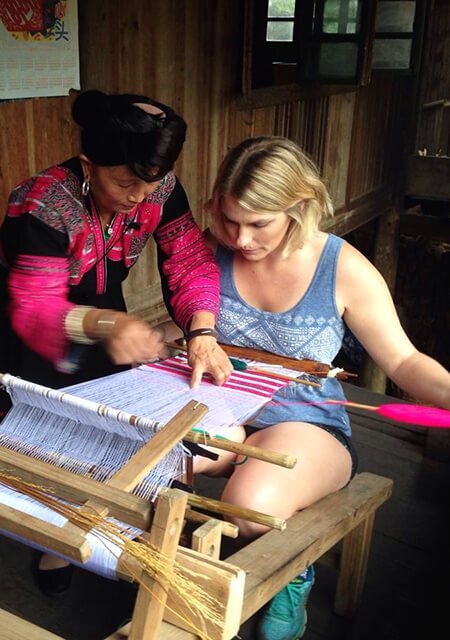 Experience the China intangible cultural heritage – Yao embroidery
What Makes Longji Extraordinary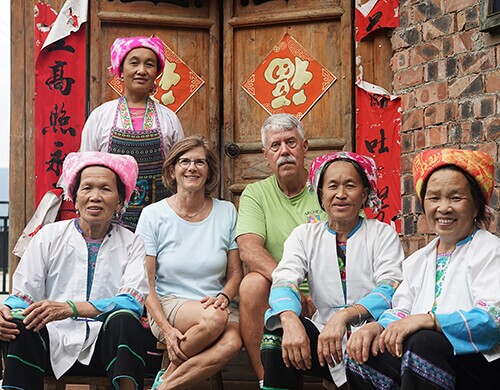 Zhuang and Yao Minorities
Most people living here are Zhuang minority. The customs of Zhang are well-preserved. Their head wears are kept in blue and white ribbon, black or white with embroidery on dress.
Yao is another ethnic group stay in this area, they live at the foot of mountain, the most famous one is Huangluoyao Village. The village is well known because it is given a certificate for the long hair by Guinness General Headquarters. All Yao ladies in this village with hair reaching the ground. Visit and get to know why do the women here like to wear long hair? And how do they protect their hair?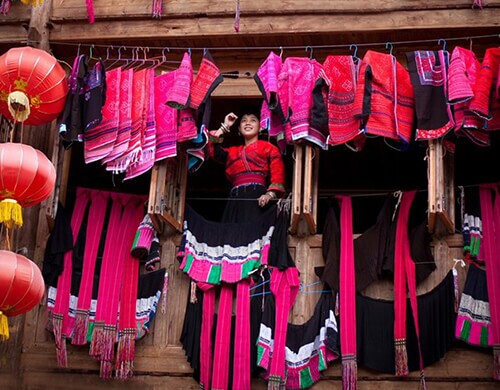 World's Famous Red Yao Clothes Drying Festival
This festival celebrated in June 6 every year according to the local calendar. It is celebrated from March 15th to March 17th. Girls whose have married should came home to visit their parents, hang out and drying their custom dress under sunshine. Yao people says lunar June 6 have strongest sunlight power to disinfect the clothes, considering the best methods for cleaning mold and mildew.
During the day, all the people in the Yao villages are very excited and happy. Young girls who have grown up they all dress up and look much more lovely and beautiful. All of them wear embroidered blouses and straight skirts with various patterns.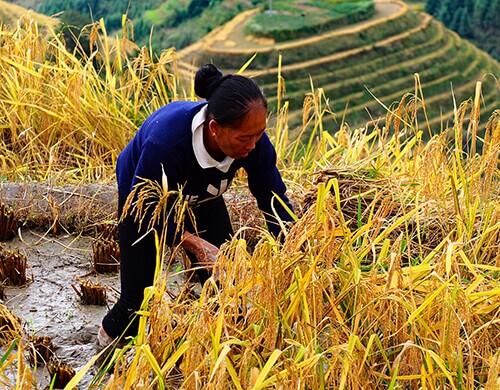 Cultivation Culture in Longji Terraced Field
The cultivation culture in Longji had lasted for thousands of years, for make a living in the rural area with poor living condition, people have to obtain raw material locally. Now you still can see well-maintained man-made terraced in edge of high mountains, grows rice and crops in different seasons, genius irrigation system diverting spring from top of mountain lower down layer by layer through many digged holes into the field.
The large scale of terraced makes the view spectacular, if you want to see epitome beauty of China's rural beauty and a traditional village largely unspoilt by the modern world in China, you must put Longji in your bucket list.
Customers Frequently Asked Questions
Getting to Longji?
1. From Guilin to Longji:
1) Take a nonstop express bus from Guilin Qintan Bus Station (No.31 Cuizhu Rd, Xiangshan District) to Longsheng Bus Station, which takes 2 1/2 hours and cost CNY40 per person. Then get on another shuttle to Longji Terraced Field Scenic Spots, 40 minutes cost CNY20 per person.
2) Take a local bus (many stop for pick up passengers on the way) from Guilin Qintan Bus Station, ask for get off at the junction of Heping Village (和平村路口), then take another local shuttle to Longji Terraced Field Scenic Spots. It cost cheaper but waste time for waiting passengers hop-on and hop-off.
2. From North/South/West Railway Station to Longji
There are 2-3 shuttle buses everyday departs from 3 railway stations in Guilin to Longji Terraced Field (or Jingkeng/Dazhai), the schedule may change in seasons, should contact us for further confirm.
3. From Yangshuo to Longji Jinkeng Dazhai Terraced Field
By Bus: Take a bus departs from Yangshuo Biliandong Bus Station at 8am and 1pm, departs from Yangshuo South Station at 9am. It takes 4 hours cost from CNY90 per person.
All the bus to Longji stopped at the ticket office and a cashier came on a bus to sell tickets to visitors. The entrance fee to Longji terraces area is 80Yuan, the tickets were checked inside several times.
4. From Guilin Airport to Longji
No bus transfers, you can take a Taxi or book a Longji Terraced day trip with us.
As we advise, if you have limited time in Guilin, and don't want to waste time for waiting on public transport, just book a Private Longji Rice Terraces Private Day Tour with us, make sure you enjoy most of time there.
When is the best time travel to Longji?
About the luggage, where to unload if stay overnight?
Tailor-made Your Guilin Holiday