Urumqi Shopping
Urumqi Local Products:
Urumchi is the political, cultural and economic center of Xinjiang Autonomous Region. All the famous specialities of Xinjiang can be purchased in Urumchi. There are various souvenirs worth bringing home, among which are jade carvings, national musical instruments and clothes.
Xinjiang Carpet
Sinkiang is the birthplace of carpets in the world. Sinkiang carpet is famous for its long history and marvelous skill. It is a kind of traditional industrial art as well as a kind of export product. Hetian is the hometown of Sinkiang carpets. Sinkiang carpets are called Eastern Carpets. The design, picture and color are embodied with rich folk style and local features.
Duoba (flower Hat)
Uygur people like wear flower hat, which is called Duoba in Uygur language. There are different flower hats in different areas. There are about 20 kinds in total. It is decorated with flowers and designs made from traditional stitchwork, flower, gold and silver thread and colorful bead. It is part of Uygur clothes and a necessary of Uygur people. It is also a notable symbol of Uygur people.
Yinshaji Knife
Yinshaji knife is made from Yinshaji County. It is a traditional name brand handicraft of Sinkiang. With beautiful sculpt, bright body and the hilt decorated with flowers and other pictures, it is full of local style. With leather sheath, it is convenient to be taken and useful in many ways, especially suitable to be used during traveling. It also has high value of collection and is favored much by all ethic groups in Sinkiang as well as tourists.
Smoked Horse Gut
the horst gut and preserved ham of Kazakstan have rich fat but not oily. It looks nice, taste good and has high nutrition. When winter is coming, it also comes a good time for Kazakstan people to show their cooking skill. One can visit pasturing areas and enjoy delicious food at this period of time.
Xinjiang Jade
Sinkiang has the reputation of the Region of Gold and Jade. It is a famous bowlder producing area in China. Its Hetian white jade (Suet jade) is the national jade of China. Sinkiang jade is hard, with glittering appearance and gentle character. Sinkiang jade and Burma green jade are two great jades in the world. Hetian jade is the most famous, while there are also green jade, jasper, Kunlun jade, crystal, agate, lotus stone, etc.
Xinjiang Hop
it is also called Shema flower. It is an important material in making beer and has high value of medicine, diuretic and strengthens the stomach. Its pinecone preparation has activity of cancer prevention. Its naphtha is good for curing heart disease. It has polyphenolic compound which has some effects on curing inflammation and some other diseases.
Medlar
there are wild and manpower cultivated medlars in Sinkiang. Wild medlars are smaller, with less flesh and darker color. All the export medlars are manpower cultivated products. They are cultivated in both south and north Sinkiang, and Boertala autonomous prefecture produces melars with the biggest quantity and good quality.
Xinjiang Caladium
Sinkiang caladium is a precious traditional medicine as famous as Sichuan caladium and Zhejiang caladium. It includes Yini caladium, Feiergan caladium and beach caladium. Except for beach caladium grows in beach area, other three kinds of caladium usually grow at mountainous region and boscage.
Urumqi Shops and Stores:
Urumqi possesses abundance of shopping places. The interlink of Jiefang Road, Mingzhu Road and Zhongshan Road are the greatest business center of Urumqi. In the southeast part of the city lies the "Mid-Asian International Bazaar". Erdaoqiao is the most nationality-colored business street and the neighboring International Bazaar where tourists can not only purchase various local specialities, but also savoring all kinds of snacks. Do remember you can bargin with the local salesmen which might first offer a relatively higher price to the tourists.
International Grand Bazaar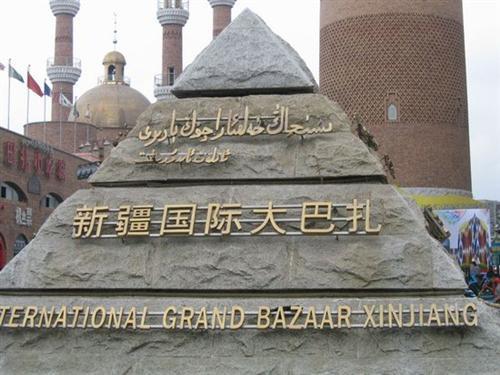 The numerous buildings and structures that make up the Urumqi International Bazaar cover an area over 1000 000 square meters. This huge construction features the main bazaar (398888 square meters), a banquet hall (6100 square meters), the delicacy square (8000 square meters) and an open-air performance plaza (3000 square meters). In the midst of all this stands Xinjiangs first sightseeing tower topping out at 80 meters. The bazaar also features an Islamic mosque. The buildings and general area are constructed in an Islamic style representative of the preponderant religion and ethnic culture of the western region. The Bazaar is often referred to as a city within a city Read more
Zhongshan Road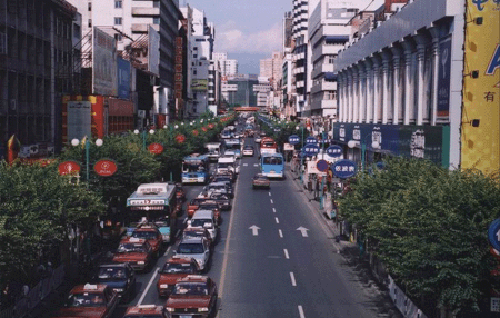 Since 1773, Zhongshan Road has become a prosperous place abundant of merchants and all kinds of cultural establishments. In March 23, 2005, Zhongshan Road has been granted the title The Notable Business Street in China. Currently, Zhongshan Road boasts of eight enterprises of the world top 500 enterprises and about 125 shoping malls, becoming the Wanggujin of Urumqi.
Erdaoqiao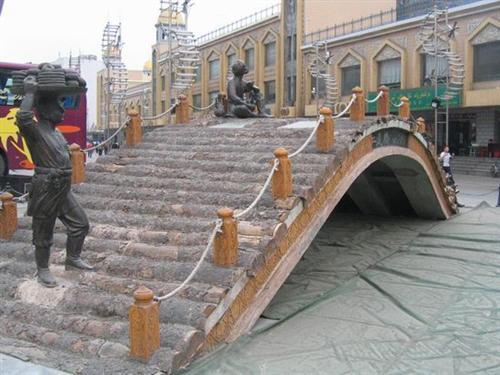 The Erdaoqiao Market is one of the best starting points for visitors sightseeing in Xinjiang. On the first floor under the Erdaoqiao Market is the Erdaoqiao Imported Commodity Street where one can buy genuine imported products from all around the world. The international market houses an eclectic mixture of goods such as woodcarvings from Russia, bronze ornaments made in Pakistan, silverware imported from the United Arab Emirates, perfumes out of India, and carpets from Turkey. Read More
Recommended Tours: