Wuhan Food
Last updated by jessicazhang0914 at 2017/5/6
Wuhan food is generally a mix of Shanghai, Chongqing and Sichuan cuisines,therefore it is absolutely a wonderful place for tourists who haven't got enough time to travel. There are a variety of snacks, for instance, the succulent, spicy duck's neck, dumplings, hot and dry noodles (re gan mian), chili-spiced pigeons, the delicious and often squirty soup buns (tang bao), salty doughnuts (mian wo) or doupi (sticky rice, egg, beef, mushrooms and beans wrapped in a pocket of soy skin). Take an opportunity to eat, gorge or snack.
Wuhan Featured Food:
Hot And Dry Noodles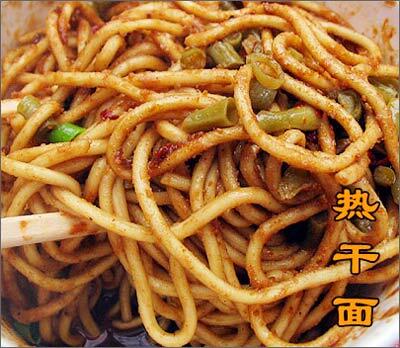 Hot and Dry Noodles is the most popular food for breakfast in Wuhan. It enjoys a high reputation for its low price and deliciou taste. As the name has indicated, the noodles are the main stuff, seasoned with sesame paste, preserved Szechuan pickle and shallot. Some people may not be interested in it for there is no soup in it and they will feel extremely thirsty after eating it.
Doupi
Doupi is made from sticky rice, egg, beef, mushrooms and beans, wrapped in a pocket of soy skin. This is the habitual an main breakfast for Wuhan people. During the process of cooking, appropriate temprature of the fire is strictly required. Only in that way could Doupi have an intoxicating taste, crisp outside and soft inside.
Sijimei Dumpling
On the base of tradtional soup stuffed bun, such a kind of snack come to its present appearance through continuous improvement, bearing a Wuhan local flavor.It tastes fresh and tendercan and can be eaten with ginger strips, sauce and vinegar. It is not only popular among Wuhan locals but also enjoy a high reputation in the whole country.
Salty Doughnuts
Salty Doughnuts is the habitual breakfast for Wuhan people. It adopt rice flour as the raw material and is fried together with shallot. It is reported that Salty Doughnuts made its debut early in Qing Dynasty. After being fried, it presents a gold color, crisp inside and soft ouside.
Three Braized Dishes Of Mianyang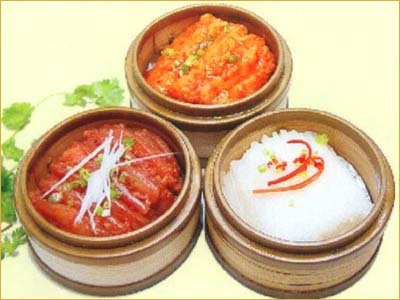 Three Braized Dishes are the most famous dishes in Xiantao which is a city named "the hometown of gymnastics" because many Olympic gold medalists in gymnastic field come from such a small city. However, such dishes are not that rigid as gymnastics, to the opposite, they taste soft and tender. The three dishes are separately the braized meat, braized fish and braized vegetable wchich are all cooked with rice flour sprinkled in the main materials. They are not only full of intoxicating fragrance, but also they will leave dinners an everlasting aftertaste.