Wuhan is the capital of Hubei province of Central China. Due to its central location Wuhan has become an important transport hub with a sprawling airport a good network of highways and railroads that connect it to many other cities in its own province as well as other provinces of China. Wuhan airport was opened in 1995. From the day it was opened it developed in leaps and bounds. The need for a second terminal was also felt in just 15 years.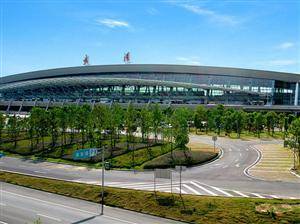 Second Terminal building and the runway
The second runway was built in such a way to enable it to support landing of Airbus A380 aircraft also. Along with the second runway a new terminal building that is able to handle 320,000 tons of cargo as well as 13 million passengers a year was built. A floor area of 121,200 square meters is available in the new terminal. It has cost 3.37 billion Yuan which is close to $421.5million.
Wuhan's Tinhe airport is located 26 kilometers away from the city and it is linked to the city with an express way. It will take just 20 minutes to reach the city.
Airlines that serve Wuhan Airport
Wuhan airport connects a number of cities in China with Wuhan. Also there are international flights to a number of cities outside China. Chinese cities are mainly served by China airlines, China Southern Airlines and China Eastern Airlines. Cities outside China also are served by China Airlines and China Eastern Airlines.
A number of foreign airlines also serve Wuhan airport. They include Air France that links Charles de Gaulle Airport in France, Business Air that flies to Suvarnabhumi Airport in Bangkok and Korean air that connects Incheon Airport in Seoul to Wuhan. In addition to these airlines around ten more airlines fly to Wuhan airport. In addition to these passenger airlines there are also a couple of airlines that fly cargo flights to this destination.
Direct flights from Wuhan to international destinations
There are a few flights to international destinations from Wuhan Airport. Bangkok in Thailand and Fukuoka in Japan are two of them. In addition to that there are daily flights from Wuhan to Hong Kong. Travelling to Wuhan has become very easy these days. In case you have valid travel documents you can walk into the ticketing office of one of the airlines that fly to this destination and buy the tickets without any hassle.
Domestic flights
There are over 100 cities connected to Wuhan by air transport. Therefore, any foreigner who is in China could take a flight and arrive in Wuhan easily. All the modern facilities are available in this airport.
Getting to the city
In order to reach the city there is the bus which will cost you just 20 Yuan. The busses are there ready to transport passengers every time a flight lands. In case you need to take a taxi the taxis are there. The cost could be around 80 to 100 Yuan depending on your destination in the city.