Li Garden is a beloved space and a great destination for all ages. The lake within the garden ripples gently and green hills stand in the distance, creating a feeling of peace and tranquility especially in Spring. Long corridors, embankments, arbors, and pavilions in the garden are all exquisitely engraved with elegant and colored drawings.
The garden is divided into 4 tourist and sightseeing areas, namely Artificial Hills Covered with Green Vegetation, Spring Morning on the South Embankment, Long Corridor with a Collection of Sightseeing Scenes, and Layers of Waves with Double Images.
In Artificial Hills Covered with Green Vegetation, there are boundless spring sceneries in Sifang Pavilion. The path winds beside the water pavilion and visitors can take the lotus boat or pay a visit to the fish pond. The vistas of Yiren Rock and the luxuriant woods and trimmed bamboos of Guiyun Peak will make you feel as if you are traveling in the universe.
The long path of 1,000 steps in the Long Corridor with a Collection of Sightseeing Scenes heaves high and low with zigzags. It is deep and shifty with strong gradation as if picture scrolls of mountain rays shining on the threshold and water surrounding the corridor have come to life. The views in the long corridor are also quite varied, from the doors and windows with exquisite engravings to the water platform with red flowers and green trees.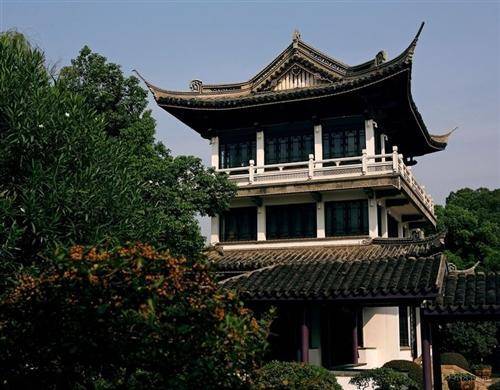 As the Layers of Waves with Double Images area shows, it is the best spot to appreciate water in Li Garden. Ban Pavilion, Lvyi Pavilion, Chunqiu Pavilion, and Shuimiao Pavilion all focus on the water and demonstrate the grace of the lake . In the area of Spring Morning on the South Embankment, visitors can have a thorough appreciation of the spring scenery and smell the lovely fragrance of flowers.
Sifang Pavilion is known for its unique ingenuity as the 4 identical pavilions built around the waters display the beautiful sight of Li Garden with the construction theme of "not fearing conformity but leaping out of conformity." In harmony with all the seasons of nature, different temporal flowers and trees are planted according to the color of the flowers and seasons around every pavilion.
The spring pavilion of "Yihong" is planted with plum trees, the summer pavilion of "Dicui" is planted with dogbanes, the autumn pavilion of "Zuihuang" is planted with sweet-scented osmanthus, and the winter pavilion of "Yinba" is planted with calyx canthus. Standing in one of the pavilions, it is bewitching to see the other 3.
Solo Adventure Tips:
Location:

How to Get There?
You can take the bus route K1 or K82 to get there in the urban areas of Wuxi City.
Ticket Price:

Opening Hours:
From 06:30 to 17:30
More Tips:

Information accuracy:
We try to make the information on China Travel accurate when we write/edit it. If you find any outdated information, please inform us.