Overview
Located in Maji Mountain area and near to Taihou Lake, only 25 kilometers away from the city of Wuxi, Lingshan Grand Buddha is a part of a larger spiritual site that includes Xiangfu ancient Buddhist temple (dates back to Tang Dynasty), and newly built Brahma Palace (erected in 2008).
A series of smaller sculptures, known as Nine Dragons Bathing Baby Buddha, is also placed inside this cultural park. Surrounded by mountain in three directions, the area was known as a spiritual Buddhist site since ancient times and a reconstruction series began in 1994 in order to give it back its old glory.
Lingshan Grand Buddha was added to the site in 1996 during the reconstruction of Xiangfu Temple. The statue is named after its location, Small Lingshan. Great Monk Xuanzang, who is well-known in Buddhist tradition for his pilgrim journey in India, named the area back in Tang Dynasty.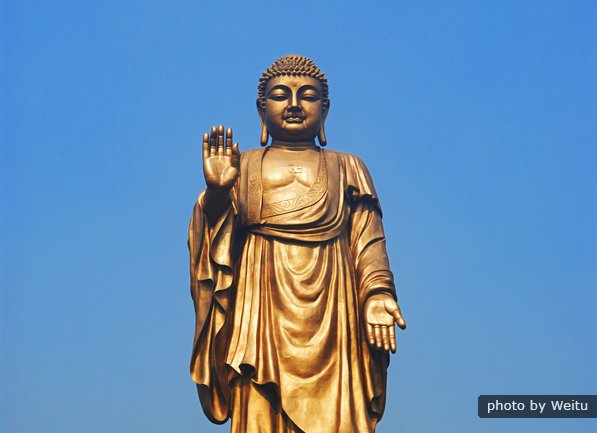 Things to do
Weighting about 700 tons and being 88 meters high, Lingshan Grand Buddha is the tallest outdoor statue in the world. Featuring Sakyamuni Standing Buddha, it is made out of tin and bronze, with bronze holding a special place in Chinese religious tradition, and its construction process strictly followed the 32 features of Buddha in Sutra. The statue consists of the main body, which is 79 meters high, and a nine-meter lotus shaped base, where the visitor can spot a worshiping Bodhisattva and Arhat.
The Grand Buddha's face bears a peaceful merciful expression and a pleasant smile. The right hand of the Buddha is lifted with the palm facing the crowds and bearing a "fearless" seal. This pose signifies redemption. The left palm also faces out with the thumb and the forefinger attached in a circle and bearing a "wish" seal. This pose symbolizes bringing happiness. This combination shows of Buddha's merciful feature.
Lingshan Grand Buddha is one of Wuxi's most popular attractions with more than two million visitors per year. Spring festival, when Chinese New Year is celebrated, attracts even more crowds that come to hear a giant 12-ton bell striking. This bell is the largest in South China and its ring is supposed to bring good luck and blessings.
Brahma Palace was erected near to Lingshai Grand Buddha in 2008 in order to enrich the area's Buddhist spiritual character. Although it is a modern construction it is built according to Chinese Buddhist architecture. It houses a museum, an exhibition hall, a performance room, a concert hall and a corridor dedicated to Buddhist art. It also holds facilities that are able to accommodate international meetings and assemblies, as well as temporary exhibitions and displays. Aisle Hall carries a display of Buddhist paintings.
The walls and ceiling of Tower Hall are engraved with Buddhist decoration. A daily religious performance is held in Holy Alter. The performance narrates the traditional story of Sakyamuni becoming a Buddha through a combination of music and drama. Brahma Palace is a great choice for those who search for enlightenment on Buddhist art, tradition and culture and also serves as an A class museum on Asian contemporary art.
Xiangfu Temple was originally built in Zhenguan Era during Tang Dynasty and enjoyed great fame and glory among Buddhist culture. Destroyed and rebuilt several times through history it was last reconstructed in the 1990s, when the statue of Lingshan Buddha was added as well, and is now a part of Lingshan religious site.
Solo Adventure Tips:
Location:

Lingshan Road, Hubing District, Wuxi, Jiangsu Province.
How to Get There?

Take bus number 88 or 91 from Wuxi Railway Station and get off at the terminal station.
Ticket Price:

180 Yuan per person
Opening Hours:

6.30am to 6pm
More Tips:

Information accuracy:
We try to make the information on China Travel accurate when we write/edit it. If you find any outdated information, please inform us.