Turtle Head Island
Overview
Located on the northwestern shore of Taihu Lake and 18 kilometers southwest of the city of Wuxi, Turtle Head Island is actually not an island, but a peninsula which took its name by its great resemblance to a turtle's head. Taihu Lake is the 3rd largest fresh water lake in China covering a surface of 2.000 square kilometers. Surrounded by fascinating natural scenery, it holds 48 small islands, among which Fairy Island, and 72 peaks.
Due to its natural beauty, Turtle's Head Island, or Yuantouzhu Island in Chinese, has been a popular destination since 2.500 years ago when imperial families started using it as a vacation escape destination. The current Yuantouzhu Park, which covers an area of 1.3 square kilometers, was first established in 1918 and has gone through several extension projects since the 1980s.
Things to do 
Turtle Head Island is the best place to enjoy a scenic view of Taihu Lake. Visitors in spring time will also have a chance to admire a group of ancient style Chinese fishing boats floating in the lake. If you are lucky enough to visit the island on a day when the lake is covered with mist you are about to view a fascinating spectacle.
Visitors can enter the park through one of the two main Gates: Jianjin Gate and Lishe Gate. Once inside, the first structure you will face is a memorial arch. A small forest, a Chinese garden and several traditional buildings, such as Huxin Pavilion and Guanfu Temple, are placed on Turtle Head Island and a lighthouse stands on the western tip of the peninsula. If you visit the island in spring don't miss Changchung Bridge, which is surrounded by cherry trees donated by the Japanese in order to encourage the Sino-Japanese friendship. Cherry trees, which are a very important element in Japanese culture, bloom around April creating amazing views of red and white blossom flower.
Those visiting Turtle Head Island during summer should definitely pay a visit to Lotus Pond. Although the pond is a great place to stroll around all year long, it gets much more fascinating during summer when lotus flowers bloom. The lotus flower is a symbol related to Buddhism and it is very likely that you will come across with it in religious statues or buildings. Qingfen Isle, a tiny piece of land, is located in the center of Lotus Pond and connected to mainland with a small bridge. Songfen Hall, an ancient style three room open hall, is placed on Qingfen Isle.
Turtle Head Island is also used as a stepping stone to the famous Fairy Island, a tiny but beautiful island sitting in Taihu Lake. Head down for the docks where you can get a ferry to Fairy Island.
When in Turtle Head Island zone the visitor can enjoy all kind of touristic facilities such as accommodation, souvenir shops, traditional restaurants and waterfront cafes, boat rides and dinner cruises in Taihu Lake and more. A medical center is also available in the area. 
Location:

Huanhu Road, Mei Garden, Wuxi, Jiangsu Province.
How to Get There?

There are three options on reaching Turtle Head Island:
Take bus number 1 from Wuxi Rail Station and get off at the terminal station
Take tourist attraction bus and get off at Dushan stop
Take a ferry to Plum Garden
Ticket Price:

50 Yuan per person for Turtle Head Island
105 Yuan per person for a combination ticket for both Turtle Head Island and Fairy Island (includes ferry tickets)
Opening Hours:

6:00-17:00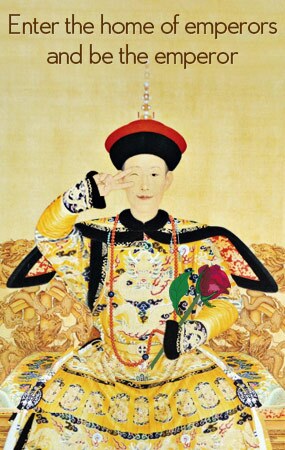 For an authentic travel experience, contact one of our travel advisors. Our local experts are always ready to create a hassle-free tour for you.