Hulishan Fortress
Located on the south side of Xiamen Island, Hulishan Fortress guards the Chinese shore for over a century now. Built in 1894, during Guangxu reign in the Qing Dynasty, it has always been an important landmark in the island's history, also serving a key role to the country's defense against the Japanese in 1900 and 1937.
Parts of the fortress were recently renovated and it was listed in the Guinness World Records in 2000 for its huge 19th century cannon.
Thing to do
Hulishan Fortress consists of a granite castle, which occupies an area of 13.000 square meters, a commanding tower, an ammunition depot, a sentry platform and barracks. A trench surrounds the fortress for protection. A secret tunnel connects the eastern and western emplacement and guards used to cover both its exits. The whole complex covers an area of 70.000 square meters and the structures are built in a combination of Chinese and European architecture indicating the beginning of westernization of China that was taking place at the time of its erection.
The base of the fortress was constructed using an innovative Chinese material widely used by the people of Xiamen Island: a mix of clay, sand, glutinous rice, brown sugar and camphor tree sap. The big advantage of this unusual mix is its great strength, but also the fact that, in case a part of the fortress was blown up, its fragments would not harm the ones inside in the way rock or cement would have.
Both emplacements were armed with huge cannons, bought from the German Krupp Munitions Plant. Each cannon was over 13 meters long, weighted 50 tons, had a range of fire of 16 kilometers and cost over 50.000 taels (Chinese metric system for weight) of silver at the time! Unfortunately one of them is long gone, but visitors have a chance to take a look at the one that still remains in the fortress. Along with the Krupp cannon the fortress carries a display of over 50 iron Chinese cannons dating back to Ming and Qing Dynasties, which were found around the island's fields and shore.
In 1997 Rongguang Cultural Relics and Treasures Museum was built in Hulishan. This small museum carries an interesting collection of ancient weaponry, firecrackers and unusual stone formations, most of which was donated by a privet collector from Singapore. The visitor will come across the smallest cannon in the world (it is only 11cm long and weighs 0.22 kilos!), which was made in Portugal in the 13th century and a stone that, funnily enough, looks like a piece of meat including skin, fat and muscles!
One has a chance to watch scenic views, including those of Dadan and Erdan Taiwanese islets, through telescopes that are located on Wanggui and Pangui terraces of the fortress. A small pavilion located at a high spot can be a nice place to get some rest and enjoy fascinating views of the fortress. During the recent renovations a wall carving, that shows "national soul", was added to the fortress as an artistic touch that honors the history of the place. Besides the wall carvings sits a small garden.
Location:

Zengcuoan Road no2, Siming District, Xiamen City
How to Get There?

Buses: number 22, 29, 35, 47, 48, 87, 96, 501, 503, 531, 616, 618, 809, 811
Stop Hulishan Fortress
Ticket Price:

25 Yuan per person
Opening Hours:
8:00—18:00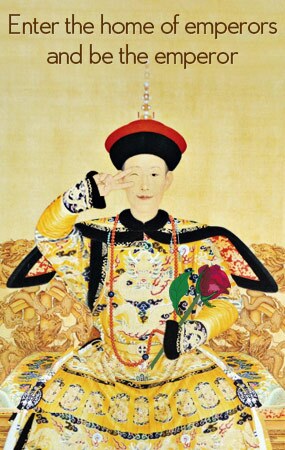 For an authentic travel experience, contact one of our travel advisors. Our local experts are always ready to create a hassle-free tour for you.