Xiamen Food
Last updated by  at 2017/5/19
Xiamen Featured Food:
Buddha Jumping Over The Wall
Buddha jumping over the wall, the representative of Fujian cuisine, is a traditional famous dish with a collection of epicurean delicacies. Its include over 30 sorts of main materials, such as shark fin, sea cucumber, chicken chest, duck, pork tendon, mushroom, abalone, pigeon eggs, and several sorts of supplementary materials. With tens of main and supplementary materials simmered together, they not only share the flavor of meat or dish, but also retain their own original characteristics. No wonder the dish is so delicious with pleasant fragrance that even the Buddha would jump over a wall to have a taste once he smelled it.
Boiled Sea Worm Embedded In Cold Jellyfish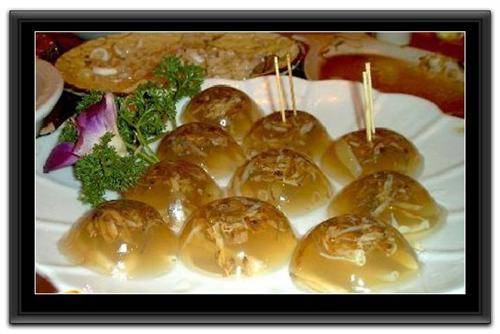 Tu Sun Dong is a jelly made of marine products. Tu Sun can be made into jelly because they have gelatins. It is annelid with a scientific name of Sipuncula. With a length of two or three inches, it has bowels and a heart organ. After being boiled, the gelatins it contains will dissolve into water. Then it will become gelatinous after being cooled. Now it has been one of the key cold dishes in large and small banquets.
Oily Scallion Cakes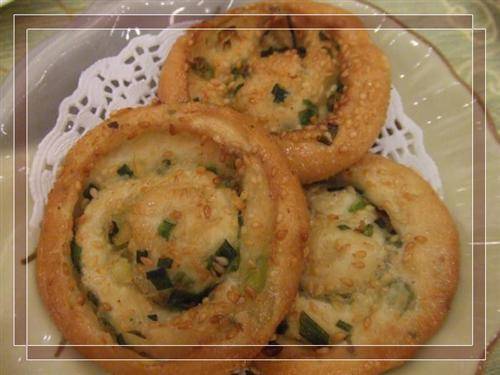 On middle autumn's day, whose popular name is "seven and a half months", local people has the old custom of sacrificing salty cakes to ancestors. It is said that when a family steamed this sacrifice, the child lifted the cover of bamboo steamer and saw a half-ripe salty cake. Thinking it tasteless, he poured a bowl of meat into the cake conveniently. When the parents discovered, the cake had ripened but tasted good. Therefore, people rushed to copy it and salty scallion cake became oily scallion cake through the development.
Peanut Soup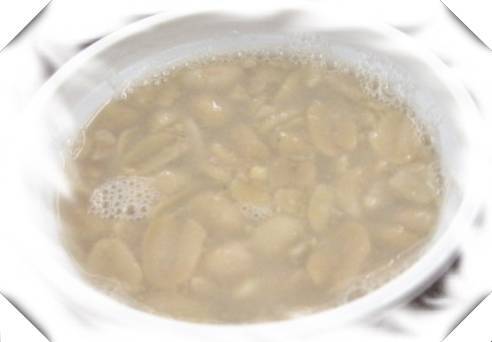 Peanut soup is by no means easy to make despite the fact that it is made of only one ingredient--peanut. First, carefully selected peanuts are dipped in boiling water for deshelling. Then they are stewed with mild flame in the marmite until they are ripe. Last add sugar and continue stewing the soup till they are rotten to the core. This soup goes extremely well together with light refreshments, such as youtiao (deep-fried twist dough sticks), fried dates, fried leek dumplings, pork buns, sweet buns, deep-fried glutinous rice, which are all of top grade.
Mian Xian Hu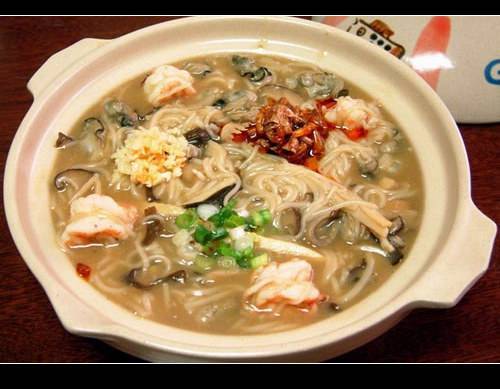 Mian Xian, also called Xian Mian, is a famous specialty in Xiamen. It is made of top flour of a lily-white and fine quality. Mian Xian Hu is a paste made of Xian Mian. It mainly depends on the superb flavor of soup, which contains shrimps, oysters, sea clams, mussels and other fresh seafood.