Big Wild Goose Pagoda
Located in Xi'an, Shaanxi Province, China, the Giant Wild Goose Pagoda, or Big Wild Goose Pagoda (大雁塔) is a five-story tall pagoda constructed during the Middle Ages.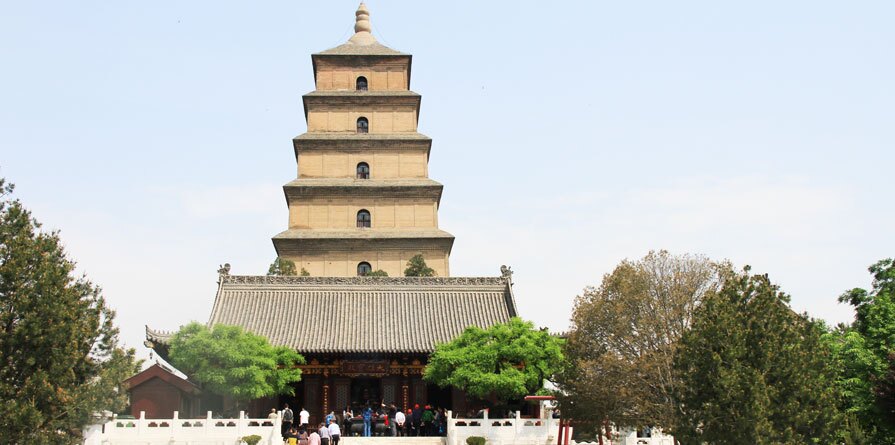 The Giant Wild Goose Pagoda
The pagoda sits in the Da Ci'en Temple complex. Originally built in 652 CE, during the reign of the Tang dynasty, rebuilt again in 704, and refurbished during the Ming Dynasty and in the 20th century. It holds sutras and Buddhist figurines.
Quick Facts
Entrance Fee: 50 CNY to enter to the Da Ci'en Termple Complex; 30 CNY to enter Giant Wild Goose Pagoda
Open Hours: 08:00-17:00 Every Day
Suggested Visiting Time: 2-4 Hours for the pagoda itself and the nearby attractions
Location: within the larger Da Ci'en Temple (大慈恩寺) complex, Yanta District, Xi'an
History: Who Built the Pagoda and Why?
Originally built in 652 CE by emperor Gaozong of the Tang Dynasty (617-907), the Big Wild Goose Pagoda was constructed to collect Buddhist works and relics brought from India by the scholar, monk, traveler, and translater Xuanzang (玄奘, 602-664).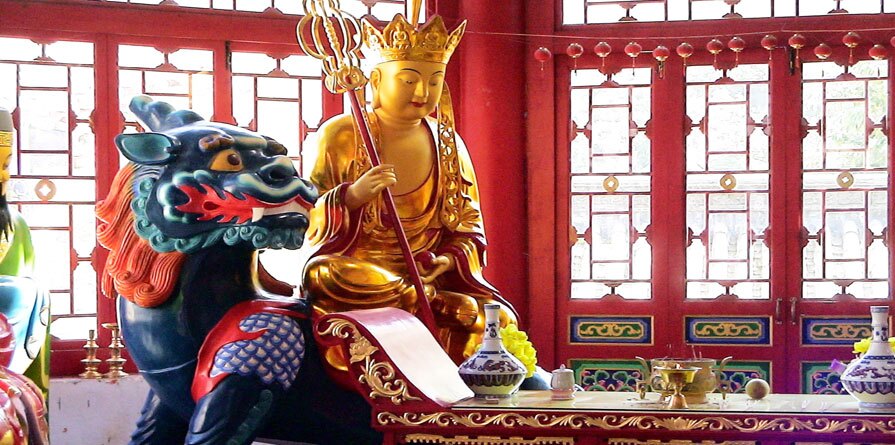 A golden statue of Xuanzang
Xuanzang travelled China collecting Buddhist sacred works. He became famous for his 17-year journey to India, and religious sites in what are now the countries of Nepal, Pakistan, and Bangladesh. He traveled these countries, collecting Buddhist scriptures and artifacts because he was concerned that the nature of Buddhism that had reached China was neither complete nor correctly interpreted. His journey became the influence for the famous Chinese story Journey to the West.
Presently, the Giant Wild Goose Pagoda holds sutras (Indian religious writings/aphorisms; the word sutra translates to "thread") and Gautama Buddha figurines.
Construction and Reconstruction
The 60 meter (177 feet) tall Pagoda was typical of Chinese buildings in the Middle Ages: rammed earth with an exterior of stone brick.
The structure collapsed and was rebuilt in 704 by the Empress Wu Zetian, with 5 new stories added- making it a 10-story tall structure.
An earthquake in 1556 damaged the Pagoda, and reduced it by 3 stories, and it still stands at its current height of 7 stories.
Even after extensive repairs during the Ming dynasty (1368-1644) and further refurbishment in 1964, the structure perceptibly leans westward- by about 7 degrees.
What Can You See There?
1. The Giant Wild Goose Pagoda
The pagoda itself may be entered for a 30 rmb fee and visitors can climb up its stories to overlook the medieval Da Ci'en temple complex around it. The walls of the pagoda feature engraved statues by artist Yan Liben. The temple's contents of religious scriptures and Buddhist artifacts can also be seen.
2. The Underground Palace
Dayan Pagoda Underground Palace is located on the West Side of Da Ci'en temple. The passageways are over 1500 meters (4,921 feet) on each side, and 2 meters deep (6.6 feet). Visitors can see murals and more religious artifacts collected by Xuanzang, as well as frescoes and treasures, relics, and an exhibition on Xuanzang's voyage to India.
3. The Musical Fountain Show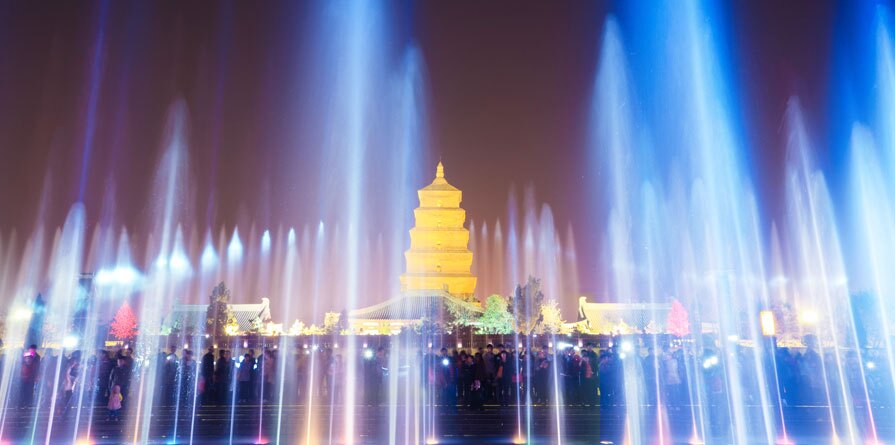 The musical fountain-lights show near the Giant Wild Goose Pagoda
The musical fountain-lights show can be seen (for free!) at the north square of the temple complex. At night, the pagoda's lights make for a great view, different from the somewhat monochromatic view the pagoda provides in the day. It's worth at least seeing part of the show if you happen to be at Da Ci'en in the evening.
4. The Bell and Drum Tower
The "Sister Towers," the Bell Tower, and the Drum Tower built in 1380 to signal time and alarm the public during emergencies. The "morning bell" and "dark drum" stand on either side of Bell and Drum square. Visitors at the drum tower can go up to the second floor and see the 24 drums, each reflecting a solar term- an ancient way of keeping seasonal time to guide crop planting and production.
5. Mahavira Hall
Directly behind the entrance to the Da Ci'en Temple complex is Mahavira Hall- also called the Main Hall, in the central temple platform.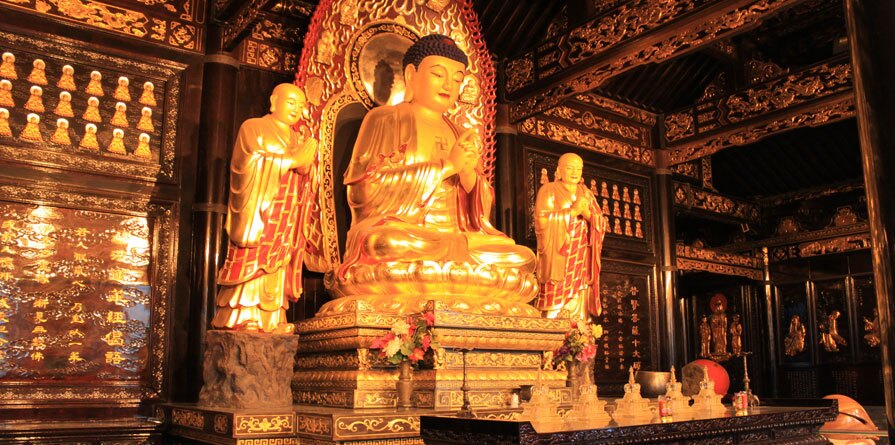 The figure of Sakyamuni at Ci'en Temple
The hall enshrines representations of the Gautama Buddha, as well as bodhisattvas, Sakyamuni (the founder of Buddhism) and other buddhas. This type of hall is the main building in a Chinese Traditional Buddhist temple, and indicative of what you will find in other temples throughout East Asia.
6. Sermon Hall
In Mahavira Hall, at Da Ci'en Temple, is the two-storied Sermon Hall. The second floor contains collections of sutras, while the lower floor is the preaching room. Many classical Buddhist works and translations by Xuanzang are collected in this hall. There are also portraits of Xuanzang and Buddhist statues.
7. Hall of Xuanzang Sanzang
Xuanzang Sanzang Hall celebrates the life and legacy of Xuanzang Sanzang (Sanzang being an alias for him).
Large frescoes depict parts of his life, and bronze, wood, and stone inscriptions/carvings that tell of him are also on display. Unique religious artifacts can also be found here: a fragment of his skull is enshrined in this hall, and an original manuscript from India, written on palm leaf, brought to China by Xuanzang.
How to Get There
Metro
Take line 3 and get off at Da Yan Ta Station (大雁塔站), exit B or C.
Tourist Bus
Qujiang Tourist Bus, Huan Shan Tour Bus 1 & 2, and Tourist bus lines 4, 6, 8, and 9 all get off at Dayan Pagoda (Da Yan Ta, 大雁塔).
City Bus
Bus numbers 5, 19, 21, 22, 23, 24, 27, 30, 34, 41, 44, 224, 242, 271, 307, 400, 401, 408, 500, 521, 526, 527, 601, 606, 609, and 701 all go to Da Yan Ta (大雁塔).
Private Car/Taxi
From the Xian Railway Station it should cost about 30-50 CNY depending on traffic conditions.
Quick Tips
Coming from the Terracotta Warriors: You can take bus 307 from the Terracotta Warriors to Giant Wild Goose Pagoda, it takes around 2 hours.
Crowds: This area is easily accessible and thus gets millions of visitors every year- be prepared for hordes of tourists, especially if you come during high season or a holiday.
Off-Season: During low season, there is no water show (November-January), except during Chinese New Year- but you can enjoy an experience with less other tourists.
Nearby Attractions: Shaanxi History Museum, Tang Ci'en Temple Park, Tang Paradise, Hanyao (Cool Cave), Tomb of Hu Hai, Great Tang All Day Mall, East and West Pedestrian Streets, East Garden, West Garden, South Square
For an authentic travel experience, contact one of our travel advisors. Our local experts are always ready to create a hassle-free tour for you.