Cave Dwelling
In Shaanxi, cave dwellings can be seen everywhere, especially in Yan'an and Yulin districts. Loess in plateau is sticky, hard and not easy to collapse. People living on the Loess Plateau of northern Shaanxi have been dwelling in cave houses since 4,000 years ago.
Most caves houses are carved out of the mountains. Local villagers carve caves in a simple, cheap way. What's more, cave houses are easy to heat in winter and cool in summer. Today, cave houses are still widely spread on the Loess Plateau with more than 40 million residents.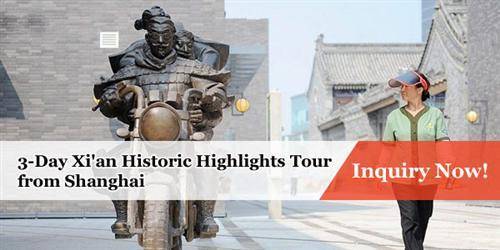 Features
Most cave houses are about 3 meters high, 8 meters long and 3 meters wide. All those holes (doors), facing south, are good for absorbing sunlight.
Mainly there are three kinds of caves:
1. Earthly caves— carved directly out of the mountains;
2. Stone caves—earthly caves consolidated with stones;
3. Brick caves—earthly caves consolidated with bricks, with very beautiful surfaces.
Another distinctive feature of solid caves on the Loess Plateau is that there are no buildings on the ground while several households underground! On the top of the caves, people can walk, animals can jump and heavy carts can pass by.
Moreover, the average temperature inside cave houses is 10 ° C—22° C. This is good for saving the energy and protecting the environment.
Finally yet importantly, long-term living in cave houses is good for health and longevity. As climate change and radioactive material of the atmosphere have less impact on cave dwellers, diseases like Asthma, bronchitis, rheumatism and skin disease are significantly reduced.
Cave Dwelling Life Experience
The traditional cave livings and the local cave arts attract more and more tourists, both at home and abroad, to visit and experience cave dwelling life.
The highlight of experiencing cave dwelling life is in Yan'an Stone Cave Hotels in Yang Jialing, the world's largest cave complex. It is built on the mountain with 300 caves in eight rows. Pictures drew by local peasants are hung on walls and hollow windows are decorated with paper cuttings. Stone grinders, stone tables and chairs are placed in front of caves. The hotel is full of rural atmosphere.
For satisfying various customers' needs, some caves are furnished with beds while others with traditional kangs (heatable brick beds in North China). The cave hotel is fully equipped with living facilities, tidy and comfortable.
Current Situation of Cave Dwelling
Nowadays, when many tourists come to visit and experience cave dwelling life, some local villagers in turn follow urban living style. They leave the cave and move in bungalows or two-story buildings. In Yan'an, tourists can often see modern style rural residential while behind those new buildings are ancient caves on hillsides.
Location:

Cave dwellings mainly distribute along the middle reach of the Yellow River, specifically,  in parts of Shaaxi and Henan provinces.
For an authentic travel experience, contact one of our travel advisors. Our local experts are always ready to create a hassle-free tour for you.