The Folk-Custom Museum of the Central Shaanxi Plain is located at the foot of the Mountain South-Wutai, covering 571 acres, including structure acreage of 100,000 ㎡. The total investment on the museum is as much as 607.33 million RMB since it is one of the most important projects in the government's 11th 5-year construction plan of the Chang'an District in Xi'an City. There are exhibition halls, galleries, deposit centers, convention centers and folk residences (more than 20 dwellings dating from Ming and Qing dynasties were moved here. Besides, more than 20 imitated folk courtyards were also built here.). Some traditional theaters, colleges, yards of cultural personages, spring bathhouses, water playing grounds and country courtyards will also settle here. Confucian Temple, Temple enshrining and worshipping Guan Yu (a famous general in the Three Kingdoms Period), bell tower, drum tower, traditional government office of town, hall of Qixing, Hall of Qingyun, classical villas and sacrifice squares—— which are all in the style of Ming and Qing dynasties——will be also set up. All of the attractions will make the museum amazing with trees over hundreds of years old as the framework of the garden.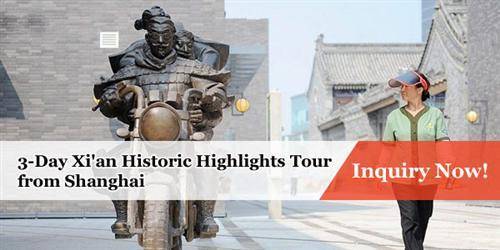 Functional Areas
There are several functional areas in the museum——sightseeing area, personages area, leisure area, villa district and the like. Thousands of collections are exhibited here, including 5,000 stone tablets, over 10,000 wooden sculptures, iron art works, jade sculptures, textiles and potteries in various kinds, fastigium weight in several tons, about 2,000 famous pictures, 4,000 tools and vehicles used in production and daily life dating from Zhou, Qin, Han, Tang, Ming and Qing dynasties. The spectacular folk dwelling street has been completed, which reflects typical culture of farming landscape, representing the concept of living on farming and reading. Besides, the Temple of Jiwang is also in construction.
As one of the cradles of the Chinese Nation, the Central Shaanxi Plain which is the root and nervation of the nation has the significance of origin of Chinese civilization and history. There are abundant cultural heritages, which are the crystals of wisdom and innovation of Shaanxi natives, including their belief, politics, economic, art and daily lives. All of them are real historic portraitures. "Hitching Post is one of the most representative folk art works, which has high value in folk culture, reflecting Chinese art of stone sculptures. Reserving the folk art works is equivalent to protect the original culture, art and ethos of China." ——this is the comment from Jin Zhilin, who is a famous professor of the Central Academy of Fine Arts.
Reputation
The Folk-Custom Museum of the Central Shaanxi Plain is not only a window for cultural communication, but also a cultural diffusion center and an education base of traditional virtues. The folk dwelling street is centralizing over 100 typical residences from all over the Central Shaanxi Plain, which is an off-site conservation and exploitation method. Its cultural connotation not only has research value , but also has high value of aesthetic and visual. Over 12,000 art works, including hitching posts, horse drinking troughs, hollowed wooden beds, stone human statues, stone lions and turtles are exhibited here, which are really amazing, especially the hitching posts——Most of them are made of blue stones, centralized together, stand in great number, in spectacular lineup and imposing manner. The human statues are in various figures, most of which are northern barbarian tribes in ancient China. Several woman statues are really attractive, reflecting the original concept of gender equality. From these, we could also tell that in Song Dynasty, Chinese people experienced a great cultural amalgamation during the wars and migrations. The hitching posts are not only first-class valuable stone sculptures, but also important information for researching on art, folk culture and history of China.
The abundant collections are all come from the Loess Plateau and the Central Shaanxi Plain, relying on these, the folk-custom museum becomes a wide platform of ethos development and expansion. The offer sacrifices, folk art shows, farming landscape and celebrations are all exploited here, which makes the museum a main cultural enterprise in China, leading and driving the development of the local cultural industry.
The construction of the Folk-Custom Museum of the Central Shaanxi Plain not only fills the vacancy of the folk heritage collection in China, but also establishes a new research field of Chinese folk activities in history. The folk customs, like the ancestor worship custom, temple culture and sacrifice culture are all showed in the demonstration zone.
Foundation and Development
Back to the year 1958, the initial founder Mr. Wang yongchao, saw several Hitching Posts in a country courtyard accidently. The exquisite carving, the face of the human statues made him have a big exclamation. What made him feel sad is that all of the treasures had been grinded for way paving, rest room mending, and sale by cultural relics' packmen. Then he decided to save the cultural heritages. During the past 20 years, he had organized more than 30 members and went to every alleyway and small courtyard in Shaanxi to find treasures and made them registered, with the total investment of 200 million. Even during the hard time without enough money, he also insisted on it. Finally, with the support of the local governments, the Folk-Custom Museum of the Central Shaanxi Plain began to be constructed in 2004.
There is no one who didn't show respect to him. All of the media and reporters acclaimed his great activity and courage. Comments from Mr. Yan Lieshan, who is a very famous critic is suitable for him——the protection activity he has taken part in is very valuable, so was the brave he has. Although the museum is just half completed, the lively folk art works have been making visitors linger on them with appreciation and respect.
Solo Adventure Tips:
Location:

No.1, Southern Wutai Mountain Road, Chang'an District, Xi'an City.
How to Get There?

Take Bus No. 404 at Chang'an Bus Station and get off at Folk Custom Museum of the Central Shaanxi Plain Stop.
Ticket Price:

Adults: 120 yuan/person; Children between 1.2m-1.4m: 30 yuan/person; Children under 1.2m: 60 yuan.
Opening Hours:

Summer: 9:00-17:30; Winter:9:30-17:00
More Tips:

Information accuracy:
We try to make the information on China Travel accurate when we write/edit it. If you find any outdated information, please inform us.