Mausoleum of Qin Shihuang ( also called Mausoleum of the First Qin Emperor) stands at the foot of Mount. Li , 30km east to Xi'an. Its south backs on to Mount. Li and its north touches the Wei River. The big Mausoleum integrates with Mount. Li, offering unique landscape for sightseeing.
In 246 BC, after Qin Shihuang (means "the first emperor of the state of Qin" in Chinese) ascended the throne of Qin ( a state in that period), he ordered to build his final resting palace. This authoritative emperor left behind the world with great achievement and mysterious royal mausoleum as well. The construction lasted 38 years, confiscating over 720,000 corvees and prisoners. Modern surveys of the site show that the mausoleum is indeed divided into an inner sanctuary and outer city.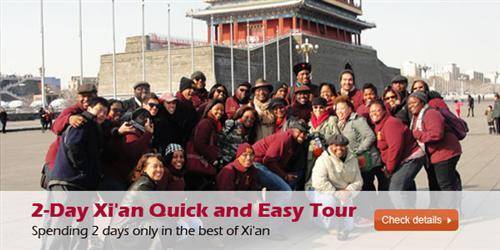 According to historical record, the mausoleum originally has 250,000 sq. meters built-up area in the bottom and 115m high. Unfortunately, because of erosion and vandalism, the mausoleum currently remains 120,000 sq. meters in the bottom and 87 meters high. Around the mausoleum, there are lots of accompanying Mausoleums, which consist of 56.25 sq. km Mausoleum area. In addition to the discovered Terracotta Warriors Vaults and Bronze Horses Vault, there are more vaults containing other relics being discovered recently. As time goes by, it's bound to discover more relics. Mausoleum of Qin Shihuang boasts a Chinese history museum and it's well-known to the outside world.
Solo Adventure Tips:
Location:

Lintong District, Xi'an
How to Get There?

Take NO.306 Tour Bus
Ticket Price:

26 yuan
Opening Hours:

More Tips:

Information accuracy:
We try to make the information on China Travel accurate when we write/edit it. If you find any outdated information, please inform us.