The Tang Paradise(DaTang Furong Yuan), situated in Qujiang Economic Development District, south of Xian city, is the first and largest cultural theme park of the Royal Park of the Tang Dynasty in China. It is the largest simulated Tang-style building complex in the world. Located in the site of the relic of original royal garden, the Tang Paradise recurs the prosperity of the Tang Dynasty from various aspects: architecture, culture, business, politics, entertainment, sports and arts. Almost everything in the Tang Paradise is in Tang style such as the cloth of the workers and actors, the music, the dance, the food and the drink. Visitors to the Tang Paradise will surprisingly to find they come back to the ancient China in the Tang Dynasty.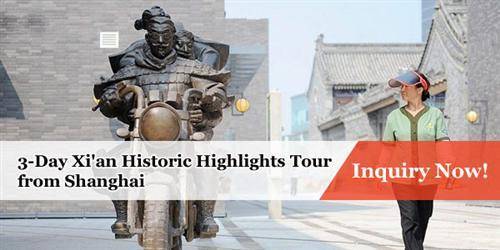 The Tang Paradise can be divided into six districts: the District of Tang Traditions and customs where visitors can enjoy the splendid culture of Tang Dynasty; the District of Business Exchange featured with a business and culture street in Tang style; the District of Entertainment and Sports characterized by a series of recreations and games in Tang Dynasty; the District of Theme Catering where visitors can experience the Imperial Banquet personally; the District of High-grade Hotels and the Children's Garden. Among them, the District of Tang Traditions and Customs is the most popular destination thanks to its large-scale Tang-style singing and dancing performances called Tang Dynasty Show and the water-screen movies which is the largest in the world.
Solo Adventure Tips:
Location:

No.99, West Furong Road, Qujiang Economic Development District, Xian City.
How to Get There?

Bus No.5,19,21,22,24,27,30,34,41,44,212,224,237,320,400,
408,500,501,521,527,601,606,609,610,701,715,721,720,
Tourism Bus No.4, 6, 8 can get there.
Ticket Price:

90 yuan/person
Opening Hours:

9:00-22:00
More Tips:

Tourists can get off at Tang Paradise Stop or West Gate of Tang Paradise Stop and enter. South Gate of Tang Paradise is only available to staff in Tang Paradise.

Information accuracy:
We try to make the information on China Travel accurate when we write/edit it. If you find any outdated information, please inform us.