The Muslim Quarter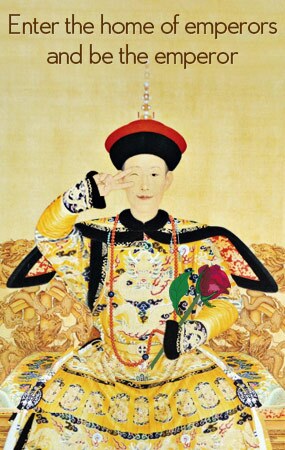 If you are a person who deeply loves delicious food, the Muslim Quarter (Huimin Jie in Chinese) is the first place not to miss in Xi'an. It is a food paradise which is full of Muslim food. In addition, there are some well-preserved Muslim temples built in the Tang Dynasty. You can experience unique Chinese Muslim culture and life there.
Adjacent to the Bell Tower and Drum Tower in the city center, the Muslim Quarter is a historic Muslim area. 10 Muslim temples in the different Dynasties are still well kept in the quarter. There are about 20,000 Muslims living in the Muslim Quarter. Here, you can view Muslims' original religious traditions and life habits.
The Muslim Quarter usually is the street between the Drum Tower and North Garden Gate (Beiyuanmen in Chinese). The street is filled with old buildings with the Ming and Qing Dynasties style. What's more, you can enjoy all kinds of Muslim tasty food along the street.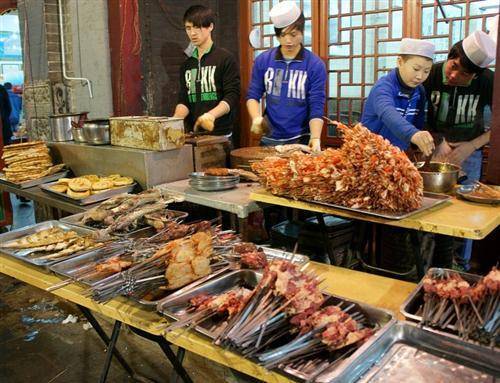 The Great Mosque with a long history in the quarter is a hot attraction to visit. As one of the top 3 Chenghuang Temples in China, Xi'an Chenghuang Temple is also in the Muslim Quarter. You can have a Muslim feast consisting of its culture and food.
Food
People in the Muslim Quarter are good at making tasty Muslim food there. You can try Bread with beef or mutton soup, mutton pie, mutton dumplings, beef noodles and so on. All kinds of Chinese cakes such as green bean cakes, dry fruits and sweets are loved by people.
Nightlife
Most restaurants and shops are open from 10:00 to 02:00 in the Muslim Quarter. Local people also like to head for snacks at night in summer. Hundreds of people come to the Muslim Quarter to have snacks and shop at night. We recommended you to have a view at the nightlife of the quarter.
Shopping
There are a lot of shops to buy souvenirs in the Muslim Quarter. You can buy shadow puppets, Cheongsam and silk products, folk paper-cuts, tea sets, jade products and stone handicrafts there. You can bargain for a reasonable price when you buy the souvenirs.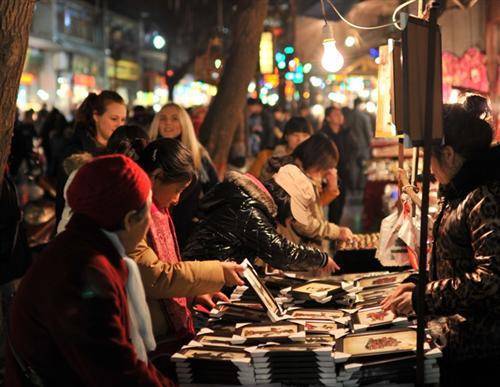 Night of the Muslim Quarter
You can also visit Huajue Alley extending to Xiyangshijie (West Sheep City Street) in the Muslim Quarter. The Alley is full of a variety of special souvenirs.
History
The Muslim Quarter was in the scope of the imperial palace in the Tang Dynasty and important political celebrities' houses in the Song, Yuan, Ming and Qing Dynasties. In 1900, Empress Dowager Cixi and King Guangxu were escaped to Xi'an North Garden which is in the Muslim Quarter.
Daxuexi Valley (Big Study Valley) got its name as a place for Muslim people to learn laws and Han people's culture in the Tang Dynasty.
Solo Adventure Tips:
Location:

In the west of the Bell Tower and Drum Tower Square, Beilin District, Xi'an
How to Get There?

You can take Bus 4, 7, 15, 32, 43, 604, 611, 612, K630 and Tourism Bus 8, and get off at the Drum Tower stop.
The Surrounding Scenery: The Bell Tower, the Drum Tower, Tang Paradise, Big Wild Goose Pagoda, Huaqing Hot Spring and Terracotta Army
Ticket Price:

Free
Opening Hours:

A whole day.
More Tips:

It is a place that a lot of Muslim people get together there. If you visit the Muslim Quarter, please respect their special local habits. For example, you can not ask for pork dishes and wines in Muslim restaurants.
The Surrounding Scenery: The Bell Tower, the Drum Tower, Tang Paradise, Big Wild Goose Pagoda, Huaqing Hot Spring and Terracotta Army