Beef or Mutton Paomo (Pancake slices with beef or mutton soup)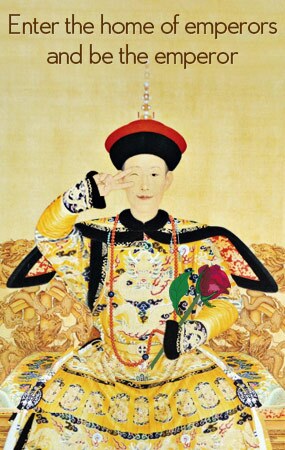 The special features of beef and mutton Paomo (YangrouPaomo) are that the materials are carefully selected, the meat is well-cooked , the soup is rich and thick and the smell is tempting with everlasting taste and a function of warming one's stomach. Therefore, it is the most special and popular food in Xi'an. The culinary art required for Pancake slices soaked in beef or mutton soup is very carefully selected, the craft of boiling meat is very exquisite too. The basic way in making it is like this: Wash the first-class beef or mutton clear and slice first, then flavored with condiments as shallot, ginger, Chinese prickly ash, aniseed, fennel, cassia, etc. to cook, and make the sauce ready for use. Pancake is one flour baked cake, which is broken into pea-like tiny pieces and put them into the bowl before eating, then send to the cook who will pour a suitable amount of cooked beef or mutton, original soup mixing with condiments as shallot powder, shredded Chinese cabbage, cooking wine, vermicelli, salt, monosodium glutamate, etc. There are three unique ways to eat Pancake slices soaked in beef or mutton soup. The first way is mutton that braises the soup, namely the diner eats and soaks himself; there is another way: permeating pancake totally in soup juice, so it has no soup in the bowl when eating up the pancake and meat. The third way is called "water encircle a city ", using a lot soup to boil, placing steamed pancake and cooked meat in the center of the bowl, enclosing it with the soup juice all around. In this way the clear soup is delicious, the meat is tender and fragrant, and the pancake is chewy and tasty. If mixed with the thick chili sauce, sweet garlic, Pancake slices soaked in beef or mutton soup must have another delicacy. It is a kind of rare nourishing food.
There are a lot of Paomo eateries in Xi'an, among them," Old Sun Family's" (in the Luoma and East-street crossing) and the "Tong Sheng Xiang" (Prosperity and Fortune) Beef and Mutton Paomo Restaurant(in Xi'an Bell Tower and Drum Tower Square)are timely-honored restaurants. The specially pickled mutton with a unique fragrance is also a delicacy to those who don't like the smell of the mutton. Two pancakes cost 13.8 Yuan. Be sure to tear the pancake into pieces, as half of the little figure nail's size.
Our local experts are always ready to create you a hassle-free tour. Get an authentic experience by contacting one of our travel advisors.