Xian Shopping
Xian Local Products:
Xi'an is famous all over the world not only for its unique ancient cultural history but also for its fantastic Chinese souvenir shopping. Some excellent offerings specific to Xi'an include: Chinese calligraphy rubbings, Tang pottery replicas, Terracotta Warrior replicas, Folk paintings, Folk paper cuttings and Green porcelain. If you are interested in calligraphy, it is really a highly commendable opportunity to get your favorite Chinese calligraphy rubbings in Xi'an. The eye-catching and colorful Folk Painting, one fantastic and very special type of souvenir from Xi'an, overflows with the atmosphere of Chinese country life and is widely enjoyed by travelers to Xi'an. Paper cutting is an extremely popular folk art in the Shaanxi Province villages. On holidays and weddings, villagers like to decorate the doors and windows of their homes with colorful paper cuttings. Tang Dynasty pottery, with its distinctive blue, green, and yellow color glazes is still hand-made as it was during the Tang. As we mentioned above, one thing you have to do is to visit the Terracotta Army site while traveling in Xi'an; but what is more exciting is to buy a Terracotta Warrior as a souvenir.
Paper Cutting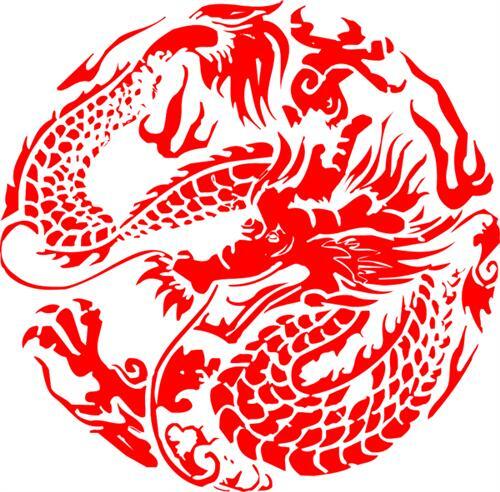 Paper-cut is an ancient folk art in China. This traditional art form with special patterns can be dated back to 2000 years and is loved by people at home and abroad. It is one of the most popular traditional arts in China. The themes involved in Chinese folk paper-cut art are diverse and colorful. They vary from subjects in daily life with which people are familiar to the future life about which people dream. These subjects teach us the simple and pure feelings of working people. Papaer-cut works are available on sale in art shops in Xian. More on Chinese paper-cut
Tricolored Pottery Of The Tang Dynasty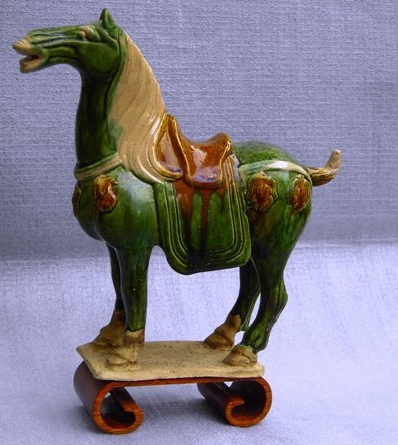 Tri-Colored Glazed Pottery of the Tang Dynasty or Tangsancai was the essence of Tang dynasty art. In the ancient Tang Dynasty over 1,000 years ago, people glazed tomb figures, pottery with three main colors, red, green and yellow. So later, people called these multi-color glazed items Tang San Cai. The yellow, green and red glazed ceramics are fired at high temperatures to give the finished porcelain an amazing colourful pattern. Products slimmer in shape were fired during the Jin Dynasty, and a fuller ones were popular during the Tang Dynasty. The most popular subjects are the horse, camel and human figures.
Shadow Puppet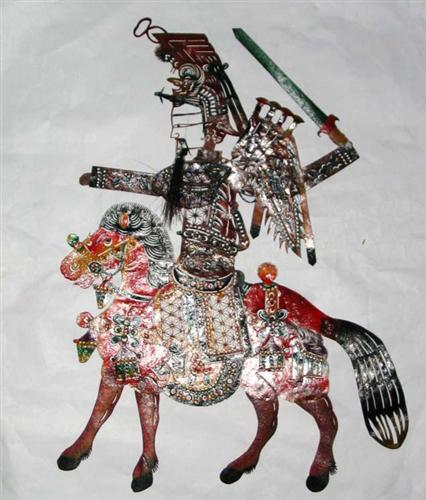 Shadow show also named as Light Shadow Show is one of the Chinese traditional dramas, regarded as forefather of film. According to historical record shadow show appeared during the Han Dynasty (200BC), peaked in Sui, Tang and Song Dynasty and introduced to the west in the 13th century. During the Song Dynasty, actors gave vivid plays adapted from historical stories through this kind of show. What's more, there also had shadow show parties, such as Huige Party in Hangzhou during South Song period. Shanxi is the cradle of shadow show which was especially prevailed in the middle of Shanxi such as Sian. The original shadow puppet was made of wooden but nowadays leather is used to replace wood in shadow puppet making. Shadow puppets are available at certain art shops in Xian to purchase.
Facsimile Of Tang Mural
Facsimile of Tang mural includes copies of lots of famous paintings in Tang dynasty, such as the Portrait of a Palace Maid on the wall of princess Yong Tai's tomb, the Picture of the Trip to Hunting and the Picture of Playing Polo on prince Zhang Hai's.
De Maogong Lucid Cake
one of the famous special food in old city Sian. It tops among the Chin style pastries for being made of golden four and the pleasant-looking. The cake made in De Maogong tops for its smart shape, crisp peel and glittering stuffing. It tastes so good that you couldn't help eating more.
Hu County Farmer Painting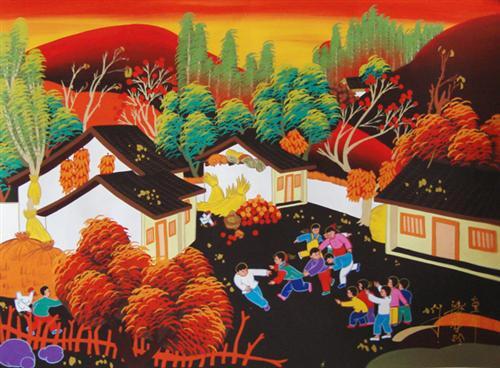 Focusing on the countryside life with line drawings of people, animals, flowers and birds these paintings are full of bold imagination and lifelikeness, colorful but simple. They mix roughness with details, which makes them unique.
Canework
Canework made in Xian includes cane furniture, cane mat and cane knotwork. With bright color, the cane fibre is tough, elastic, rotproof and waterproof, which makes it possible to produce new items by mixing with bamboo, wood and plastic. Canework features handiness and being durable, they can make fine adornment.
Qin Opera Mask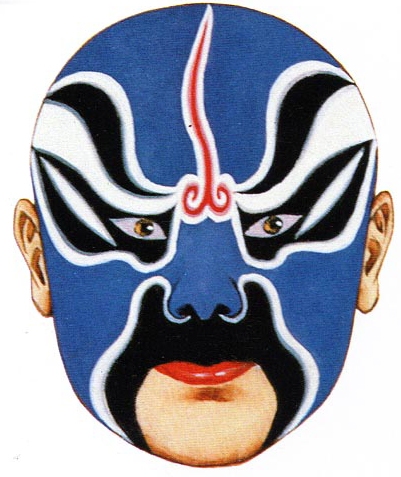 Qin opera mask made according to the characters in the Qin opera, has grown into a series of standardized forms of art.
Potter Whistle
Potter Whistle, is also called as Ni Jiaojiao ( means whistle made of mud). The potter whistle made in Shanxi especially in Yuhua village, Sian, tops for the smart shape bright color and simple and unsophisticated tune.
Grass Knotwork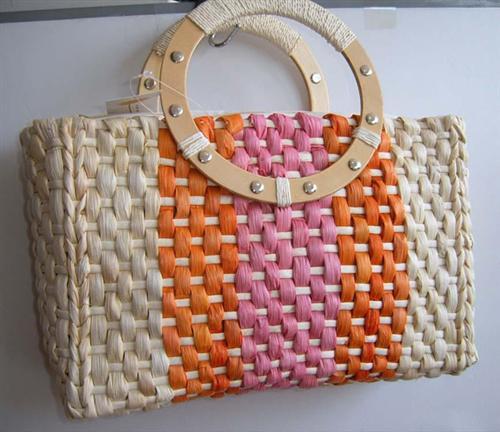 Grass weaving mainly takes cornstalk tegument as raw material using various ways to make up many kinds of products. The most commonly three ways of grass weaving are plane knitting, twisting and plaiting.
Replica Of Terracotta Warriors And Horses
Replica of Terracotta Warriors and Horses entombed in the First Emperor's Mausoleum are designed according to these digged out from the tomb. The replica looks almost the same with the real things.
Xian Shops and Stores:
Xi'an is also a thriving business district for selling almost everything you could ever want: clothing, antiques, musical instruments and other souvenirs and cultural items. Streets of market near the Muslim behind the Drum Tower, Calligraphy Street, East Street (Dongda Jie), West Street (Xida Jie), South Street (Nanda Jie), Baihui Market and Kangfu Lu are typical areas for shopping in Xi'an City.
Xiao Zhai
Xiao Zhai, nicknamed the Student City, is along the road named Chang'an Lu that stretches from the South Gate all the way to the southern outer suburbs of the city. Xiao Zhai is also called The Student City, which is a wonderful place for everyone young, hip and happening. Xiao Zhai is the right place for you to see extreme haircuts, extreme fashion styles, or to get one of those hair cuts yourself. Besides, The Student City is an assembly of mazelike shopping malls, all kinds of bars, restaurants, covered markets and so on. Baihui Market, one of those fake-brand markets, is just located in Xiao Zhai. Lots of local youngsters do their shopping in Baihui Market for its fashion but low-price commodity. Sport shoes should be less than ¥150, pullovers and nice jeans sometimes less than ¥100, lots of cheap fashion accessories. This is also a great place for DVDs and CDs.Xiao Zhai has every kind of strange shop you can imagine and it is really a nice place to shop, eat or just observe the ways
Calligraphy Street
An ideal souvenir shopping area is Calligraphy Street. It is located near South Gate inside the city wall towards the east. Walking down south street on the left side, continue to where the road splits in front of South Gate and turn left to find the entrance gate next to a small pagoda. Midway does a slight dog leg to the right. At the far end is the Forest of Steles. Sellers here usually offer you a very high price, so even if you bring them down by 50%, they will still make a big profit. This is a good place to buy calligraphy and folk art, specifically folk style block prints in a single shop which calls for about 50 if you can stand bargaining.
East Street (dongda Jie)
East Street (Dongda Jie) is 2150meters long, ranging from the Drum Tower to Chang Le Gate. It was initially built in Sui Dynasty when the new capital Da Xing Cheng was established. At that time, this street was named Jingfeng Gate Street for its location at the both sides of Jingfeng Gate-the south gate of eastern city wall. At the beginning of Republic of China, the street was greatly constructed, and was called Zhongshan Dajie. Until 1953, it was partly widened and got the name of East Street (Dongda Jie). The East Street descending from the central Bell Tower has regular fashion shops selling finer clothes and shoes (e.g. Louis Vuitton).
Recommended Tours: