Xishuangbanna Airport
There are a large number of Flights from Kunming to Jinghong City every day. It takes about 45 minutes from Kunming to Jinghong. Xishuangbanna Airport, completed in April, 1990, is only 5 kilometers away from Jinghong City. A one-way ticket price is 450 yuan. Besides, the ticket price from Kunming to Jinghong is 780 yuan per person, not containing airport tax. There are more than six flights everyday. There are also some domestic airlines from Xishuangbanna to Chengdu , Guangzhou , Chongqing and Tianjin . The new airline from Jinghong to Bangkok of Thailand officially opened in February, 2000.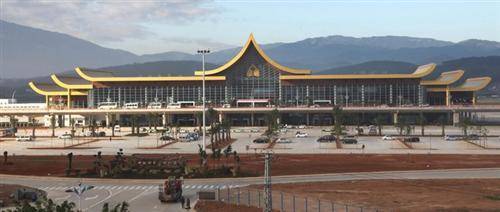 The New Airport of Xishuangbanna
Jinghong Airport (Jinghong is the capital city of Xishuangbanna Region), the second largest airport in Yunnan province next to Kunming Airport, is only 5 kilomters away from the city center. Direct Flights to Kunming, Dali, Lijiang , Shanghai , Shenzhen , Tianjin as well as international flights to Bangkok and Chiang Mai of Thailand, Vientiane and Lang Prabang of Laos are available. There are at least 2 flights to and fro between Kunming and Jinghong every day and reach to 6 to 10 flights during high season. The flight distance between Kunming and Jinghong is 520 kilometers which lasts 50 minutes and charges RMB780. There are always discounted prices.
There are airport buses bringing passengers to the downtown and the fare is RMB 4. Tourists also can take No.1 bus; the bus stop is situated 500 meters away from the airport.
Tel for Booking Service: 0691-2124774 0691-2124055
Address: Western Jingde Road
Tel for complaint: 0691-2122323
Highway System
The highway traffic mileage between Xishuangbanna and Jinghong City is 602 kilometers. At present, the highways from Jinghong to Mengla and Menghai have already opened. It takes about 9 hours to take a regular bus from Jinghong to Kunming . Besides, people can take a bus at the bus station of Jinghong to all the scenic spots of Xishuangbanna. It takes about 20 hours and the ticket price is from 100 to 170. What's more, people can take a bus at Kunming bus station to Jinghong City.
National highways 213 and 214 and three international highways connect Jinghong (the capital city of Xishuangbanna) with Kunming (the capital city of Yunnan province), Dali (a major city of Yunnan province), Nanning (capital city of Guangxi province), Thailand, Burma and Laos. There are altogether 3 long distance bus stations in Jinghong: Jinghong South Long Distance Bus Station (located at No.77 Menghai Road, Tel: 0691-2135198); Jinghong North Long Distance Bus Station (located nearby South Long Distance Bus Station); Jinghong Long Distance Bus Station (No.23 Jinghong North Road).
Travel from Kunming to Jinghong:
As the fully complement of the expressway between Kunming and Jinghong, it needs 9 hours at most traveling between the two cities. There are over 20 buses traveling to Jinghong in Kunming Long Distance Bus Station. Ticket ranges in price from RMB150 to RMB200.
Travel from Nanning to Jinghong
Thanks to the finish of the expressway between Kunming and Bangkok of Thailand, the long distance buses traveling to and fro Nanning and Jinghong are available since July 2008. The bus traveling from Nanning to Jinghong is available at 9:30am every day in Jiangnan Long-distance Bus Station of Nanning and the journey lasts 22 hours. The bus traveling from Jinghong to Nanning starts at 11am every day at Jinghong Long-distance Bus Station.
Travel from Dali to Jinghong
There are two buses traveling from Dali to Jingong respectively start at 19:30pm and 20:30pm everyday at Dali Long-distance Bus Station.
Waterway Along Mekong River
The Lancang River (Mekong River) is the main channel and Jinghong is a first class national port, making up of three ports :Jinghong,Olive Dam and Guanlei. Up to now, the international water passages have been open to Qingshen of Burma, Vientiane of Laos etc. And the ports of Olive Dam and Guanlei are still under construction. From the north of Jinghong, boats at the Lancangjiang River can take you to Olive Dam. By the way of the Lancangjiang River and the Mekong River visitors can reach Jinghong by boat from all the countries in Southeast Asia.
Tel for Banna Steamboat Company: 0691-2122947
Get Around in Jinghong City
Buses
Three buses can drive you to all the tourist spots in Jinghong city.
Taxis
All the taxies in the urban district are charged by the odometer with the starting fare of 7yuan. If the drivers don't obey the rule, you may refuse to pay or complain to the company by call.
Travel Taxi Rental Company: Tel: 0691-2127150
Address: Mingzu Nanlu(The Southern Minority Road)
Wanli Travek Taxi Rental Company: Tel: 0691-2124704
Address: Northern Jinghong Road
Bicycle
In the small city it's a good idea to go sightseeing by bike. All the Hotels offer bicycle rental service
Rickshaw
You can hire a rickshaw to visit the city with fare of RMB 2 yuan.