Yaan Travel Guide
Last updated by fabiowzgogo at 2017/6/19
Yaan Overview
Located on the western edge of the Sichuan Basin, the transitional zone between the Chengdu Plain and Tibetan Plateau, the city of Yaan was once a territory of Yazhou Prefecture in ancient China.
Today, Yaan covers an area of 15.3 thousand square meters with a population of 1.47 million, and it governs the city proper as well as 7 counties: Tianquan County, Lushan County, Baoxing County, Yingjing County, Hanyuan County, and Shimian County.
As one of the principle silk production areas in ancient South China, Yaan was a regime capital of prefectures and circuits of the past dynasties. There are 2 national forest parks, 6 provincial scenic and historic interest areas, 1 provincial forest park, 1 national nature reserve, 1 provincial nature reserve, and 2 regional scenic and historical interest areas in the grand city.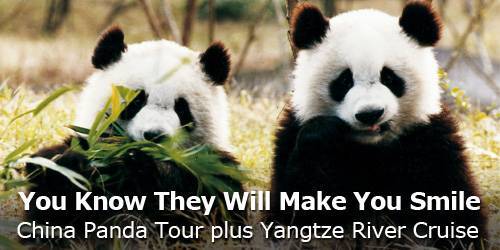 Interestingly enough, Yaan is where the first panda was discovered, and as such, it has been known as the world-famous hometown of giant pandas. Yaan has the most and highest density of giant pandas in the entire world. Since the founding of the People's Republic of China, the city has offered the nation 136 giant pandas, 16 of which were presented to outside countries as gifts to serve as overseas ambassadors of peace and friendship: the Soviet Union, Western Germany, USA, UK, France, Japan, North Korea, New Zealand, Mexico, Germany, and more .
The Chinese government has also established a nature reserve in Baoxing County, which is a paradise for over 200 rare animals including giant pandas, snub-nosed monkeys, antelopes, and white-lipped deer.
Giant Pandas in Yaan
Nature's craftsmanship not only created the incredible potted landscape in which Yaan calls home, but also the miraculous creatures we call giant pandas. With its highest altitude of 5,356 meters and the lowest altitude of 1,580 meters, the Jjajin mountain range in Yaan is the dense living and breeding area for thousands of giant pandas. This land is currently bidding to be listed as a UNESCO World Heritage Site for its delicate giant panda habitat.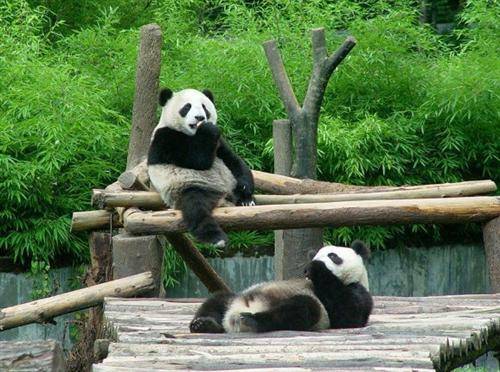 Since Jiajin Mountain is located in the subtropical monsoon mountain climate zone, the areas located at high elevations are full of rows of glacial trough valleys and cirques. Small and large rivers run through the lower elevation, which forms a well-developed river system with Qingyi River, the main tributary of Dadu River, as the center. There are also 429 wild vertebrates and more than 3,000 vascular plants types to be found. Because of all this, Jiajin Mountain is known as a natural gene pool of biology and a museum of plants and animals.
Yaan's reputation as the hometown of giant pandas is due to the fact that the first panda was discovered and named here. No textual research remains to show how many giant panda have exported abroad in total. In the early 1970's, the frozen Sino-US relationship was opened up by way of ping pong diplomacy.
Soon thereafter, USA president Richard Nixon visited Beijing on Februrary 21, 1972. At the end of his visit, China's Premier Zhou Enlai declared that the Chinese government agreed to send a pair of pandas named Ling-Ling and Hsing-Hsing to the USA as national gifts. The 2 pandas finally settled down in Washington DC's National Zoo. Both Ling-Ling and Hsing-Hsing come from Baoxing County, Yaan.
More specifically, Ling-Ling's hometown is the Ma Huang Gorge of the Tibetan village of Qiaoqi located at the foot of Jiajin Mountain's snow-capped peak, and Hsing-Hsing hails from Huangdian Zi Hill of Yanjing Country. Their arrival in the USA aroused giant panda mania all over America. More than 3 million people flocked to feast their eyes on the adorable pandas every year. Ever since then, the giant pandas of Yaan have not only been regarded as valuable treasures of the Chinese people, but also serve as symbols of world peace and amnesty.
The other 16 pandas sent abroad: Ping-Ping and An-An presented to the Soviet Union; No.1, No.2, Lin-Lin, San-Hsing, and Dan-Dan presented to North Korea; Lan-Lan, Kang-Kang, and Hula-Hula presented to Japan; Li-Li presented to France; Jia-Jia presented to Britain; Ying-Ying presented to Mexico; and Tian-Tian, Quan-Quan, and Bao-Bao presented to West Germany. Each panda is an envoy which represents peace and friendship between China and foreign countries.
As one final example of the giant pandas' influence and allusion to peace and wellness, the animal's image has been the logo of the World Wildlife Foundation (WWF) since 1961. Over 10 white marble carved giant pandas made in Yaan were exported abroad and placed before the headquarters and branch departments of the WWF. To this day, the giant panda figure still stand before the respected organization's gateways.