Yangzi Explorer
Customer's Rates: 4.73 out of 5 (40 )
Over 29 people booked in the past 12 months
Cruise Routes: Chongqing Yichang
Summary:Yangtze Explorer boasts the largest standard cabins on the Yangtze River which is the best luxious ship along Yangtze River. Each identical deluxe cabin features floor-to-ceiling sliding glass doors opening to a private exterior balcony.
Price Details
Buy now – avoid price rises! We now offer instant online bookings.
Choose  
 for instant confirmed booking and get a FREE upgrade to a higher deck. Click Pay Now to choose your suitable cruise and buy it online.
Notes:
1. Special deal: Full payment at 3 months before departure, get 15% off the list price. Your travel advisor
2. will send you the detail quotation.
The Yangzi Explorer have introduced a 200 yuan (US$32) per person "extra service fee" last year, in response to rising costs. The service charge may be required at the time of boarding or may be optional (like a tip) at the end of the cruise. Customers are advised to prepare an extra 200 yuan in case it is required. This cost can not be included in the cruise price due to its variable implementation.
Price Inclusions
Entrance fees:The land excursions listed in the itinerary.
Meals: The daily meals on the ship.
Room: Overnight accommodation for morning departure (except Victoria sailing from Chongqing to Shanghai). A berth in the cabin as specified in the itinerary.
Luggage Transfers: Between ship and passenger terminal.
Service Charge & Government Taxes.
Price Exclusions
Transfers: From airport to cruise terminal in Chongqing/Yichang/Wuhan.
Single Room Supplement.
Gratuities, Tips to guides.
Personal Expenses: Expenses of a purely personal nature such as laundry, drinks, fax, telephone call, optional activities, sightseeing or meals which are not included in the itinerary.
Cruise Cabins
Deluxe Cabin (Basic)
Location: 2th Floor
Room Size: 31 square meters
Beds: Single Bed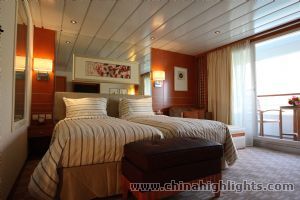 Suite
Location: 3th/4th Floor
Room Size: 39 square meters
Bed: Two single beds
Mandarin Suite
Location: 4th Floor
Room Size: 77 square meters
Beds: King Bed
Jade Suite
Location: 4th Floor
Room Size:77 square meters
Beds: King Bed
Celestial Suite
Location: 2th Floor
Room Size: 110 square meters
Bed: Queen size bed - 1.8M*2M
Imperial Suite
Location: 2th Floor
Room Size: 110 square meters
Bed: Queen size bed - 1.8M*2M
Cruise Itinerary
| | |
| --- | --- |
| Day 1 | 17:00-21:30 Boarding beginsat Chaotianmen Port of Chongqing. Have a drink in the Explorer Bar, enjoying the stunning nightview of Chongqing. 19:00 A la carte dinner is served (additional at CNY450pp). 21:00 Welcome safety briefing. 21:30 A Talk on 816 Nuclear Bunker. 22:00 Sancturary Yangzi Explorer Departs. |
| Day 2 | 6:30 Early bird coffee and tea are served. 6:30 Practice Tai Chi with our Doctor. 7:00-8:00 Breakfast Buffet. 8:00:12:00 "Fuling-816 Underground Project excursion - Option A or Fuling White Crane Underwater Muesum and local market -Option B". 12:00 Lunch Buffet. 13:30 Chinese Foot Reflexology Demo. 14:30 Traditional Chinese Medicine Demo. 16:00 Pearls of the World. 17:00-18:00 Captain's welcome reception with substantial snacks. 18:30-20:40 Disembarkation at Zhongxian for optional Three Kingdoms Open Air Show* from 19:30 to 20:40 (weather permitting) (additional at CNY290pp). 19:00 A la Carte Dinner for guests who stay on board. 21:15 Late Buffet Dinner for guests who go out for the show. 21:00-22:30 KARAOKE NIGHT - ASIANS FAVORITE PAST TIME. 21:00-21:45 Band plays at Explorer Bar. 22:15-23:00 Band plays at Explorer Bar |
| Day 3 | 6:30 Early bird coffee and tea are served. 6:45 Practice Tai Chi with our Doctor. 7:00 Passing Qutang Gorge with commentary. 7:20-8:20 Breakfast Buffet service. 8:30 Passing Wu Gorge with commentary. 10:45-16:00 Shennong Stream- inc. Bamboo Gorge and visit to trackers village. 16:30-17:30 Complimentary coffee, tea & Pastries are served. 18:00 Passing Xiling Gorge with commentary. 19:30 A Taste of China Farewell Dinner. 21:00 Lecture: Three Gorges Project. 21:00-21:45 Band plays at Explorer Bar. 22:15-23:00 Band plays at Explorer Bar |
| Day 4 | 6:30 Early bird coffee and tea are served 7:00 Breakfast Buffet 9:00-12:00 Check out and Disembarkation, followed by Three Gorges Project excursion. 12:30 Bus transfer to downtown Yichang for collection of luggage and onward travel arrangements |
| | |
| --- | --- |
| Day 1 | 17:00-21:30 Boarding begins at Yichang Maoping Pier, taka e drink at Explorer Bar. 19:00 A la carte dinner is served (additioal at CNY450pp). 21:00 Welcome safety briefing. 21:30 Documentary: 7 Wonders of China. Cruise terminal shuttle bus departure at two places: Yichang East Railway Station and Sanxia Tourist Center (face to Wal-Mart, 三峡游客中心) between 17:00pm and 21:00pm. 1 1/2 hours drive to Maoping port. Bus fee included. |
| Day 2 | March to mid-May, and mid-September to November 6:30 Early bird coffee & tea are served. 7:00 Practice Tai Chi with our Doctor. 7:30 Breakfast Buffet. 9:00 Lecture: Three Gorges Project. 10:30 Chinese Foot Reflexology Demo. 12:00 Lunch Buffet. 13:30 Three Gorges Dam Project. 16:30-17:30 Complimentary coffee, tea & pastries are served. 16;30 Lecture: Traditional Chinese Medicine. 17:30 Passing Xiling Gorge. 18:30 Captain's welcome reception. 19:00 A la carte dinner. 21:00 Karaoke Night. 21:00-21:45 Band plays at Explorer Bar. 22:15-23:00 Band plays at Explorer Bar. mid-May to mid-September 6:30 Early bird coffee & tea are served. 7:00 Practice Tai Chi with our Doctor. 7:30 Breakfast Buffet. 9:00 Lecture: Three Gorges Project. 10:30 Chinese Foot Reflexology Demo. 12:00 Lunch Buffet. 13:30 Three Gorges Dam Project. 16:30-17:30 Complimentary coffee, tea & pastries are served. 16;30 Lecture: Traditional Chinese Medicine. 17:30 Passing Xiling Gorge. 18:30 Captain's welcome reception. 19:00 A la carte dinner. 21:00 Karaoke Night. 21:00-21:45 Band plays at Explorer Bar. 22:15-23:00 Band plays at Explorer Bar. |
| Day 3 | March to mid-May, and mid-September to November 6:30 Early bird coffee and tea are served. 6:30 Practice Tai Chi with our Doctor. 7:00-8:00 Breakfast Buffet service. 8:00-12:00 Shennong Stream- inc. Bamboo Gorge and visit to trackers village. 12:30 Lunch buffet. 13:30 Passing Wu Gorge with commentary. 14:30 Silk Embroidery Demo. 16:00 Passing Qutang Gorge with commentary. 16:30-17:30 Complimentary coffee, tea & pastries are served. 17:00 Snuff Bottle Painting. 18:00 Chinese Tea Ceremony. 19:00 A la Carte Dinner. 20:30 A Talk on 816 Nuclear Bunker. 21:00 Movie & Popcorns 21:00-21:45 Band plays at Explorer Bar. 22:15-23:00 Band plays at Explorer Bar. mid-May to mid-September 6:30 Early bird coffee and tea are served. 6:30 Practice Tai Chi with our Doctor. 7:00-8:00 Breakfast Buffet service. 8:00-12:00 Shennong Stream- inc. Bamboo Gorge and visit to trackers village. 12:30 Lunch buffet. 13:30 Passing Wu Gorge with commentary. 14:30 Silk Embroidery Demo. 16:00 Passing Qutang Gorge with commentary. 16:30-17:30 Complimentary coffee, tea & pastries are served. 17:00 Snuff Bottle Painting. 18:00 Chinese Tea Ceremony. 19:00 A la Carte Dinner. 20:30 A Talk on 816 Nuclear Bunker. 21:00 Movie & Popcorns. 21:00-21:45 Band plays at Explorer Bar. 22:15-23:00 Band plays at Explorer Bar |
| Day 4 | March to mid-May, and mid-September to November 6:30 Early bird coffee and tea are served. 7:00 Practice Tai Chi with our Doctor. 7:30 Breakfast Buffet service. 9:00-12:30 Fuling - 816 Underground Project. 12:30 Lunch Buffet. 14:30-16:00 Time at leisure in Fuling OR *optional White Crane Ridge Underwater Muesum plus local market tour (additional at CNY150pp). 13:45 Chinese Dumpling Making. 14:30 Traditional Chinese Painting & Calligraphy Demo. 16:30-17:30 Complimentary coffee, tea & pastries are served. 17:30 Mahjong Madness!! 19:00 A Taste of China Farewell Dinner. 21:00-21:45 Band plays at Explorer Bar. 22:15-23:00 Band plays at Explorer Bar. mid-May to mid-September 6:30 Early bird coffee and tea are served. 7:00 Practice Tai Chi with our Doctor. 7:30 Breakfast Buffet service. 9:00 Perls of the World. 10:00 Traditional Chinese Paiting & Calligraphy Demo. 11:30-12:30 Lunch Buffet. 12:30-16:30 "Fuling - 816 Underground Project tour - Option A or White Crane Ridge Underwater Muesum and local market tour - Option B". 16:30-17:30 Complimentary coffee, tea & pastries are served. 17:00 Sanctury Yangzi Explorer departs Fuling. 17:30 Mahjong Madness!! 19:00 A Taste of China Farewell Dinner. 21:00-21:45 Band plays at Explorer Bar. 22:15-23:00 Band plays at Explorer Bar. |
| Day 5 | 6:30 Early bird coffee and tea are served. 7:00 Luggage out of Cabin for Collection. 7:00-8:00 Breakfast Buffet. 8:00-8:45 Disembarkation in Chongqing. |