As one of the oldest ancient buildings in the Three Gorge area , Huangling Temple, formerly known as Yellow Ox Temple, sits on a piece of flat land on the southern bank of the Yellow Ox mountain within the Xiling Gorge.
Judging from appearance, it is a splendid building with red walls and yellow roof. This temple was first built in Spring--autumn period about 2500 years ago. Legend has it that Yu the Great, who was one of the ancestors of the Chinese people, when harnessing the raging waters in the Three Gorges, got help from a yellow ox, the incarnation of God of the Earth. Later people offered sacrifices to the yellow ox in thanks and, to memorialize this event, built a temple called Yellow Ox Temple. The main structure in this temple is the Hall of Yu the Great.
As an old temple having experienced numerous natural and man-made disasters in history, the temple has been rebuilt or renovated several times. The remaining main building was built in 1618 in the Ming Dynasty and has been repaired in recent years. After getting ashore, visitors have to climb up 36 steps before reaching the main structure of the temple---The Hall of Yu the Great. It is supported by 36 big pillars and there are some old tablets inside , on which are written some characters about the hydrological data in ancient times.
Inside the courtyard of the temple,there was a well and the water from it tastes very sweet. While outside the temple there are a lot of orange trees around, making it a very beautiful sightseeing place for visitors.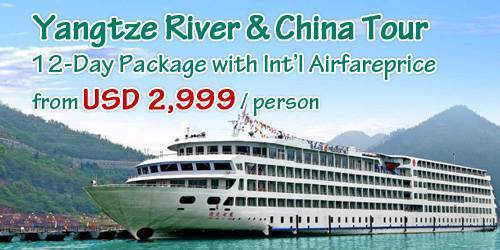 Information accuracy:
We try to make the information on China Travel accurate when we write/edit it. If you find any outdated information, please inform us.