Yinchuan Food
Last updated by sunnycoco at 2017/5/16
For Yinchuan is one the habitations of Hui Minority, the habit of diet in Yinchuan, known as the representative of Chinese Muslim food, is mainly followed the custom of Hui Minority. Yinchuan cuisine, which bears a long history, is characterized by a rich variety of dishes and snacks and exquisite using of seasonings. Having absorbed Chinese diet civilization and kept its ethical features, Yinchuan diet system has become a huge system of diet. If you want to know the Chinese culture, the diet of Yinchuan is a must.
Yinchuan Featured Food:
Braising Sheep Backbone
Boil sheep backbone in a pot and then take it out. After leaving it for a while, gently tear the scarfskin with a knife and then cut into pieces in the length of 3cm. After placing a wok on a roaring fire, put the sheep backbone soup into the wok. It is not until the soup is boiling that you put into backbones, agarics, refined salt, pepper, ginger juice, shallot slices, and gourmet powder. The dish is brought to finish by being removed floating foams, added some mixture of starch and water, and sprinkled eaten oil and caraway. The dish is tender and delicious, filled with nutrition and serving as nourishment suitably both for old and young.
Mianpi Salad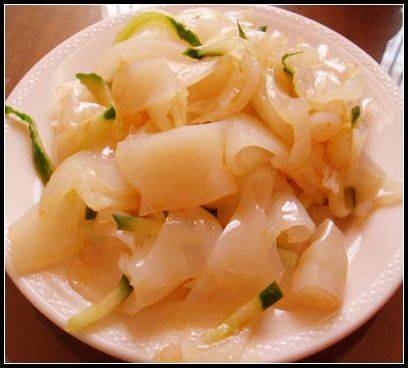 The Mianpi made by wheat flour is as thin as paper. First cut it into strips, then add shredded meat, cucumber, mustard, sesame oil, vinegar, then stir them, that is finished. It is very delicious, tasting sourish, hot, spicy and fragrant.
Braising Sheep Entrails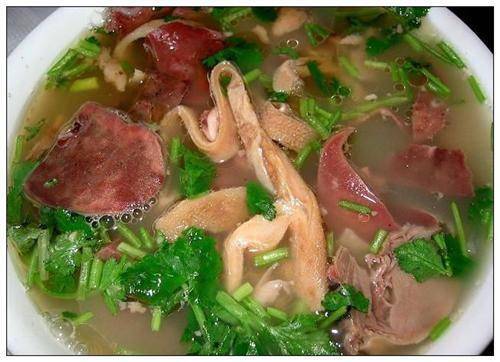 Wash and clean sheep's head, feet, heart, stomach, liver and intestines, then chop them into sections, and then cook with pepper and coriander. After labeled out, it looks red and tastes strong and spicy, which is really a beauty.
Lamb Mutton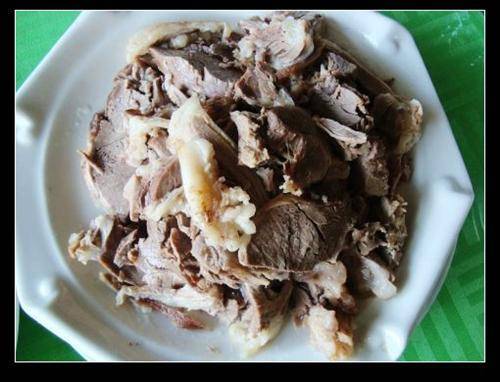 Mutton in Ningxia has no strong smell because of local water and soil. The mutton of a 2-3 months lamb is the best, fresh, tender and not greasy. Cut the mutton into cubes, then roasting, steaming or braising them are all OK. It tastes even better when eaten with special wine made by fruit of Chinese wolfberry. The mutton in bright red tastes soft, tender and mellow.
Braising Mutton And Tender Buds Of Gouji( Wolfberry's Fruits)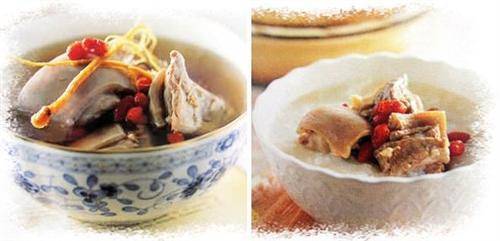 Wash and clean the mutton and cut into slices, put them into a bowl and pickle them with refined salt. After a short time, stir them with egg white and starch water, and then fry them in over half hot oil, after labeling out, empty the oil. As for Gouji's tender buds, first get rid of bitter sense by cool water, then give a quick roast together with salt, pepper, scallion slices, ginger water and gourmet powder, at the same time, put the meat slices into it. At last, label them out with soft Gouji grains on it. White, green and red, the dish looks nice and tastes delicious, spicy and fragrant.
Page 1 of 1 First Previous 1 Next Last