Tianmen Fox Fairy Show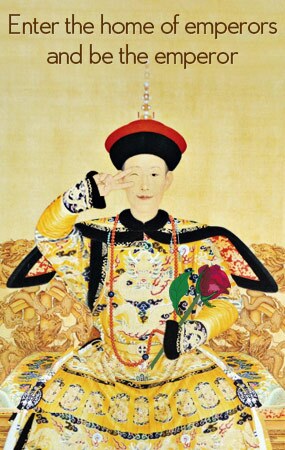 Tianmen Fox Fairy Show is a large-scale real-scene musical drama that originated from a traditional Chinese fairy tale, which showing a love story between a fox fairy and a woodsman. The love story was widespread throughout locals and all Chinese. The performance area is located in the 5 km long valley of Tianmen Mountain, 8 km from Zhangjiajie City, Hunan Province.
Overview of Tianmen Fox Fairy Show
Being the world's first real-scene musical drama with Tianmen Mountain and deep valleys as the stage background, Tianmen Fox Fairy Show is famous at home and abroad. It was first performed on the foot of Tianmen Mountain, Zhangjiajie City in September 17, 2009. With 10 years' development and experience, the show becomes more and more excellent and delicate.
Its main stage and auditorium covers a total area of 19,880 square meters. And its panoramic stage made of glass steel covers a total area of 10,000 square meters, which is transparent with the lighting effects to make a dreamlike scene.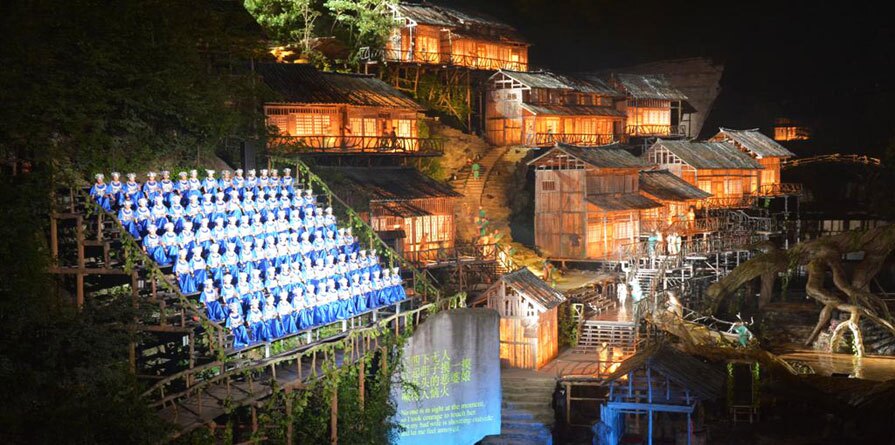 Tianmen Fox Fairy Show is divided into five chapters, including The King Fox Choosing an Imperial Concubine, Meeting at Tianmen Mountain, Lovesickness of Fox Fairy, Betraying to the King Fox, and Waiting for each other.
Story Background
It comes from a local ancient fairy tale between a fox fairy and a woodsman began thousands of years ago. It is a romantic love story. The fox fairy is very kind and overwhelmingly beautiful and never hunts human beings, which make her different from other fox fairies (In Chinese folk culture, fox fairy were regarded as a kind of an evil spirit that hunting human beings for food). 
The Plotline of the Show
The fox fairy was arranged to marry the king of Fox Empire that she never loves. Instead, she falls in love with a both diligent and kind woodsman called Liu Hai when they met in Tianmen Mountain. What's more, she turns into a woman by using her supernatural power and come into Liu Hai's house to do housework for him without being seen by Liu Hai.
Liu Hai finally finds out the truth and falls in love with the fox fairy. But the villagers from Liu Hai's village can't accept that Liu Hai's lover is a fox fairy and don't agree the wedding between Liu Hai and the fox fairy, because many villagers were ate by fox fairies.
In other words, fox fairies and the Fox Empire are the enemies of all villagers. And the king of Fox Empire were very angry when he hearing the news that the fox fairy wants to marry Liu Hai. So the beautiful fox fairy was held in captivity by the king of Fox Empire.
Surprisingly, Liu Hai and the fox fairy swore that they will love each other until the sun runs dry and rocks turn to dust. Finally, the Heaven was touched by their romantic love story. And Liu Hai and the fox fairy got married and lived a happy life together.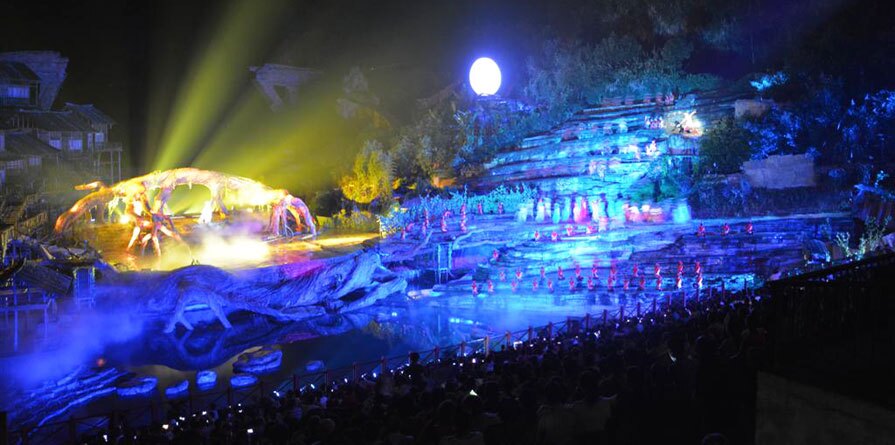 There is a cast of 530. And visitors can hear sweet folk songs sung by over a cast of 100 local singers in traditional clothing with sliver ornaments.  
The show combines folk music and modern art together, which makes it full of primitive simplicity and latest modernity. There are flying waterfalls, man-made big moon, Tujia people's hanging houses and idyllic surroundings on the stage during the show, which make visitors feel like in a wonderland.
Transportation
It enjoys a prime location, which lying only 8 km from Zhangjiajie City, Hunan Province. Visitors can take bus No. 10, No. 4, No. 5 and No.6 and then transfer bus No.5 at the cableway station to get access to it. Or take taxi from downtown to get access to it.
Tips
1. It is open from March to December every night, no matter it is rainy or not.
2. The show has a rest between Jan. to Feb. every year.
3. Theatre will provide free raincoat to audiences if it rains.
4. The show is performed at night. It is suggested to bring a coat to enjoy the show for it is a little bit cold at night. Or visitors can rent a coat, which costing RMB 10.
5. There are Chinese, English, Korean and Japanese on the screen, so do not worry about language difference.
Nearby Attractions
There are some magnificent and picturesque scenic spots such as Wulingyuan Scenic Area and Zhangjiajie National Forest Park around Tianmen Fox Fairy Show performance area. Wulingyuan Scenic is very large geographical area and famous for its stone forests and rare animals and plants. Zhangjiajie National Forest Park is a magnificent and grand forest park that visitors can enjoy the true beauty of nature.
Location:
Tianmen Fox Fairy Theater, Tianmen Mountain Scenic Area, 8 km from Zhangjiajie City, Hunan Province.
Ticket Price:
VIP A Area: 880RMB/P/P; VIP B Area: 580RMB/P/P; Normal A Area: 238RMB/P/P; Normal B Area 208RMB/P/P; Normal C Area: 188RMB/P/P
Opening Hours:
8:15-9:45 every evening
Recommended Zhangjiajie Tours:
For an authentic travel experience, contact one of our travel advisors. Our local experts are always ready to create a hassle-free tour for you.