Baofeng Lake
Baofeng Lake, or Baofeng Hu, is one of Zhangjiajie National Park's main attractions. It is located in the Wulingyuan Scenic Area, and it is a man-made lake, made by blocking the local gorge. It's draws include boat rides, and hiking the surrounding forested peaks.
Baofeng Lake Facts
Name: Baofeng Lake, Baofeng Hu,  宝峰湖
Location: Wulingyuan Scenic Area, South Side of Suoxiyu Village, Hunan China
Hours of Operation: 07:00-18:00 April-October; 07:00-17:00 November-March
Ticket Price: 96 CNY (13.9 $) for an adult; 60 CNY (8.50 $ for children over 1.3 meters); Free for children under 1.3 meters
Recommended Visiting Time: Spring and Fall months
Where Is Baofeng Lake?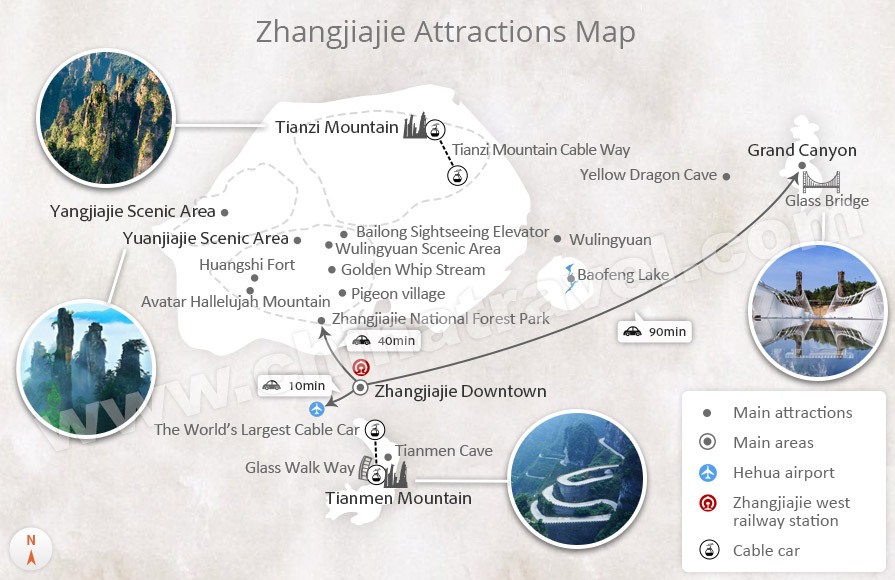 What to See at Baofeng Lake Scenic Area
1. Baofeng Lake
The lake itself is beautiful, surrounded by karst rock formations. It is a peaceful and relaxing experience to take a cruise across its waters. The boat ride takes about 30 minutes, and often you can hear local minorities singing traditional songs. The karsts and fantastic rock formations of Zhangjiajie are beautiful to behold from the lake's surface.
2. Baofeng Waterfall
The waterfall is a breathtaking site, raining down over hundreds of meters. It is located where the river meets the lake.
3. Yingwo Village
Yingwo means "eagle's nest" and legend has it. It was once a bandit's village atop the peaks nearby Baofeng Lake. It is a great place for hiking and mountain climbing, with temple ruins precariously purchased atop the mountains.
4. Yixian Tian (Thin Strip of Sky)
There is a famous area, when approaching the village, with steep peeks crowding together, where the sky can only be seen as a small strip of glowing blue between the forested peaks. This area is called "one line sky" or "thin sky strip."
How to Get to Baofeng Lake?
Many of the local buses have no English signage or instructions. Practice saying "Baofeng Hu" so you can ask locals about getting there.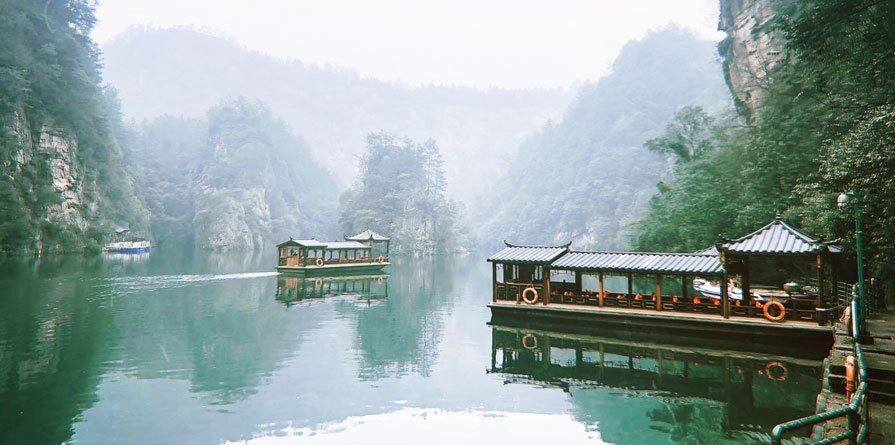 Baofeng Lake
From Wulingyuan Town: You can take bus line #2, or the tourist bus which both have stops right at Baofeng lake. It's about a 10 minutes ride.
From Zhangjiajie National Forest Park: You should take a bus to Wulingyuan town. From there, take one of the tourist buses, or line 2 to the lake.
From Zhangjiajie Grand Canyon Glass Bridge: Take the Grand Canyon to Wulingyuan bus- which takes about 40 minutes to get to Wulingyuan. From there bus 2 or a tourist bus gets you to the lake.
Nearby Attractions
Zhangjiajie National Forest Park
Zhangjiajie is the reason for the season- it's hallelujah peaks, made famous by the movie Avatar: the Last Air bender, bBn people from all over the world.
Yellow Dragon Cave
Offering a great respite from the summer heat, the cave is a vast cavern that denotes Zhangjiajie area's unique geological history.
Zhangjiajie Glass Bridge
The longest glass bridge in the world, over the deep gorge below it, is a huge tourist attraction, it offers unrivaled scenes of the mountains and an experience for those who can overcome any fear of heights.
Can I see the Grand Canyon and Baofeng Lake in one day?
It is possible to do- but you will probably miss a lot.
The Zhangjiajie Grand Canyon is a gorgeous scenic spot with miles of surrounding hiking. There are nature trails, the glass bridge, and much more to see in the area- it's not hard to spend an entire day there.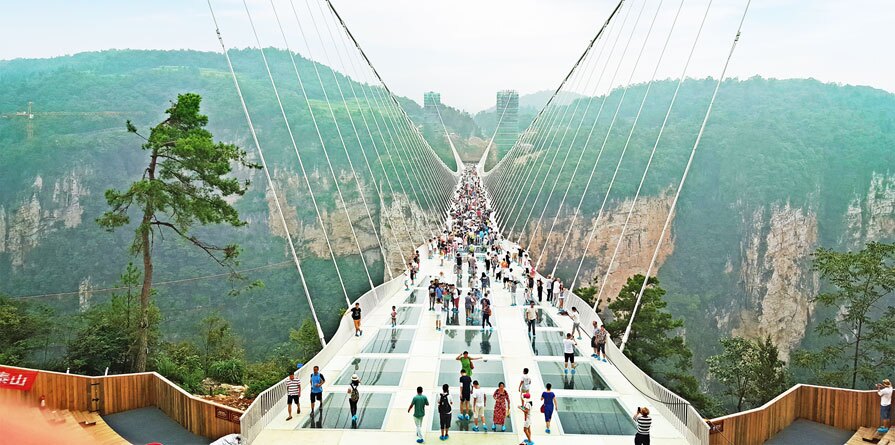 Zhangjiajie Grand Canyon Glass Bridge
Baofeng Lake is similar- between the aforementioned Yingwo village, surrounding hiking trails, and the Baofeng Waterfall, one could easily spend an entire day.
It can be done, but you will almost certainly miss a lot if you see both places in a single day trip. Additionally, if there are many tourists, you may have to wait for some of the attractions- like the Baofeng boat ride, or to walk across the glass bridge. This might make your one day visit to both attractions impossible.
How to see Tianmen Mountain, the Grand Canyon, and Baofeng Lake in 2 days?
It is possible to see all of these places in the short span of two days, but not easy, or cheap. Hiking for hours will be out of the question, and so will going during shoulder season (peak tourist season). It's possible to do, remembering that Wulingyuan town is the central area between these three places, and it's very close to Baofeng Lake.
The best way to see all of this in about 2 days is to start at Tianmen Mountain. The recommended itinerary is: Day 1: Tianmen Mountain → Stay overnight in Wulingyuan town → Day 2: Baofeng Lake + Grand Canyon Glass Bridge.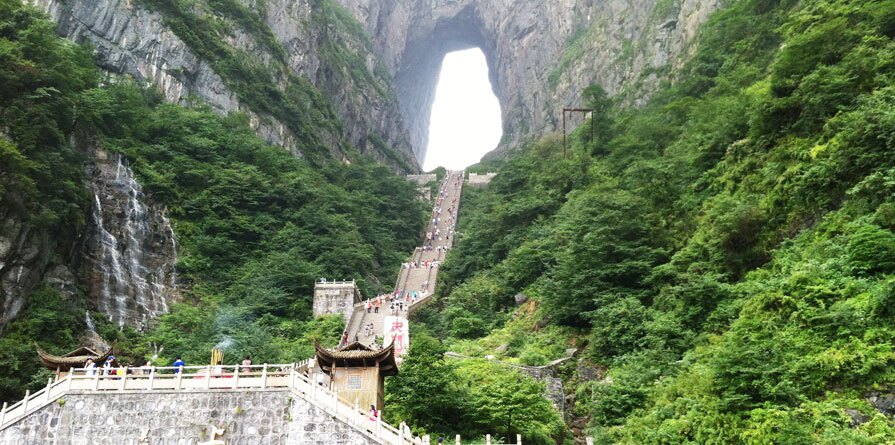 Tianmen Mountain
After your sightseeing is complete at Tianmen, head north by bus for about 1 hour to Wulingyuan town. Fortunately, if Tianmen keeps you for longer, there are hostels and accommodation available nearby. There are even English signs and maps available for foreign tourists.
Wulingyuan town is adjacent to the largest section of the park, and Baofeng Lake. You can easily spend an entire day exploring this massive area, and its dozens of attractions.
Finally, finish your trip with another hour-or-so long bus ride to the Grand Canyon Glass Bridge. It's another large area with hiking trails, and plenty to do.
The best advice though, is to take 3 days, spend a day at each location, hike the nature trails, and have an unforgettable experience in Zhangjiajie.
Tour Zhangjiajie with Us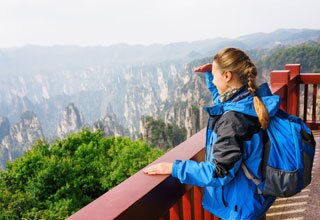 If you take your Zhangjiajie tour with us, our professional trip advisor will arrange a fun-packed itinerary perfectly fit you, our experienced driver will save your time in transportation, our local tour guide will help you avoid crowds.
Don't hesitate to share with us your tour ideas. We look forward to serving you soon! Perhaps one of our best Zhangjiajie tours will interest you:
Recommended Zhangjiajie Tours:
For an authentic travel experience, contact one of our travel advisors. Our local experts are always ready to create a hassle-free tour for you.