Tianzi Mountain
Zhanjiajie's Tianzi Mountain is a unique piece of landscape and geology with an interesting history. It is named after a farmer- Xiang Dakun, from the Tujia ethnic group residing in the area- who led a farmer's revolt and christened himself "Tianzi," meaning "Son of Heaven" which was also the name traditionally used for the emperor of China.
Presently, Tianzi Mountain is a tourist location, known for its beautiful misty visage.
Zhangjiajie and Tianzi Mountains Map
Tianzi Mountain Facts
Chinese Name: 天子山 Tianzi Shan
Location: Northeastern Section of the Zhangjiajie National Forest Park Area, nearby Suoxi Valley, Wulingyuan, Zhangjiajie
Height: 1262.5 meters (4142 feet)
Hours of Operation: 08:00-18:00
Entrance Fee: included in the entrance ticket of Zhangjiajie National Forest Park (March-November: 225 CNY for adults; December-February: 115 CNY for adults; Free for Children below 1.3 meters)
Cable Car: 67 CNY one-way, 134 CNY 2-way
Tianzi Mountain Cable Car
The cable car enables everyone who visits to see the peaks with minimum effort- whether you think that is a good or bad thing is a different story.
The total length of the cable car ride is 2,084 meters (6,837 feet) one-way, and it ascends 692 meters (2270 feet) up the mountain. The ride takes about 6 minutes total, and provides a commanding view of the legendary scenery of the area.
What to see at Tianzi Mountain Nature Reserve?
1. Shentang Bay
The Shentang Bay, or Gulf, is a wide natural ravine, with thin jungle-capped karsts pointing out of it. Wisps of clouds float through it year-round, giving it a mystical ambiance. Mostly untouched by people, the only access to this place is a natural — and terrifying — natural ladder.
Legend has it that the self-proclaimed King Xiang Dakun died falling into the misty Shentang Gulf.
2. Fields in the Air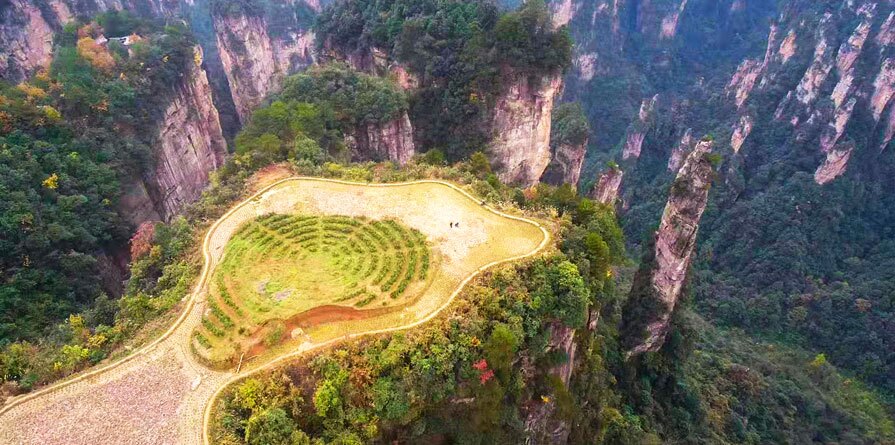 Fields in the Air
This place is a traditional Chinese landscape painting come to life. One thousand meters (3,281 feet) in the air is a terraced field, surrounded by steep cliffs on 3 sides which plunge into a jungle-filled gorge. It is unlikely to get there without the help of a local guide.
3. Sea of Stone Forests
The entire Wulingyuan Scenic Area, where Tianzi Mountain and Zhangjiajie National Forest Park are located, is covered in over 3,100 sandstone karst pillars. The tallest reach heights of up to 800 meters. Most of the landscape is covered in lush jungle forests, waterfalls, and streams.
4. Imperial Writing Brush Peaks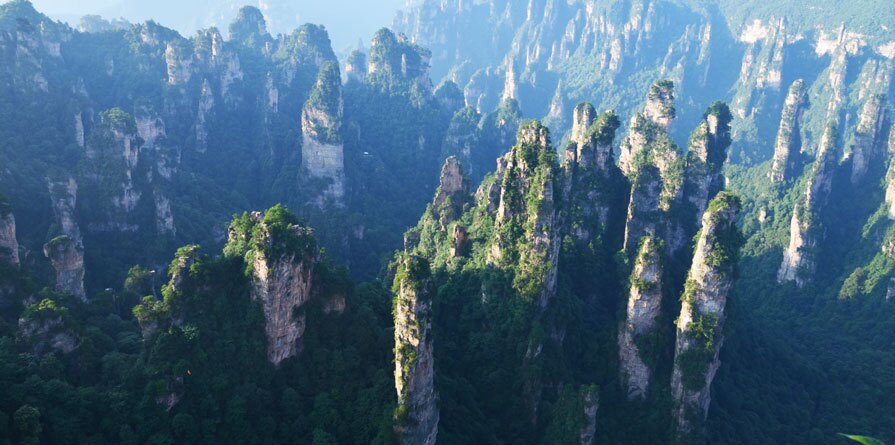 Imperial Writing Brush Peaks
These sharp, narrow karsts with small bits of jungle brush and trees growing out the top look just like...well, paint brushes. They are extremely thin rock formations, and the bits of vegetation at their tips look like the bristles of writing brushes.
This area is regarded as one of the best places in the whole Zhangjiajie area for photography. During light mist, the views are especially stunning. Snow cover in the winter also provides a once-in-a-lifetime vista.
How did the Tianzi Mountains form?
Tianzi Mountain, and the landscape surrounding it is a karst landscape. Karst landscapes can be found all over China and Southeast Asia, from Guilin, China to Ha Long Bay, Vietnam and the Philippine isles.
Karsts are formed over hundreds of millions of years, as the Indian continental plate rams into the Eurasian continental plate causing the continental plates to arch upwards as they push together. As the collision progresses, the landmass throughout much of Central Asia, China, and Southeast Asia rises up- this is what caused the Himalayas to rise to be Earth's highest mountains.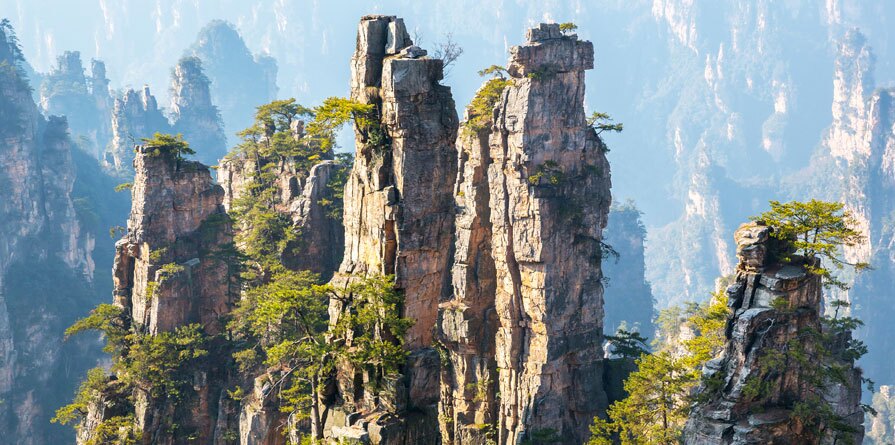 Tianzi Mountain
As the land in Asia rises up, the soft sedimentary soil and rock is eroded away, leaving the hard, dense formations that were once deep under the earth. These formations are called karsts. The karsts of Zhangjiajie are unique because they are especially steep and narrow, rather than the conical karsts found all over Southeast Asia.
Zhangjiajie's karsts are made from hard-packed sandstone. The steep and jagged peaks inspired the alien landscape of Pandora, from the movie Avatar.
How to get to Tianzi Mountain?
Tianzi Mountain is part of the Zhangjiajie National Forest Park. It is complicated to get there by public transportation. Even for experienced travelers or expats who know their way around China, it is not easy to arrange local transportation on their own. We recommend you contact us and arrange a private transport to travel around Zhangjiajie.
From the Airport
There are no buses directly to the Wulingyuan Scenic Area or Zhangjiajie National Park from Hehua International Airport in Zhangjiajie. You will have to first get to one of the bus stations in the city.
Take city bus #4 or a taxi to the Zhangjiajie Central Bus Station. The bus is cheap, at about 2 CNY, and taxi fare should cost around 15-30 CNY.
From the Bus Station
There is a bus that leaves every 30 minutes from Zhangjiajie Bus Station to Tianzi Mountain. The cost is 15 CNY and the trip takes about 90 minutes. The bus runs from 06:00-16:30
Within the Park
Within the park there are several ways to get to Tianzi Mountain.
Batter cars patrol regularly within the Zhangjiajie National Forest Park Area. The price of the entrance ticket for the park will cover rides on the electric vehicles. These shuttle buses can be used to get to Avatar Mountain, Yuanjiajie, and pretty much the whole of park area.
From the small village of Wulingyuan, which connects other parts of the park (Baofeng lake, etc.), you can take taxis or buses to major destinations like the city or some of the park entrances.
How to travel around Tianzi Mountain?
You can travel in the park for half day or full day according to your time.
Tianzi Mountain Cableway Station
Full Day (about 8 hours) Hiking:
1) Take the bus from the Wulingyuan entrance to the Ten Mile Natural Gallery. From here you can walk or take the mini-tramway for 28 CNY (3.98 $).
2) At the Three Sisters Peak, start your ascent up.
3) As you make your way to the Wolong Ridge there are numerous landmarks, including the Tiantai platform, Tianzi Pavilion, and Xihai Stone Peak Forest.
4) Once you reach the Tianzi mountain central area, you can see the Imperial Brush Peaks, and Shentang Bay.
5) Head to the Tianzi Mountain Bus Station. Feel free to explore the sights in this area as you see fit.
6) Board the bus to the Tianzi Mountain Bus Stop.
7) Arriving back at the Tianzi Pavilion, take the south path down the mountain. You will go through the Southern Gate of Heaven on your way down.
8) Arrive at the lower Tianzi Mountain Cableway Station.
9) From the station, you can take a bus back to Wulingyuan Entrance.
Half-Day (2-4 hours) Hiking
1) Get a bus from Wulingyuan Entrance to the lower Cableway Station.
2) Ride up and head to Shentang Bay.
3) From there you will visit Dianjiang Terrace, Helong Park, Tianzi Pavilion, and Tower Peak.
4) On your way down you will see Ten Mile Gallery.
5) End up at Zimugang Ticket Station.
6) Take a shuttle bus back to Wulingyuan Entrance.
Travel Around Zhangjiajie with Us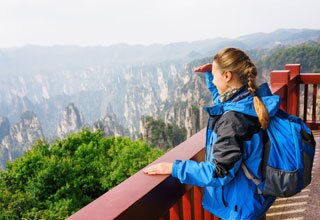 If you tour Zhangjiajie with us, our travel experts will arrange everything for you according to your needs. Our experienced English-speaking guides will escort you and adjust your itinerary according to the weather changes. They are local and know everything about Zhangjiajie.
Please feel free to share with us your tour ideas. We look forward to serving you soon! Perhaps one of our best Zhangjiajie tours will interest you:
Recommended Zhangjiajie Tours:
For an authentic travel experience, contact one of our travel advisors. Our local experts are always ready to create a hassle-free tour for you.