Yuanjiajie Scenic Area
Yuanjiajie Scenic Area (pronounced "you-awn-jaw-gee-eh"), known originally as Qingyuan Mountain, is located in the northern part of Zhangjiajie Forest Park. This famous mountainous area provided the inspiration for the floating mountains of the movie Avatar, and is known for it s misty, beautiful karst topography.
The whole area covers about 3000 acres (1,1214 hectares, or 12,100,000 square meters). Visitors can take the Bailong Elevator up Yuanjiajie, then visit Mi Hun Tai platform, Tian Xia Di Yao Qiao (Bridge Under Heaven- a natural arch), and the famous Hallelujah Mountain, made famous in Avatar.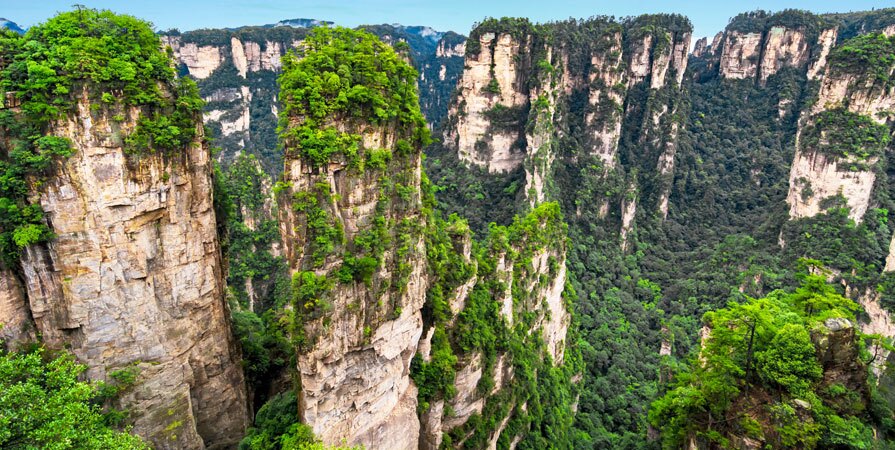 Yuanjiajie Floating Mountain
Facts about Yuanjiajie Scenic Area
Chinese name: Yuanjiajie, 袁家界
Location: Northwest Wulingyuan Scenic Area, Zhangjiajie, Hunan Province, China
Opening Time: 08:00-17:00
Best Time to Visit: Spring and Fall
Time Needed: 2-4 hours
Entrance Fees: March-November: 248 CNY (35.20 $); December-February: 139 CNY (19.73 $); 88 CNY (12.49 $); Free for Children under 1.3 meters
Yuanjiajie Must-See Attractions
1. Avatar Hallelujah Mountain
One of the most famous attractions of Zhangjiajie, the Avatar Mountain, is a 150 meters high karst (a type of large, steep, conical rock formation) with thick vegetation on top. Other names for it include: South Sky Pillar, Hallelujah Mountain, Southern Sky Column, and Pillar Between Heaven and Earth. This mountain was the impetus for the floating mountains in one of the highest grossing films of all time- Avatar.
2. Bailong Elevator (Hundred Dragon Elevator)
Bailong Elevator was originally a controversial construction- many people thought building an enormous project at a UNESCO World Heritage site would do more damage than anything else. However, since its construction, it has seen decreased wear and tear from foot traffic, and many businesses that used to be nearby have been shut down, decreasing the human footprint.
Up to 50 visitors or so can ride the elevator all the way up- it takes about a minute. This seriously decreases visiting time, and provides a breathtaking view of the landscape.
3. First Bridge Under Heaven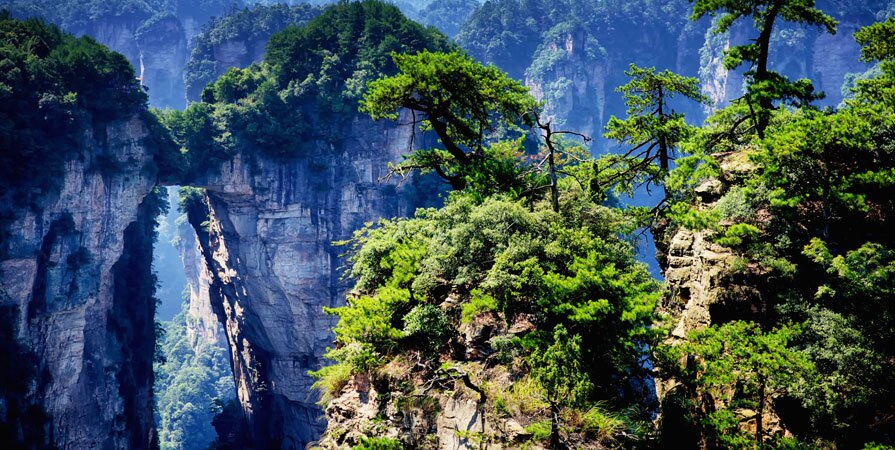 First Bridge Under Heaven
This natural stone bridge is 2 meters (6.56 feet) wide, 25 meters (82 feet) long, 5 meters (16.4 feet) thick, and goes 357 meters (1,171.26 feet) above the valley below. It is formed by a massive sandstone block with the central/upper part hollowed out below, creating a natural arch. It is the highest natural bridge in the world.
4. Enchanting Platform (Mihun Tai)
Mihun Tai is generally regarded as the best viewpoint in Zhangjiajie. It provides a panoramic view of the wonders of the park all around. If there is one place you visit to try to take all of Yuanjiajie in, it should be Mihun Tai.
5. Back Garden
The rear garden is a rock garden, chock-full of obelisks, deep ravines, and vegetation growing out of every crevasse and surface.  Many of the trees growing on the rock obelisks are miniature, making the whole area look like some kind of chaotic Bonsai garden.
The area is renown, written of by a medieval Chinese poet who claimed that the rocks came in all conceivable shapes, in an unrestrained wild beauty.
6. Hanging Waterfall
Located at the end of Shaodao Crevasse, this waterfall plunges 200 meters down to the bottom. The stream of water looks like a gossamer thread reaching down into the valley. The water creates a mist and  a deep, thunderous rush of noise as it plummets to the valley pool.
Travel Routes in Yuanjiajie
Yuanjiajie is in the Northwest corner of Zhangjiajie National Forest Park. There are 3 travel routes: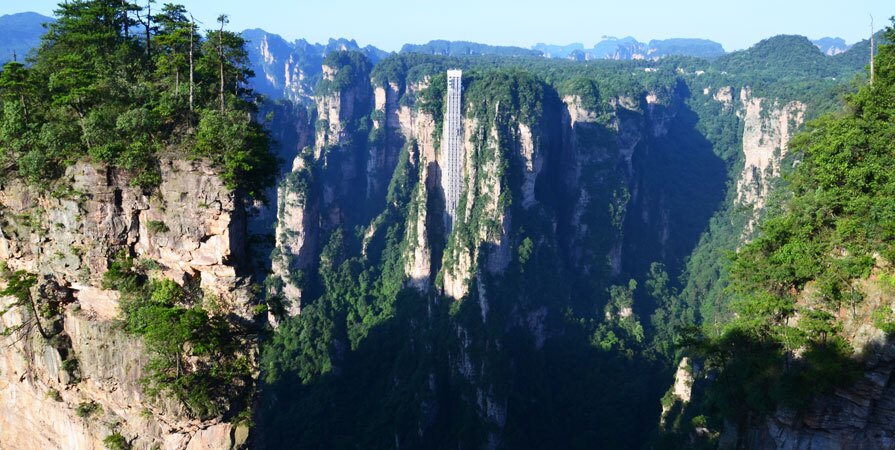 Bailong Elevator
1. The easiest way to travel through Yuanjiajie is to get a bus straight to Bailong Tianti (Bailong Elevator). From the top, you can take the Yuanjiajie Scenic bus to Mihuntai (The Enchanting platform)
2. You can also get a bus to Tianqiao (Sky Bridge) stop, and from there walk and see the natural bridge, Hallelujah Mountain, the Enchanting Platform, and the Rear Garden, in that order, as you make your way east.
3. A more adventurous route for hikers is to start in the southern section of Yuanjiajie, near Golden Whip Rock. As you go North along Golden Whip Stream, you will encounter first the Rear Garden, then Mihuntai, Avatar Hallelujah Mountain, and lastly the Sky Bridge.
How to Get to Yuanjiajie?
If you are starting in the airport, or Zhangjiajie city, first get to Wulingyuan. It will take about an hour, so it's much cheaper to take a bus than a taxi.
From Wulingyuan, you can take a bus directly to Bailong Elevator in Yuanjiajie.
From Tianzi Mountain, you can take a bus to the Sky Bridge (Tian Qiao) bus stop.
Finally, you can take a bus west from Wulingyuan to Water Winding Four Gates. From there, you can hike west along Golden Whip Stream until you reach the rear garden.
Tips Before Visiting Yuanjiajie
1. It is advised to pack walking/hiking shoes, a rain jacket, plenty of water if it is the summer time, layers if it is autumn or winter.
2. Bailong Elevator is very popular and will become a major bottleneck during busy season. Be aware that during holidays (especially National Holiday, on October 1-8), there will be long lines that can take hours.
3. There are monkeys in Yuanjiajie. Yes they can be cute. However, they are wild animals. Leave them alone. Please don't try to feed them, pet them, or pose for selfies with them- people do get attacked!
4. The weather is rainy and misty, pretty much year-round. This means that you need to plan each day well if you want to have a good experience on the mountaintops, and not just see gray fog. Mist usually lifts in the early afternoon, meaning around 13:00-15:00 is a great time to see the mountains because there is plenty of daylight and less fog.
Nearby Attractions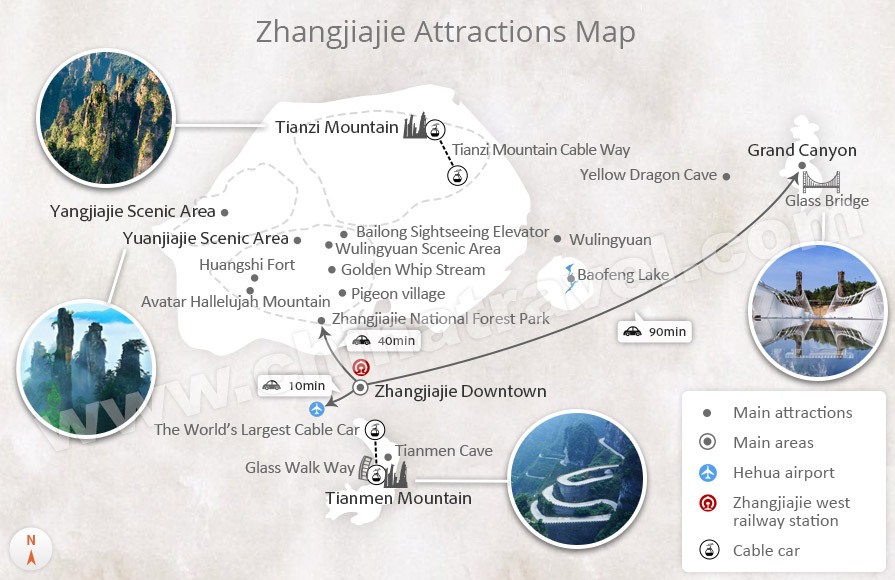 1. Yangjiajie Scenic Area : Not to be confused with Yuanjiajie, Yangjiajie is the fourth and farthest section of the Wulingyuan scenic area, offering legends of mountain bandits, majestic natural beauty, and unique mountain culture.
2. Tianzi Mountain: Located in the northern part of the Wulingyuan area, Tianzi mountain is accessible by cable way, and is especially beautiful in the winter time, when the peaks and trees are covered in snow.
3. Tianmen Mountain: Heaven's Gate Mountain in Chinese, is a major attraction in Wulingyuan, because of its 131.5 meter (431.4 feet) high natural arch for which the mountain is named, that visitors can walk beneath.
Can I visit Yuanjiajie and Tianzi Mountain in one day?
It is possible! If you take the cable car up Tianzi Mountain from nearby the Wulingyuan entrance, you will have some time to explore before departing for Yuanjiajie. From Helong Park Bus Stop near Tianzi mountain you can ride the bus all the way to the Sky Bridge Bus Stop. From there, it's easy to walk and see (in 2-4 hours) the Yuanjiajie attractions listed above.
Tour Zhangjiajie with Us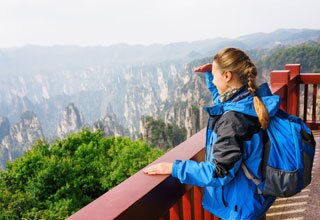 If you tour Zhangjiajie with us, our travel experts will arrange everything for you according to your needs. Our experienced English-speaking guides will escort you and adjust your itinerary according to the weather changes. They are local and know everything about Zhangjiajie.
Please feel free to share with us your tour ideas. We look forward to serving you soon! Perhaps one of our best Zhangjiajie tours will interest you:
Recommended Zhangjiajie Tours:
For an authentic travel experience, contact one of our travel advisors. Our local experts are always ready to create a hassle-free tour for you.