Zhangjiajie Bailong Elevator
Built into the side of an enormous cliff in Wulingyuan area of Zhangjiajie National Park, the Bailong Elevator is the world's tallest outdoor elevator, at 326 meters. In Chinese bai means "hundred" and long means "dragons," so the name of the elevator really means "Hundred Dragons Elevator".
Quick Facts
Chinese Name: Bailong Tianti 百龙天梯
Location: Wulingyuan area, Zhangjiajie, Hunan Province, China
Height: 326 Meters (1070 feet)
Hours of Operation: 09:00-18:00
Ticket Price: 72 CNY (about 10.22$) for single trip, 144 CNY (about 20.44$) for round-trip
Where Is Bailong Elevator?
Bailing Elevator is built in Zhangjiajie National Forest Park. It is also called "Avatar Mountains Elevator" for the reason that it offers the views of the famous Hallelujah Mountain from the movie Avatar.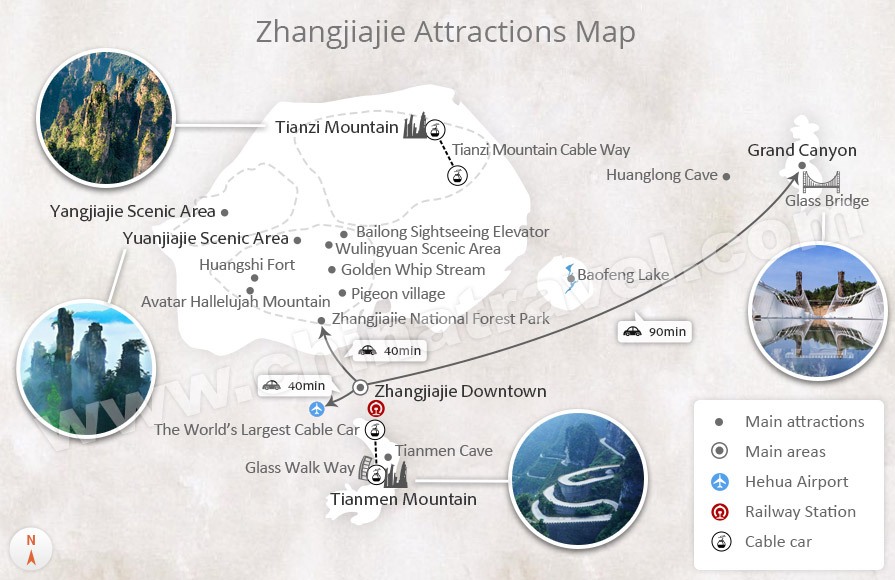 World's Tallest Outdoor Elevator
On July 16, 2015, the Bailong Elevator was listed as the world's tallest outdoor lift by Guinness World Records.
Construction began in 1999 and lasted until 2002, when it was opened to the public. The total cost was about 20 million dollars (140,926,125 CNY). The elevator was dug into a quartz sandstone cliff face in Wulingyuan. Tunnels and shafts were dug into the cliff as well, to accommodate the three elevators.
After an upgrade in 2015, it only takes the elevators 66 seconds to ascend, meanwhile offering visitors views of breathtaking, dizzying heights. Each lift has a carrying capacity of 4,900 kilograms (10,802.65 pounds), and can accommodate 64 passengers in each car.
Why was the Bailong Elevator built?
The construction of the elevator was controversial, as many were opposed to a massive construction at the Zhangjiajie UNESCO World Heritage Site.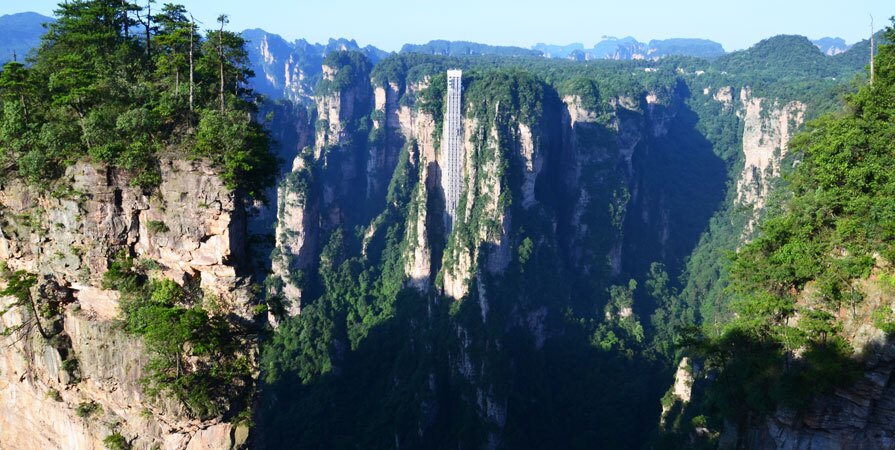 Bailong Elevator
Those who built it made some good counter arguments though:
1) The elevator would decrease wear and tear from foot traffic at the site.
2) The elevator enables visitors to see much of the park as a day-trip. This means that many hotels and guesthouses were removed after its construction, further decreasing the footprint on the area.
Visitors can now see the famous Hallelujah mountains from the movie Avatar while minimizing their impact on the environment there. Regardless, the Bailong Elevator is now a permanent fixture of the Zhangjiajie National Forest Park.
How to Get to Bailong Elevator?
From the Airport
A taxi will take around an hour to get to the park, it's about a 40 km (24.85 mile trip). Payment can be quite high, especially during tourist season- it will cost at least 100 CNY (14.20$).
It is also possible to get to the downtown area from the airport, and then take a bus from Zhangjiajie Center Bus Station to Wulingyuan directly. The bus takes 45-60 minutes, and only costs 12 CNY (1.7$). There are also shuttle buses that depart every few minutes and take about 1 hour.
From Zhangjiajie West Railway Station
From the railway station, the best way to get to Zhangjiajie is to either take a taxi for about 1 hour and 100 CNY, or to get to the Zhangjiajie Center Bus Station, an take a bus or shuttle bus to Wulingyuan.
Inside the park
Once you are in the park, 2 bus routes go to the elevator:
1. The Mountain Down Bus goes from the Wulingyuan entrance to the Bailong Elevator.
2. The Mountain Top Bus connects the Bailong Elevator with the Tianzi Mountain Cable way. The intra-park buses are free, but do not have English signage. You should ask the bus driver, or nearby visitors if the bus goes to Bailong Elevator ("Bailong tianti").
Tips for Taking Bailong Elevator
How to avoid crowds?
Don't go during peak season if you wish to avoid crowds. Peak season usually lasts from about March to October. October 1-8 is Chinese National Holiday, and millions of people travel during this time. Check your calendar for Chinese holidays that are happening- each holiday will mean a massive influx of tourists.
If you do go during peak season (also called shoulder season, for obvious reasons), you might have to wait for 1-2 hours to ride the elevator. Luckily, we can arrange experienced guides who are real locals and know every hidden path in Zhangjiajie. They will deal perfectly with any problem you might have on your tour and help you escape from the crowds. Feel free to contact us if you need one!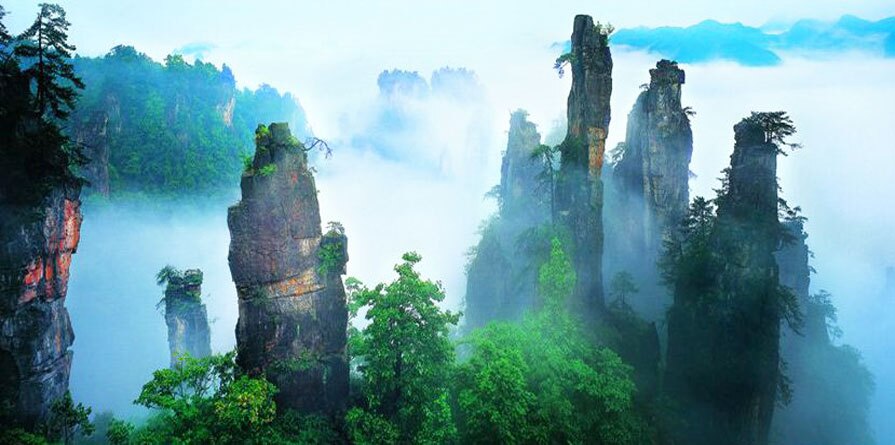 Zhangjiajie in March
March and April have good weather so the tourist levels go up, but not to extreme heights. In the summer months, when people have work and school holidays, the park can become extremely busy.
Winter is usually the low season, and there are less tourists, as well as lower prices on park entrance and accommodation.
One-way or round-trip?
This is largely your own decision- would you like to do some hiking? Are you strapped for time? If you have time, the weather is permitting, and want to walk some of the park, a one-way ticket is perfect.
If you are not an adept hiker, are short on time, or the weather is rainy, then a 2-way trip is probably for you. Just remember- if you have to wait a few hours to ride up, you will probably have a significant wait to go down.
If you are an avid hiker, you may choose to not take the elevator at all.
Up the Bailong Elevator and down the Tianzi Cable Car or vice-versa?
That is pretty much up to you. If it is extremely busy, it is most-likely best to visit the Tianzi Cable Car, and head down via the elevator, as the elevator's trip up usually has the longest wait time.
If there aren't many visitors, then taking the Bailong Elevator up the mountain and the cable way down is a fine option.
Tour Zhangjiajie with Us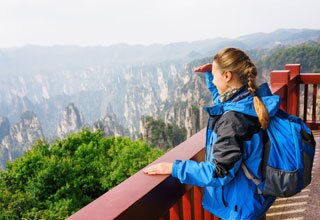 If you tour Zhangjiajie with us, our travel experts will arrange everything for you according to your needs. Our experienced English-speaking guides will escort you and adjust your itinerary according to the weather changes. They are local and know everything about Zhangjiajie.
Please feel free to share with us your tour ideas. We look forward to serving you soon! Perhaps one of our best Zhangjiajie tours will interest you:
Recommended Zhangjiajie Tours:
For an authentic travel experience, contact one of our travel advisors. Our local experts are always ready to create a hassle-free tour for you.