Zhangjiajie Glass Bridge
Zhangjiajie Glass Bridge is the highest and longest glass-bottomed bridge in the world. It stretches 430 meters long and 6 meters wide, hovering over a 300-meter vertical drop. The dizzying footbridge spans between two cliffs in the Grand Canyon of Zhangjiajie.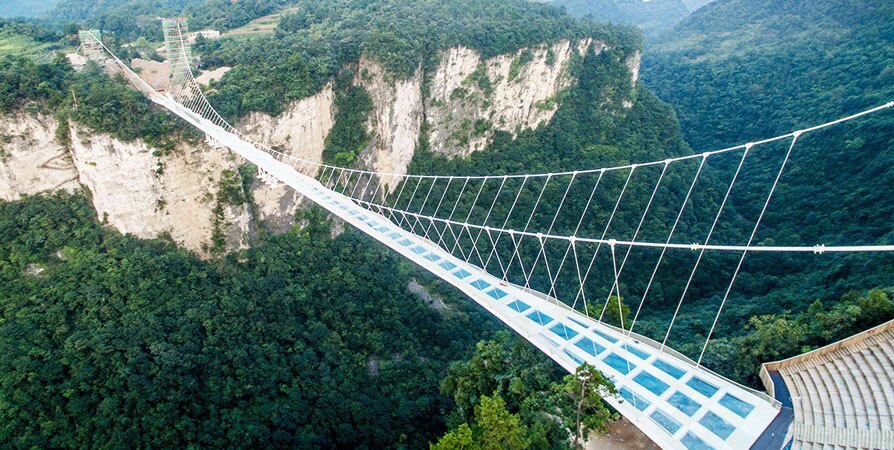 Zhangjiajie Grand Canyon Glass Bridge
Zhangjiajie Glass Bridge Facts
Height: 300 meters (984 feet)
Width: 6 meters (20 feet)
Length: 430 meters (1411 feet)
Opening Hours: March-November: 7:30-17:30, December-February: 08:00 to 16:00
Location: Sanguansi Town, Cili County, Zhangjiajie (within Zhangjiajie Grand Canyon Scenic Area)
Zhangjiajie Glass Bridge Construction
Zhangjiajie Glass Bridge, designed by Israeli architect Haim Dotan, is suspended about 300 meters above the Grand Canyon. The construction of the bridge began in 2014 and officially opened to the public on August 20, 2016, as the tallest and longest glass-bottomed bridge in the world.
The bridge, supported by 4 pillars at the edge of the canyon, is made of tempered glass panels. Each of these panels is 2-inches-thick and weighs 1.5 tons. It is capable of holding 800 people at a time. There is also a platform for making the world's highest bungee jump, at 285 meters (935 feet). But the bunjee jump is not yet set up.
Zhangjiajie Glass Bridge Tickets
There are two types of tickets for Zhangjiajie Glass Bridge.
| | | | |
| --- | --- | --- | --- |
| Ticket Type | Price | Entering Time | Time Needed |
| Ticket B for Zhangjiajie Grand Canyon + Glass Bridge | CNY 256 | 08:00-09:59; 1000-12:59; 13:00-15:00 | 3-4 hours |
| Ticket C for the Glass Bridge only | CNY 138 | 15:20-17:00 | About 30 minutes |
5 things you need to know about Zhangjiajie Glass Bridge tickets: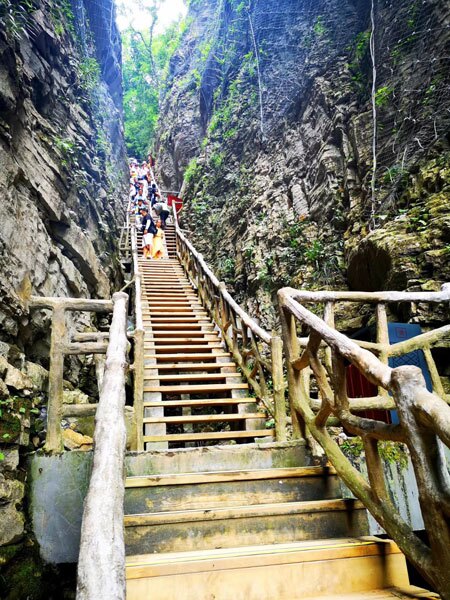 One Line Sky in the Canyon
1. Only 600 people at most are allowed on the bridge at one time. The entering time is set when booking the ticket.
2. You can't visit the Glass Bridge in the morning unless you buy Ticket B – because Ticket C is only used during 15:20-17:00.
3. You need to book your tickets at least one day early because you can't buy the tickets onsite, except discounted tickets for some Chinese citizens. Besides, it is unlikely to get a ticket on the day you visit since the bridge always attracts numerous visitors every day.
4. There is no official website for foreigners to buy Zhangjiajie Glass Bridge tickets online. If you are a foreign visitor, you'd better book through a travel agency like us. We can arrange a customizable day tour for you, including tickets and private transport. Feel free to contact us.
5. Please enter the scenic site during your reserved time, or the ticket will automatically become invalid.
Tips for Visiting the Glass Bridge
There is a one-way cable car from the entrance gate up to the Glass Bridge, costing CNY 25 p/p.
Valid ID certificate like a passport, is needed for both booking the ticket and entering the scenic site.
The Glass Bridge might be closed in bad weather so check the weather before you go.
The platform on the bridge for the bungee jump is not open yet. We are still waiting for the official announcement.
There is a luggage storage counter at the entrance however we recommend you leave your belongings at your hotel or private car if you want, you can hike along the canyon, because the entrance and the exit are in different places.
It is not allowed to bring cameras to the glass bridge. You can go there with just your wallet, passport, smartphone, and a small handbag waist pack.
Do not jump or run on the bridge. Do not wear high-heels.
Plan you trip and start your day as early as possible since the Glass Bridge is crowded most of the time, especially during peak season such as National Day Holiday (Oct. 1-7th) and summer holidays.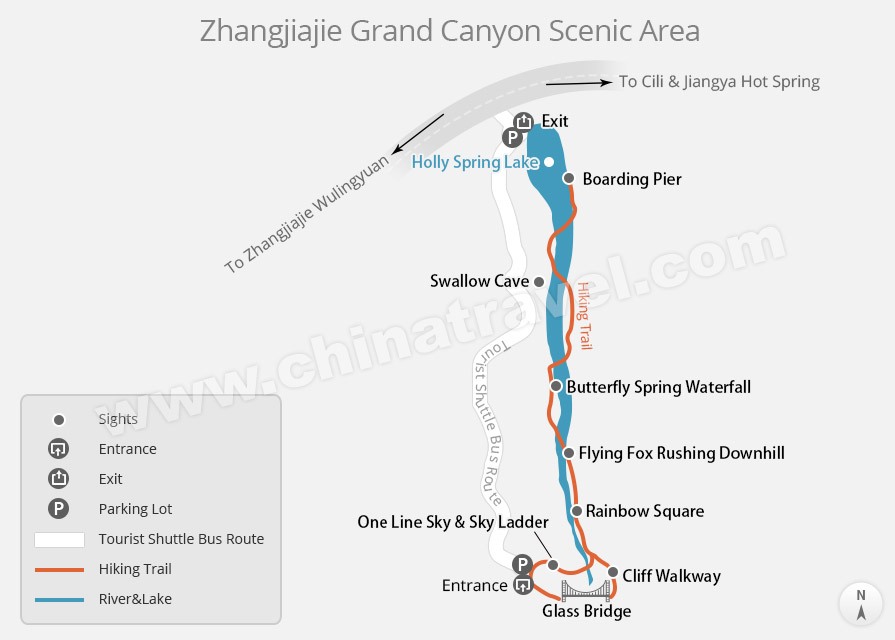 Recommended tour route: Entrance → Glass Bridge → the cliff walkway down to the canyon → plank road along the canyon → the reservoir for a boat ride → exit.
How to Get to the Glass Bridge
The Glass Bridge is in Zhangjiajie Grand Canyon Scenic Area, which is 28 km from Wulingyuan and 60 km from Zhangjiajie downtown.
From Wulingyuan
The "Wulingyuan-Grand Canyon" (武陵源-大峡谷) bus at Wulingyuan Bus Station will directly take you to the entrance of Zhangjiajie Grand Canyon. The bus leaves every 20 minutes between 7am and 5pm.
From Zhangjiajie Downtown
Take a bus from Zhangjiajie Central Bus Station (right next to Zhangjiajie Railway Station) to Jiangya Hot Spring (江垭温泉). Then, off at the exit gate of the Grand Canyon Scenic Area, where you can hop on a free tourist shuttle bus to the entrance.
Zhangjiajie Glass Bridge vs Tianmen Mountain Glass Skywalks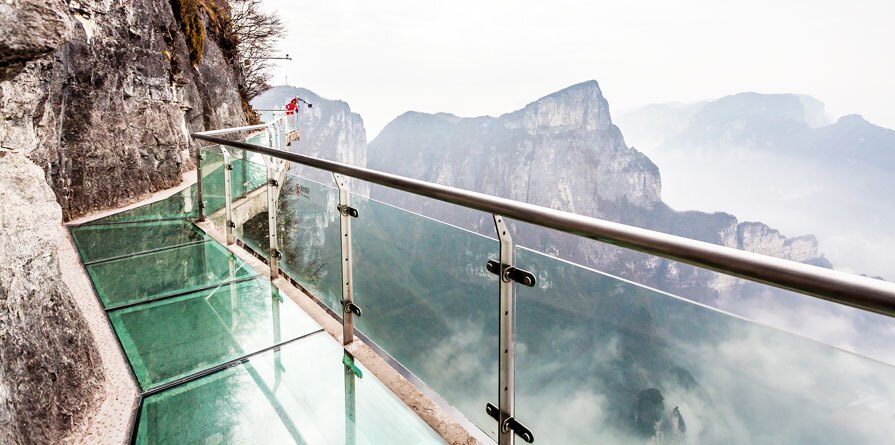 Tianmen Mountain Glass Walkway
Different Locations
The Glass Bridge is located in Zhangjiajie Grand Canyon, while glass skywalks are located in Tianmen Mountain, about 65 kilometers (40 miles) away from the Grand Canyon.
Different Views
Zhangjiajie Glass Bridge is a suspension bridge, hanging 300 meters high in the air. Visitors will get a perfect panoramic view of the vast canyon below when standing on the bridge. Tianmen Mountain glass walkways are clinging to the vertical mountain cliffs, with a height of 1430 meters above the sea level.
The Same Scary Feeling
Both the glass bridge and the glass skywalks will give you a thrilling feeling – like you are walking in the sky. Tianmen Mountain has fewer visitors and the ticket can be usually bought on spot, if you, can not get a ticket for the glass bridge, the glass skywalks can be your second alternative.
Explore Zhangjiajie with Us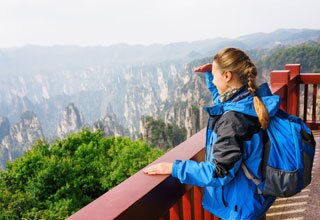 Are you tired of the complicated ticket booking and the foreigner-unfriendly transportation in Zhangjiajie? We can handle everything and offer you a hassle-free private tour, with no group and no fixed itineraries. Get some inspiration from our newly-designed sample tours of Zhangjiajie:
Recommended Zhangjiajie Tours:
For an authentic travel experience, contact one of our travel advisors. Our local experts are always ready to create a hassle-free tour for you.