How to Plan A Zhangjiajie Tour?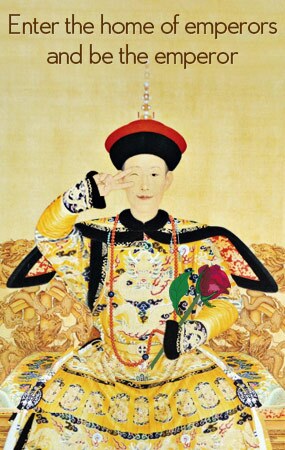 How many days do you need in Zhangjiajie? How to plan your 1 day, 2 day, 3 day, or 4 day itineraries? When is the best time to go? Where to stay? Is a tour guide necessary? This article will answer many of the questions you may have when planning a Zhangjiajie tour.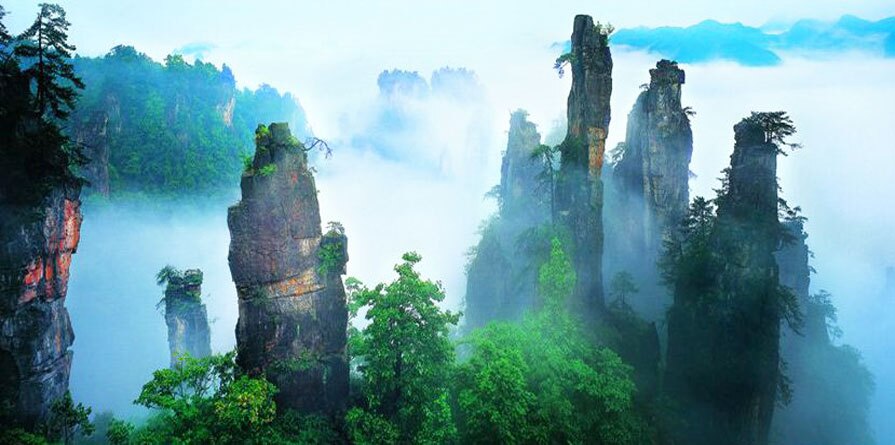 Zhangjiajie in Spring
What to See in Zhangjiajie?
To ensure your travel experience, we recommend 3 attractions in Zhangjiajie that you should never miss:
1. Tianmen Mountain gets its name from Tianmen Cave ("Heaven's Gate" Cave). It is a massive natural hole through the mountain and looks like a gate into the heaven. You can reach the cave by walking up 999 steps. Additionally, the record-breaking cable car to the mountaintop offers gorgeous views of deep valleys and limestone mountains with sheer cliffs.
2. Zhangjiajie National Forest Park is known for its misty karst topography. Taking Bailong Elevator will give you the views of the beautiful mountainous area which provided the inspiration for the floating mountains of the movie Avatar.
3. Zhangjiajie Glass Bridge , suspended 300 meters above Zhangjiajie Grand Canyon, is the tallest and longest glass-bottomed bridge in the world. It provides a superb panorama of the deep gorge, making you feel like you are "walking in the air.".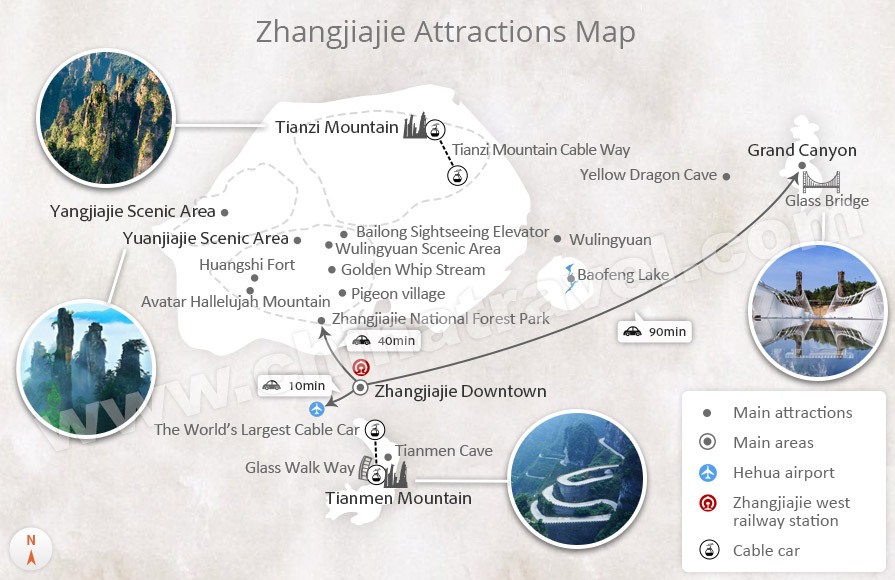 If your time allows, it is also recommended to enrich your natural travel in Zhangjiajie by taking a boat ride on Baofeng Lake, boating on an underground river to explore Yellow Dragon Cave, or visiting Fenghuang Ancient Town for a cultural break.
Allow 4 Days in Zhangjiajie
"How many days should I stay in Zhangjiajie?" is a question frequently asked by our customers. And our suggestion is always- at least 4 days. If you have 1, 2, 3, or 4 full days to explore Zhangjiajie, below are sample itineraries designed by our travel experts:
Length
Itinerary
Recommended Tour
1 Day
Plan A: Zhangjiajie Glass Bridge + Baofeng Lake
Zhangjiajie 1 Day Tour
Plan B: Zhangjiajie National Forest Park (Yuanjiajie + Tianzi Mountain)
Plan C: Tianmen Mountain + Tianmen Cave + Glass Walkway
2 Day
Day 1: Bailong Elevator + Avatar Mountain + Tianzi Mountain
2 Day Zhangjiajie National Forest Park Tour
Day 2: Yellow Stone Village + Golden Whip Stream
3 Day
Day 1: Tianzi Mountain + Avatar Mountain + Bailong Elevator
Zhangjiajie Essence Tour
Day 2: Zhangjiajie Glass Bridge + Baofeng Lake
Day 3: Tianmen Mountain + Tianmen Cave + Glass Walkway
4 Day
Day 1: Zhangjiajie National Forest Park (Yuanjiajie + Golden Whip Stream)
Zhangjiajie Essence and Bike in the Wild Nature Tour
Day 2: Zhangjiajie Grand Canyon with Glass Bridge
Day 3: Tianmen Mountain + Tianmen Cave + Glass Walkway
Day 4: Biking through the village at the foot of Tianmen Mountain
Our trip advisors listen, respond, and care all of our customers' needs and interests. They will customize unique Zhangjiajie tours that are off the beaten path- for example, "Fields in the Air", help to create an itinerary that perfectly fits the old or the young, and make the trip a deeper experience and go smoother. Why not contact our trip advisors and get help?
Choose the Best Time to Visit Zhangjiajie
Autumn is regarded as the best time to visit Zhangjiajie, for the dry and comfortable weather and picturesque scenery. Spring is mild and pretty but also rainy; summer is extremely hot; winter has beautiful icy vistas but with freezing temperatures as well.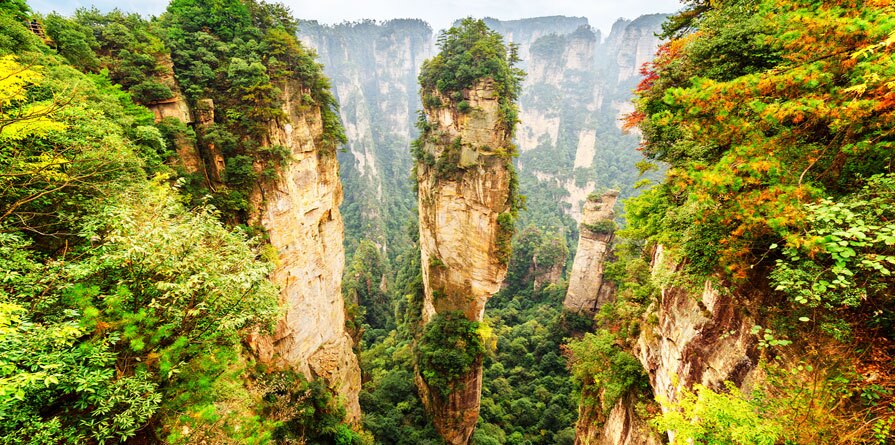 Zhangjiajie in Autumn
Autumn months in Zhangjiajie include September, October and November. However, we highly suggest you NOT go there in early October! Because October 1-7 is China's National Day holiday – which means overwhelming numbers of domestic travelers will surge up to Zhangjiajie, making every attraction packed with people and long lines.
Other Chinese important holidays are summer vacation (July and August), Labor Day (May 1-5), and Spring Festival (late January-early February).
If you have to travel Zhangjiajie in peak season, arrange and book things well in advance. Traveling with an experienced local who knows everything about Zhangjiajie will help you find a lesser-known paths and lead you away from crowds. Feel free to contact us and arrange one!
Get to Zhangjiajie by Flight or High-Speed Train?
The quickest way to get to Zhangjiajie is by air. There are direct flights to Zhangjiajie from China's major cities like Beijing, Shanghai, Guangzhou and Changsha. High-speed train is also a good option if you don't mind getting a transfer in Changsha:
Where to Stay in Zhangjiajie?
There are two main areas to stay: Zhangjiajie downtown and Wulingyuan (close to the national park). These two places also have the most hotelsin the area. It is advised to decide where to stay according to your itinerary.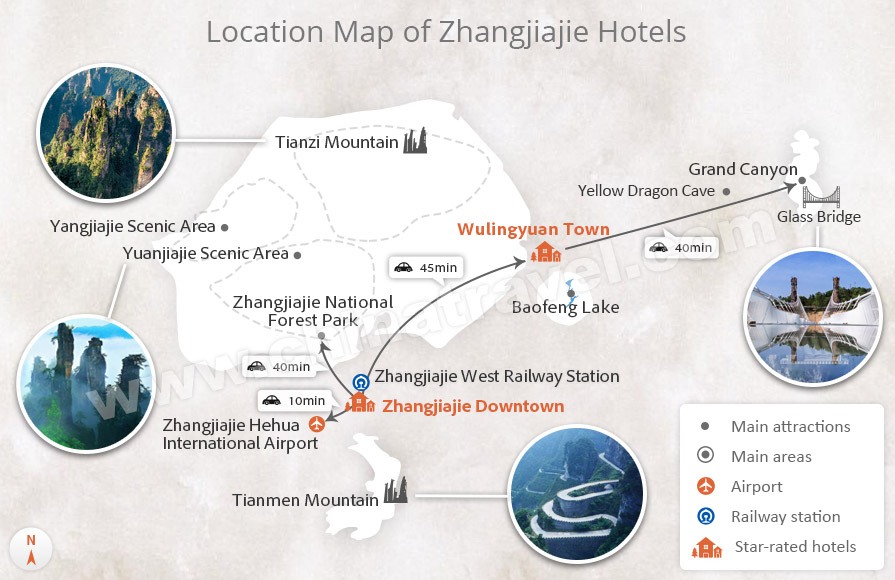 Stay in Zhangjiejie Downtown
Zhangjiajie downtown is convenient because of its access to the airport, train station, and Tianmen Mountain, so we recommend you stay for one night in downtown Zhangjiajie when you:
Arrive in Zhangjiajie late at night;
Plan to visit Tianmen Mountain the next morning;
Need to catch an early flight/train to leave.
Recommended hotels in downtown Zhangjiajie: Best Western Grand Hotel Zhangjiajie (4-star), Zhangjiajie Sunshine Hotel (5-star).
Stay in Wulingyuan
Wulingyuan is 40 minutes' drive from Zhangjiajie downtown and borders Zhangjiajie National Forest Park. It is highly recommended to stay here because it is easy to get to the park, Baofeng Lake, Yellow Dragon Cave, and the Grand Canyon.
You can find various hotels options here, from 5 star to local home inns. Recommended hotels in Wulingyuan: Zhangjiajie Pullman Hotel (5-star), Crowne Plaza Zhangjiajie Wulingyuan (5-star), Homeward Mountain Hotel (home inn).
Travel Independently or With a Tour?
Even for experienced travelers or expats who know their way around China, an independent trip to Zhangjiajie is still a toughie. If you want the best travel experience, the best way to travel in Zhangjiajie is with a private tour.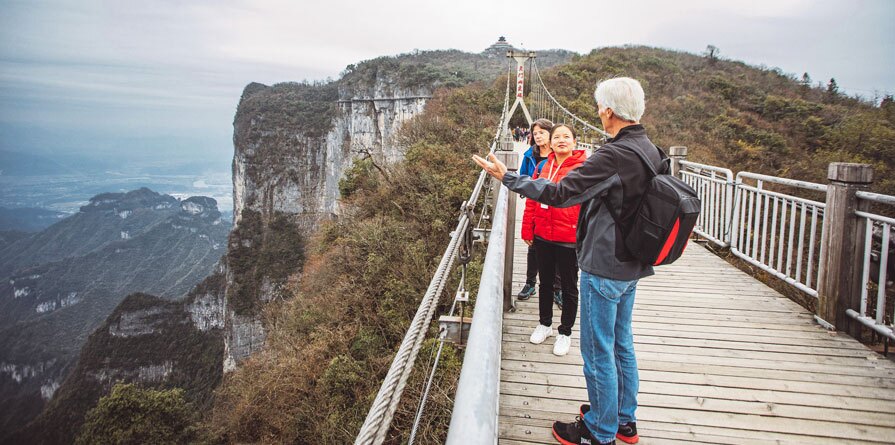 Touring Zhangjiajie with a Local Guide
On the one hand, while traveling alone, you might end up with getting lost in the endless mountains and forests; on the other hand, going with a tour group will make your trip with more controlled- you'll always need to stay with your group.
If you book a private Zhangjiajie tour with us, you will get an all-inclusive tour with flexible itinerary which meets your needs and desires. Your trip advisor and tour guide know how to deal perfectly with any problem you might have, so you don't need to worry about language barriers, ticket booking, tourist crowds, weather changes, transport in and around Zhangjiajie, or much else…
More Useful Tips for Planning Your Zhangjiajie Tours
Prepare a Chinese visa in advance since there is no visa-free policy in Zhangjiajie.
Pack a rain jacket and good hiking shoes because Zhangjiajie has a wet and rainy climate year-round. And its mountainous landscapes require a lot of hiking.
You might meet some groups of wild monkeys in the scenic area, but do NOT try to feed them or play with them- they can be aggressive and get you attacked!
Traveling with a tour guide will make things easier because Zhangjiajie is a small city and there are very few English signs and English-speaking staff. Local restaurants and transportation are inconvenient to non-Chinese speaking visitors.
Start Your Zhangjiajie Tour with Us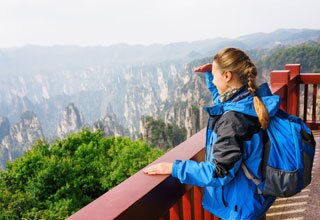 All of our tours are private and customizable, with no big bus nor fixed itineraries. But if you are not sure how to plan your Zhangjiajie tour and make it an extremely unique trip, maybe you can get some inspiration from our newly-designed sample itineraries. Or contact us and let our travel advisors help you plan your trip:
Zhangjiajie Tour from Shanghai: Old Shanghai Walking, Zhujiajiao Water Town, Zhangjiajie National Forest Park, Zhangjiajie Grand Canyon, Tianmen Mountain
Guilin to Zhangjiajie Tour: Guilin Highlights, Li River Cruise, Zhangjiajie National Forest Park, Zhangjiajie Grand Canyon, Tianmen Mountain
Zhangjiajie Tour from Changsha: Changsha Highlights, Yellow Dragon Cave, Zhangjiajie National Forest Park, Tianmen Mountain, Fenghuang Ancient Town