Zhangye Food
Last updated by ivy_8712 at 2017/4/27
Most of Zhangye food is made from flour. There are many famous local snacks, including Sheet Jelly and Wheet Glutten, Cuo Yuzi, Stewed Rice with Various Fixing Stuff, Preserved Mutton and so on. Meanwhile, alcohol also plays an important role in Zhangye people's daily life. Yellow Rice Wine, Nan Wine and Ardent Spirits are the most famous and popular wine there. What's more, local people like tea very much. Different kinds of tea can be provided in theaters, teahouse, book house and even offices.
Zhangye Featured Food:
Preserved Mutton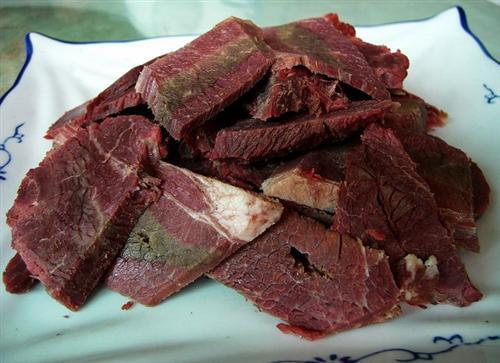 Mutton broth and large chunks of stewed lamb are the most famous meat dishes in Zhangye. However, the preserved mutton is not far behind and delivers a delicious taste without the greasiness./p>
The preserved mutton is made from the meat of sheep around the mountainside. This area is home to many types of flora, like Yanghuzi (a type of grass), Yangzihu flower, and Shacong. The distinct flavor of the meat is attributed to the local sheep feasting on these plants.
The preserved mutton is produced at the onset of winter. First, the fresh mutton is boiled and the bones are removed. Then, it is cooked with Gaotai snow salt, fennel, ginger, and other seasonings. Once fully preserved, the mutton exudes a bright red color.
Gray Pea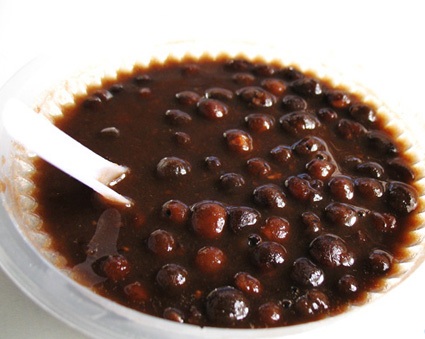 Gray pea, which is in mushy state, is made from light-brown peas. Sugar is usually added, which makes it especially delicious. And it is very popular among the local people. It is a good choice for relieving the summer-heat. And the iced gray pea tastes wonderful in particular.
Sheet Jelly And Wheet Glutten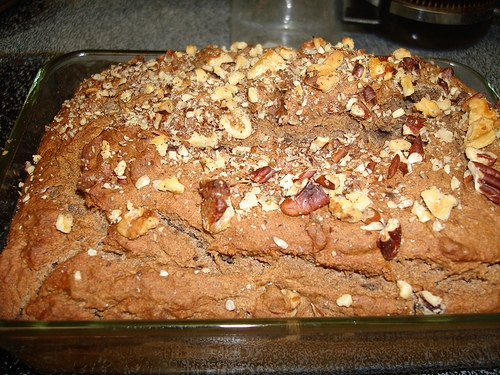 In the rurual areas of Zhangye, sheet jelly and wheet glutten is an indispensable kind of food when treating others. The most famous sheet jelly and wheet glutten is "Ma Wheet Glutten", which is always sold out within two hours after people take it out in two buckets in the morning.
Stewed Rice With Various Fixing Stuff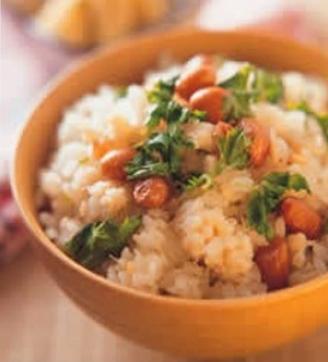 Stewed Rice with Various Fixing Stuff, also called "Northwest Dish", is a famous local dish of Zhangye, which was initiated during the Kangxi Reign of the Qing Dynasty. It is made from pork, pig'sliver,agaric, egg, flour, salt, scallion and garlic. With a brightly-colored appearance, it tastes delicious but not greasy. What's more, it's good for beauty and health.
Cuo Yuzi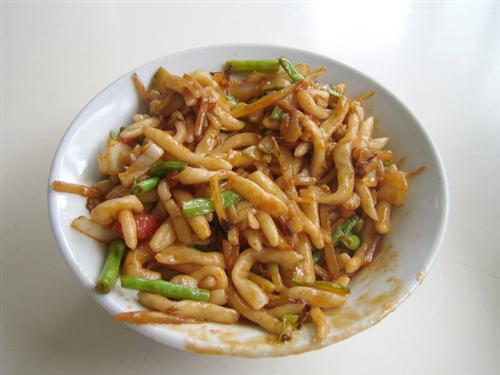 Cuo Yuzi is a local speciality of Nanfeng Town, Minle County, Zhangye City. It is made from the highland barley, which is also a local speciality, and the local spring. Potherb, Huanghuazi, pig ear, and that sort of things full of local characteristics are also added into it. It is a great enjoyment for the mouth and the stomach.
Page 1 of 1 First Previous 1 Next Last