During Yifeng, Tiaolu periods of the Tang Dynasty, Tubo government established a stockaded village here, named "Dukezhong" meaning City of Moonlight, in addition, another stockaded village called "Likezhong" meaning City of Sunlight was built at the edge of opposite Naizi River. Now, Xiantang Town is called the City of Sun and Moon. The old town was a place of strategic importance for Old Tea-house Road among Yunnan, Sichuan and Tibet. From here, the Old Tea-Horse Road directly reached Lhasa and India. During the long history, Dukezhong old town formed a unique culture with Tibetan customs, dwelling houses in Tibetan style were built around the Guishan Hill.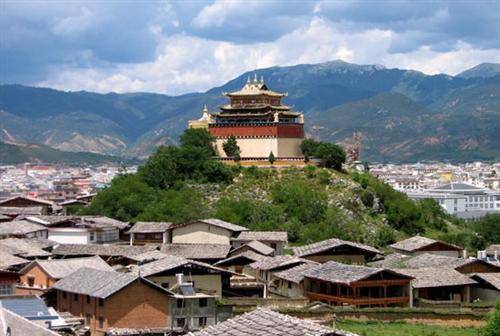 Dekezhong Ancient Town
The old buildings kept in the old town includes the relic unit under state protection—Zhanggongtang, mysterious fountain water of Guishan Hill, Chaoyanglou etc. Today, Old Town Protected Committee is established by the government of .Shangri-la county , they protected and developed the old town as the rule "repairing just as it was old". Many tourists set up tea -house, bar and handcraft workshops in the old town. Wufenfshan Hill, located 3 kilometers southeast of the old town, is the place for celebration held by the government and mass rally.
Solo Adventure Tips:
Location:

How to Get There?
How to get there: It is advisable to go by mini-public bus. The bus ticket is RMB1.5-2
Ticket Price:

Opening Hours:

More Tips:
Horse-racing Festival held on the 5th of the 5th month of lunar calendar every year, is the big feast of Diqing Tibetan Autonomous Prefecture.
Information accuracy:
We try to make the information on China Travel accurate when we write/edit it. If you find any outdated information, please inform us.