Zhoushan Shopping
Zhoushan Local Products:
Zhoushan Dried Salted Yellow Croaker
The territorial waters of Zhoushan island complex is the main place of origin for large yellow croakers. Fresh yellow croakers, which are salted and dried after being cleared inside, are called dried yellow croaker, also called "dried fish". The processing of Zhoushan dried fish have gone through the working procedures of rinsing, cleaving, cutting, viscera removing, salting, rinsing, tedding and reshaping. Fish glue is the main non-staple products during the course of processing. Every one hundred kilograms of fresh fishes can produce one kilogram of solid elastomer, most of which are made into sheet rubber and a few of which are into long rubber. Zhoushan dried fish, which are finely processed, is white in color, round in shape, fresh in taste and moderately salted. It contains rich protein and a right amount of fat with the effect of stimulating the appetite, clearing away the fire, promoting the production of body fluid and promoting blood circulation. The dried fish plainly
Putuoshan Buddhist Tea
Putuoshan Buddhist Tea is one of the traditional specialties of Zhoushan, which grows on the highest peak Foding Mountain of the sacred Buddhist Mountain, Putuoshan Mountain, whence came the name of Putuoshan Buddhist Mountain. Putuoshan Buddhist Tea, in the shape of Jiangsu Biluochun, appears tight, slender, curly like a snail, and moist green in color. The soup is bright yellow green in color with pure and delicate flavor, which refreshes both your heart and spleen. Especially the second brew of tea has thicker fragrance and sweeter taste. Drinking the tea, you will feel quite cool to the bone even in June after working up a slight sweat. Putuoshan Buddhist Tea has an ancient history. There have been records as early on as the Ming Dynasty. Through careful cultivation of the local mountain monks and habitants, it enjoys a great reputation for its unique flavor.
Gaoxie Waxberry
Gaoxie waxberry acquired its name from its place of origin, Gaoxie in the island proper of Zhoushan. It has an ancient history of cultivation. As early as 1298, in the "National Records of Dedechang" edited by Feng Fuzong, the judge of Changguo Canton (present Zhoushan), Gaoxie waxberry was classified as "the second fruit specialty in the Buddhist kingdom and fairyland". Gaoxie waxberry has seven varieties, namely, late rice waxberry, red waxberry, white and solid waxberry, lichi waxberry, black-leave waxberry and crystal waxberry, of which the late rice waxberry is the top grade. Gaoxie waxberry is not only liked by all for its beautiful color and fresh taste, but also makes excellent material for medical use among the folk. It can be taken after being immersed in white liquor. It has effects of eliminating sputum, relieving summer heat, keeping out the cold, relieving diarrhea, promoting production of body fluid, refreshing and relieving fatigue. The modern scientific researc
Jintang Plum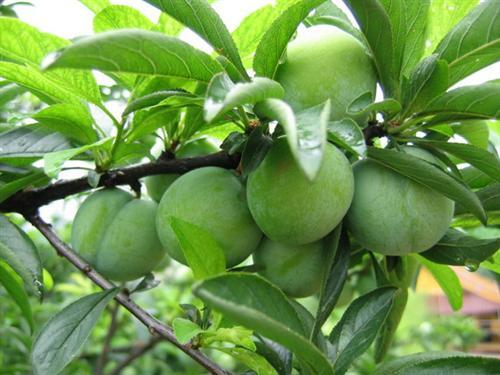 Jintang plum acquired its name from its place of origin, Jintang Island. It has a cultivation history of more than 130 years. Jintang plum is round and large in size with small stone. It has thin peel in green color and bright red, thick and crisp pulp. It is juicy, sweet and moderately sour. As early as the period of Guangxu's reign in the Qing Dynasty, there were written records in "Records of the Dinghai County" that "it is a plum with red flowers, which belongs to the cherry family. It has green peel and red pulp, which is different from regular plums. It is edible and flourishes in Jintang, where every household plants it into forest". It is included into the list of the ten top famous fruits in Zhejiang Province. Jintang plum is not only a fresh and precious fruit taken in summer, which sells well in Shanghai, Ningbo and Hangzhou, but also the best material for preserved fruit.
Mud Snail Shell
Mud snail shell is ovoid in shape, thin and crisp with many fine horizontal lines and vertical lines. It has large opening and smooth surface. It is grey yellow, red yellow and slightly transparent in color. The mud snail is used to living on the borders of sea beach and tidal water where there is much silt and rich diatom. After the tides ebb, it likes to crawl on the mud beach. Mamu mud snail has thin shell, plump with soft and tender flesh, without tendon. Mud snail can be taken after being cleaned and added with salt. It may also be added with seasoning such as yellow rice wine, mature vinegar, ginger and monosodium glutamate, etc., and processed into drunken mud snail, and put into porcelain jar or glass bottle. It will not go bad even if it is kept for a long time. If it is eaten together with rice or bread, it can promote production of body fluid, benefit spleen and stimulate the appetite with intoxicating fragrance.
Luosi Soy Sauce Essence
Luosi soy sauce essence, which is produced by Zhoushan Yuda Soy Sauce Factory, is high quality traditional products of the factory's predecessor, Yuda Official Soy Sauce Garden. It has got a production history of 150 years and enjoys a great reputation at home and abroad for its fine quality. In 1930, it won the prize of the International West Lake Expo. Luosi soy sauce is divided into summer sauce and autumn sauce. Soy sauce made in summer is called summer sauce while that made in winter is autumn sauce. It is traditional to employ three-year-old fine salt, high quality flour and Wangjiaxi Stream spring as its ingredients. It is brewed naturally after being exposed to the sun and fermented. It is featured by deep color, thick gravy, clear liquid, mellow fragrance, moderate sweetness and saltiness and fresh taste. It will not become mildewed even if it is kept for a long time.
Putuoshan Narcissus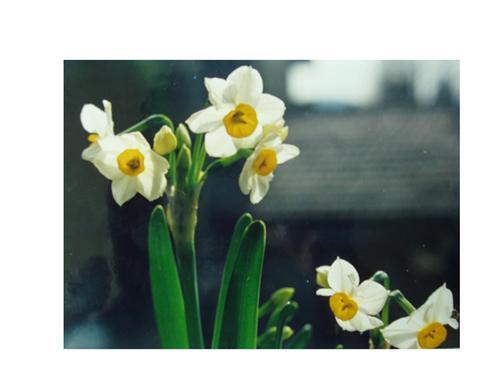 Putuoshan District boasts rich resources of wild narcissus, which has a long history. As early as the South Song Dynasty, there were written records about it. Since the 1970s, wild narcissus have been transplanted and cultivated. It wins favourable comments from flower experts for its large bulbs, numerous flowers and thick fragrance. In 1981, it was officially named Putuoshan Narcissus and ranked with Zhangzhou Narcissus and Chongming Narcissus as the three best varieties of narcissus in our country. It is the city flower of Zhoushan. Potted Putuoshan Narcissus can be cultivated in the water and the soil. Narcissus grown in water can further be divided into sculpted ones and non-sculpted ones. The sculpted narcissus is of all shapes with short plant, quietly elegant color and curly leaves. Its root, bulb, leave and flower all have ornamental value. Non-sculpted narcissus can grow into artistically spaced, tall and straight pottery with poetic grace and picturesque charm as long as t
Dried Mussel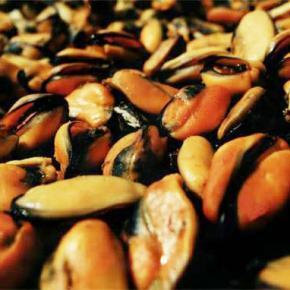 Since the Tang Dynasty, dried mussel has been dedicated to the Court as a tribute, thus being also called "dried tribute". It is popularly called "dried mussels" by the locals of Zhousan. The flesh mussel not only tastes fresh, but also has extremely high nutritive value. The protein content it contains is as high as 50%. It also has inorganic salt, several vitamins as well as iodine, calcium, etc, which is easy to be digested and assimilated. If the fresh mussels are boiled and shelled and taken with seasoning, it will taste more fresh and delicious.
Zhoushan White Goose
It is popularly called "white turtle". It is a poultry which is bred in large quantities in the rural section of Zhoushan, with a good reputation of "the hometown of white goose in the east of Zhejiang Province". White goose has high economic value. It can be made into several dishes with excellent color, fragrance, taste, such as roast goose, stewed goose, braised goose, salted goose and boiled tender goose, etc. Goose feather can be processed into industrial products such as feather guilt, cold-proof feather coat and feather fan.
Zhoushan Shops and Stores: